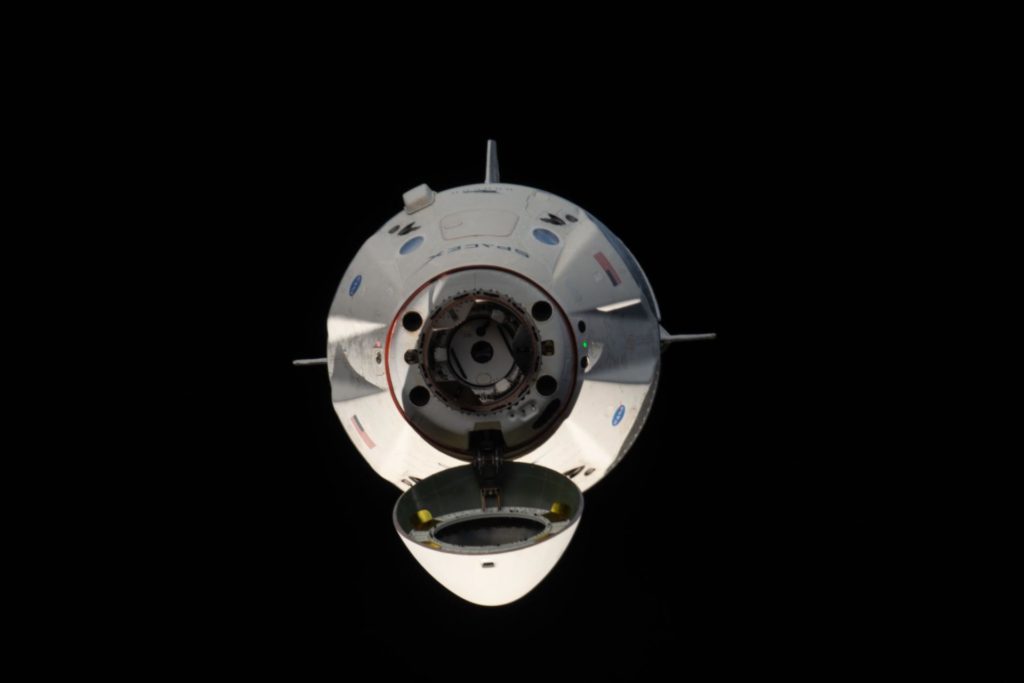 The SpaceX Crew Dragon is set to depart this morning from the International Space Station, capping a successful week in which the uncrewed spacecraft delivered more than 400 pounds of crew supplies and equipment to the orbiting laboratory. The spacecraft is scheduled to undock from the station at approximately 2:31 a.m. EST—about half an hour from now—and return to Earth with a splashdown in the Atlantic Ocean at approximately 8:45 a.m. EST.
The Crew Dragon launched Saturday, March 2, aboard a SpaceX Falcon 9 rocket from Launch Complex 39A at the NASA's Kennedy Space Center in Florida. In addition to cargo bound for the space station, the spacecraft also has a "passenger"—an anthropomorphic test device outfitted with sensors to collect data about potential effects on humans traveling in Crew Dragon for critical phases like ascent, entry and landing.
The spacecraft has been docked to the space station's Harmony module since Sunday, March 3. The Expedition 58 crew aboard the station, NASA astronaut Anne McClain, David Saint-Jacques of the Canadian Space Agency, and Russian cosmonaut and Expedition 58 commander Oleg Kononenko, closed the Crew Dragon's hatch yesterday at 12:39 p.m. EST.
The Demo-1 mission is SpaceX's first flight with NASA's Commercial Crew Program. The flight test marks a significant step toward returning to the nation the capability to launch astronauts on a U.S.-built spacecraft from U.S. soil, as well as the potential to expand the station's capability for microgravity research.
Demo-1 is a precursor to the in-flight abort test that will occur this summer with this same spacecraft in preparation to carry NASA astronauts Bob Behnken and Doug Hurley to the station on the Demo-2 mission, slated for July 2019.