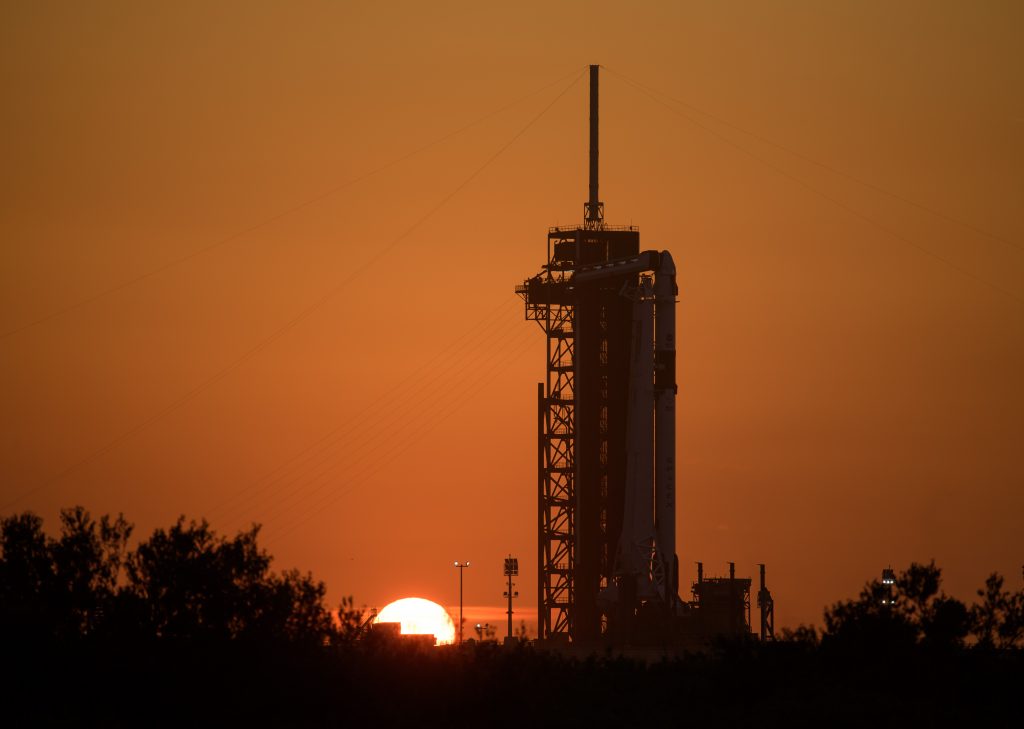 NASA and SpaceX continue planning toward a Saturday, May 30, launch attempt of NASA's SpaceX Demo-2 mission to the International Space Station with NASA astronauts Robert Behnken and Douglas Hurley. Although the weather models for Saturday show an improvement in conditions around Launch Complex 39A at NASA's Kennedy Space Center in Florida, teams continue to monitor launch and down range weather. Teams still want more weather data to determine if they will proceed with a launch attempt or focus on the backup attempt on Sunday, May 31.
On Saturday, the U.S. Air Force's 45th Weather Squadron predicts a 50% chance of favorable conditions at launch time. The primary concerns remain flight through precipitation, anvil clouds and cumulus clouds. However, outside of the launch site are some areas of concern with a potential for lightning storms and high winds and waves along the flight path. All weather conditions need to be within acceptable limits both for launch and the flight path for NASA and SpaceX to be "go" for the launch attempt.
On Sunday, the 45th Weather Squadron predicts a 60% chance of favorable conditions at launch time. Weather models also show an improvement in conditions throughout the flight path.
NASA's SpaceX Demo-2 mission will return human spaceflight to the International Space Station from U.S. soil on an American rocket and spacecraft as a part of NASA's Commercial Crew Program. Demo-2 will be SpaceX's final test flight to validate its crew transportation system, including the Crew Dragon, Falcon 9, launch pad and operations capabilities. During the mission, the crew and SpaceX mission controllers will verify the performance of the spacecraft's environmental control system, displays and control system, maneuvering thrusters, autonomous docking capability, and more.
Behnken and Hurley will join the Expedition 63 crew on the station to conduct important research, as well as support station operations and maintenance. While docked to the station, the crew will run tests to ensure the Crew Dragon spacecraft is capable on future missions of remaining connected to the station for up to 210 days. The specific duration for this mission will be determined after arrival based on the readiness of the next commercial crew launch. Finally, the mission will conclude with the Crew Dragon undocking from the station, deorbiting and returning Behnken and Hurley to Earth with a safe splashdown in the Atlantic Ocean.
Starting at 11 a.m. on Saturday, May 30, NASA and SpaceX will provide coverage of launch activities, airing on NASA TV and the agency's website, as well as here on the blog. This will include live shots of Behnken and Hurley as they put on their spacesuits, their arrival at historic Launch Complex 39A and liftoff of the Falcon 9 rocket. Coverage will continue through Crew Dragon's docking to the space station, scheduled for 10:29 a.m. EDT on Sunday, May 31.