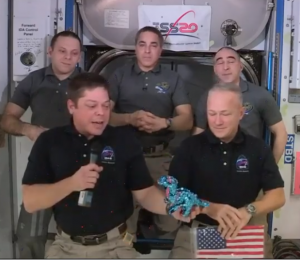 Preparations to bring NASA astronauts Robert Behnken and Douglas Hurley home to Earth are well underway, and on the morning of Saturday, Aug. 1, the duo celebrated their homecoming with a farewell ceremony aboard the International Space Station alongside Expedition 63 commander Chris Cassidy.
"It's an exciting day for us all as we bid farewell to our two friends and colleagues, Bob and Doug, as they complete the journey of this amazing test mission," Cassidy said.
Behnken and Hurley have spent the past two months in space as part of NASA's SpaceX Demo-2 mission. The mission is designed to test and validate SpaceX's crew transportation system – from launch to in-orbit, docking, landing, and recovery operations. The SpaceX Crew Dragon spacecraft, "Endeavor," is scheduled to undock from the space station at 7:34 p.m. EDT, based on favorable weather conditions for splashdown off the coast of Florida.
"The hardest part was getting us launched, but the most important part is bringing us home [to our sons]," Behnken said. "For Jack and Theo, Tremor the apatosaurus is headed home soon and he'll be with your dads. You'll have to pick which one of us is your favorite."
Splashdown is slated to occur at 2:42 p.m. EDT on Sunday, Aug. 2, and will be broadcast live on NASA TV and the agency's website. NASA and SpaceX teams will decide on the primary location for splashdown later this afternoon, about six hours before Crew Dragon undocks from the orbiting laboratory. Teams will continue to closely monitor Hurricane Isaias and evaluate impacts to the landing sites in the Gulf of Mexico along the Florida Panhandle.
The Crew Dragon spacecraft, carried atop a SpaceX Falcon 9 rocket, lifted off from Kennedy Space Center's Launch Complex 39A on May 30. The final test flight for SpaceX under NASA's Commercial Crew Program, Demo-2 will provide the data necessary for NASA to certify SpaceX's transportation system for regular, operational missions to the space station. Behnken and Hurley's return to Earth will mark the first time a commercially built and operated American spacecraft carrying astronauts has made the journey back from space.
"For the men and women of the Commercial Crew Program and SpaceX—all the work they've done to get us to this point, where we're on our way to completing this test flight—it's been a true honor," said Hurley.
More details about the mission and NASA's commercial crew program can be found in the press kit online and by following the commercial crew blog, @commercial_crew and commercial crew on Facebook.
Learn more about station activities by following @space_station and  @ISS_Research on Twitter as well as the ISS Facebook and ISS Instagram accounts.