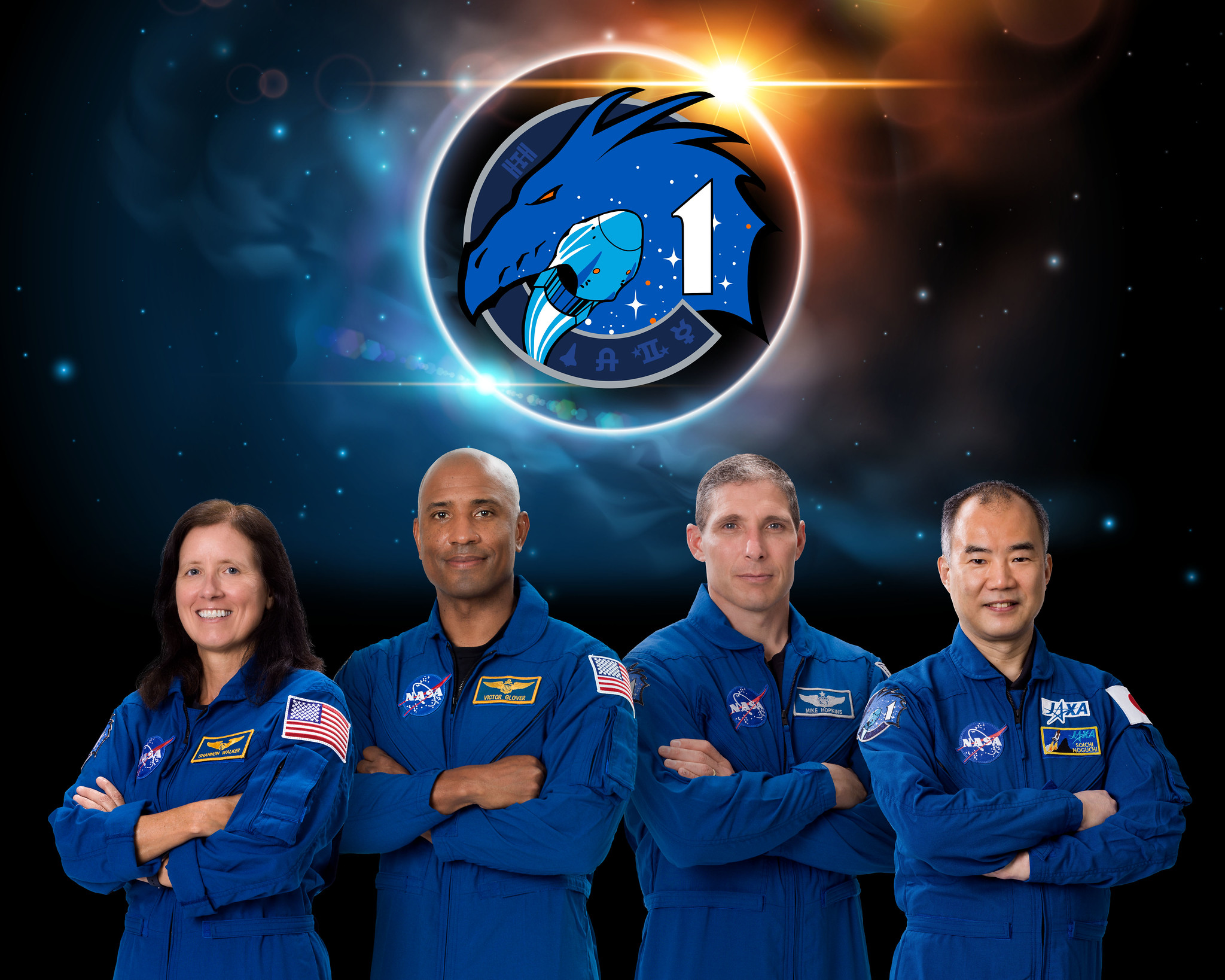 Tune in to NASA Television or the agency's website today to view three live news conferences highlighting NASA's SpaceX Crew-1 mission, the first crew rotational flight of a U.S. commercial spacecraft with astronauts to the International Space Station.
The launch is scheduled for no earlier than 2:40 a.m. EDT Saturday, Oct. 31. The Crew-1 mission will carry astronauts Michael Hopkins, Victor Glover, and Shannon Walker of NASA and Soichi Noguchi of the Japan Aerospace Exploration Agency (JAXA) to the space station on the SpaceX Crew Dragon spacecraft atop a Falcon 9 rocket from Launch Complex 39A at NASA's Kennedy Space Center in Florida.
The Crew-1 astronauts are scheduled to arrive at the space station the same day to join NASA astronaut Kate Rubins, as well as Expedition 64 commander Sergey Ryzhikov and flight engineer Sergey Kud-Sverchkov, both of the Russian space agency Roscosmos.
The briefings, which will take place at the agency's Johnson Space Center in Houston, will begin at 11 a.m. EDT with NASA's Commercial Crew Program News Conference.
Participants include:
NASA Administrator Jim Bridenstine
Kathy Lueders, associate administrator, Human Exploration and Operations Mission Directorate, NASA Headquarters
Hans Koenigsmann, vice president, Build and Flight Reliability, SpaceX
The Crew-1 Mission Overview News Conference begins at 12:30 p.m. EDT, featuring:
Steve Stich, manager, Commercial Crew Program, NASA's Johnson Space Center
Kenny Todd, deputy manager, International Space Station, NASA's Johnson Space Center
Anthony Vareha, NASA flight director, NASA's Johnson Space Center
Benji Reed, senior director, Human Spaceflight Programs, SpaceX
Junichi Sakai, manager, International Space Station, Japan Aerospace Exploration Agency (JAXA)
The Crew News Conference starts at 2 p.m. EDT, including Crew-1 astronauts:
Michael Hopkins, spacecraft commander
Victor Glover, pilot
Shannon Walker, mission specialist
Soichi Noguchi, mission specialist
More details about the mission and NASA's Commercial Crew Program can be found in the press kit online and by following the commercial crew blog, @commercial_crew and commercial crew on Facebook.