NASA, SpaceX, and the Crew-1 astronauts aboard the International Space Station marked a milestone Monday with the relocation of Crew Dragon Resilience from one docking port to another, setting the stage for upcoming crew rotation missions and SpaceX's next cargo flight to the station.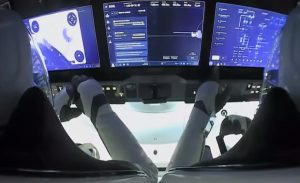 The planned relocation from the station's Harmony Node 2 forward docking port to its zenith, or space-facing port, is a first for a commercial crew spacecraft, but demonstrates a task very likely to be commonplace in the future.
The move freed the forward docking adapter ahead of NASA's SpaceX Crew-2 mission, which will deliver the next four astronauts aboard Crew Dragon Endeavour to augment the station's Expedition 65 crew.
NASA astronauts Shane Kimbrough and  Megan McArthur, JAXA (Japan Aerospace Exploration Agency) astronaut Aki Hoshide, and ESA (European Space Agency) astronaut Thomas Pesquet are scheduled to launch to the station at 6:11 a.m. Eastern, Thursday, April 22, from Launch Complex 39A at NASA's Kennedy Space Center in Florida, and arrive at the station the next day at approximately 5:30 a.m. Crew-2 will be the first commercial crew mission to fly two international partner crew members.
After an approximate five-day shift change, Crew-1 NASA astronauts Michael Hopkins, Victor Glover, and Shannon Walker, along with JAXA astronaut Soichi Noguchi, will undock Crew Dragon Resilience at 5 a.m. Wednesday, April 28, and splashdown off the coast of Florida 7.5 hours later at about 12:35 p.m., after 164 days in space. Their return date and time is dependent on having a healthy spacecraft and favorable weather in the selected splashdown zone.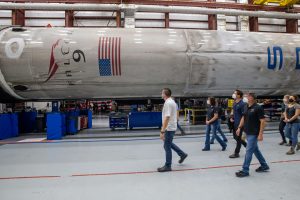 A Dragon cargo spacecraft carrying several tons of supplies and the first set of new solar arrays for the space station on SpaceX's 22nd commercial cargo resupply mission is targeted to launch Thursday, June 3, and requires the space-facing port position to enable robotic extraction of the arrays from Dragon's trunk using Canadarm2.
NASA Commercial Crew Program Manager Steve Stich talked with Expedition 64 Flight Engineer Kate Rubins and Hopkins Friday about their mission. He also highlighted the 10th anniversary Monday, April 5, of the public-private partnership that returned the launch of astronauts on American spacecraft from the United States.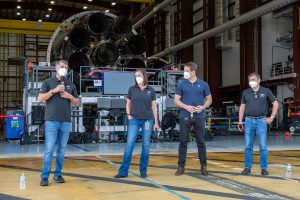 NASA and SpaceX are continuing to prepare for the Crew-3 mission, targeted as early as Saturday, Oct. 23, followed by return of Crew-2 no earlier than Sunday, Oct. 31. These target dates allow NASA's Commercial Crew Program and the station program to schedule future cargo and crew missions as needed to continue sustaining the orbiting laboratory where hardware and science needs are required.
A trio of astronauts were assigned to the Crew-3 mission last December by NASA and ESA to begin training for the planned six-month science mission.
The trio will consist of NASA astronauts Raja Chari and Tom Marshburn, who will serve as commander and pilot, respectively, and ESA astronaut Matthias Maurer, who will serve as a mission specialist. A fourth crew member will be added at a later date, following a review by NASA and its international partners.