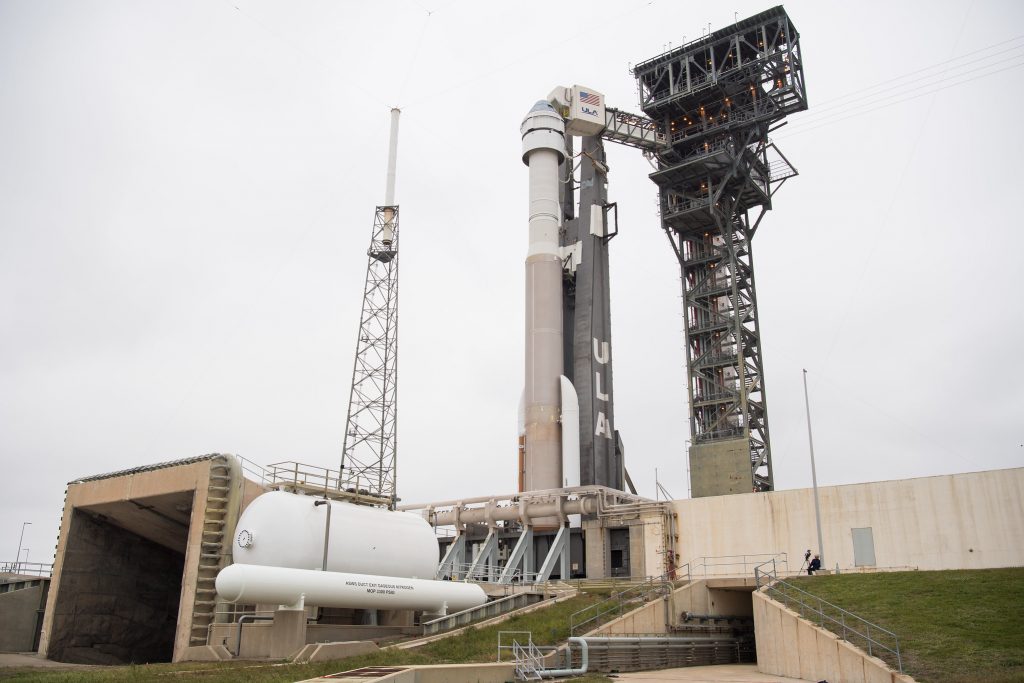 Liftoff of Boeing's CST-100 Starliner spacecraft atop a United Launch Alliance Atlas V rocket, is targeted for 6:36 a.m. EST Friday, Dec. 20 from Space Launch Complex 41 on Cape Canaveral Air Force Station in Florida. This uncrewed mission, known as Boeing's Orbital Flight Test, is Starliner's maiden flight to the International Space Station for NASA's Commercial Crew Program. The main objective of the mission is an end-to-end demonstration of Boeing's ability to launch astronauts to the orbiting laboratory and return them home. To learn more, read the prelaunch feature.
Meteorologists with the U.S. Air Force 45th Weather Squadron continue to predict an 80% chance of favorable weather for launch on Friday morning. Primary concerns for launch day are the Cumulus Cloud Rule and User Ground Winds violations during the instantaneous launch window.
Join us at 5:30 a.m. Friday, Dec. 20, for countdown coverage on the Commercial Crew blog and NASA TV.
NASA will host an Administrator Post-launch News Conference at 9 a.m. followed by a Launch Team News Conference at 9:30 a.m., both on NASA TV.
Mission Timeline (all times approximate)
Hour/Min/Sec            Events
-06:00:00                   Atlas V fueling commences
-04:05:00                   Atlas V fueling is complete
-04:04:00                   T-4 minute built-in hold begins
-01:25:00                    Hatch closure complete
-01:15:00                     Prelaunch cabin leak checks
-01:05:00                    Cabin pressurization complete
-00:20:00                   Launch Conductor conducts terminal count briefing
-00:18:00                    CST-100 poll for terminal count
-00:15:00                    CST-100 to internal power
-00:10:00                    Crew Access Arm retracted
-00:08:00                   Launch vehicle poll for terminal count
-00:04:45                   Starliner configured for terminal count
-00:04:00                   T-4 minute built-in hold releases
-00:01:00                   CST-100 is configured for launch
-00:00:03                   RD-180 engine ignition
Launch, Landing and CST-100 Deployment (all times approximate)
Hour/Min/Sec          Events
+00:00:01                  Liftoff
+00:00:06                 Begin pitch/yaw maneuver
+00:00:41                  Maximum dynamic pressure
+00:01:05                  Mach 1
+00:02:22                  SRB jettison
+00:04:29                 Atlas booster engine cutoff (BECO)
+00:04:35                 Atlas Centaur separation
+00:04:41                 Ascent cover jettison
+00:04:45                Centaur first main engine start (MES-1)
+00:05:05                Aeroskirt jettison
+00:11:54                 Centaur first main engine cutoff (MECO-1)