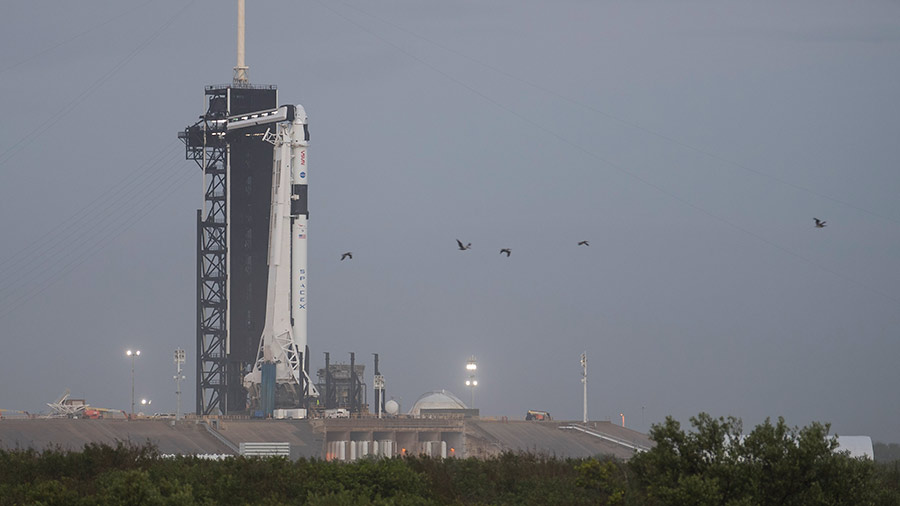 The SpaceX Falcon 9 rocket with the Crew Dragon spacecraft on top rolled out to the launch pad at Kennedy Space Center overnight. Meanwhile aboard the International Space Station, the Expedition 64 crew was busy setting up a variety of research and communications gear today.
Four Commercial Crew astronauts from the United States and Japan are in Florida in quarantine and getting ready for their launch to the space station. Their Dragon crew ship is standing vertical at Launch Complex 39A counting down to a Nov. 14 lift off.
Commander Michael Hopkins, Pilot Victor Glover and Mission Specialists Shannon Walker and Soichi Noguchi will blast off on Saturday at 7:49 p.m. EST. Eight hours and 30 minutes later the quartet will dock to the Harmony module's forward-facing international docking adapter. They are scheduled for a five-and-a-half-month research mission aboard the station.
Back in space, NASA Flight Engineer Kate Rubins spent Tuesday morning setting up a specialized microscope that uses fluorescence to study biological processes in microgravity. During the afternoon, she installed wireless instrumentation gear in the Zvezda service module and handed over radiation detectors to cosmonaut Sergey Kud-Sverchkov.
Commander Sergey Ryzhikov checked out communications systems and biomedical sensors inside a pair of Russian Orlan spacesuits this morning with assistance from Kud-Sverchkov. The cosmonaut duo then spent the rest of the day servicing life support hardware and re-pressurizing the station's atmosphere with air from the Progress 76 resupply ship.