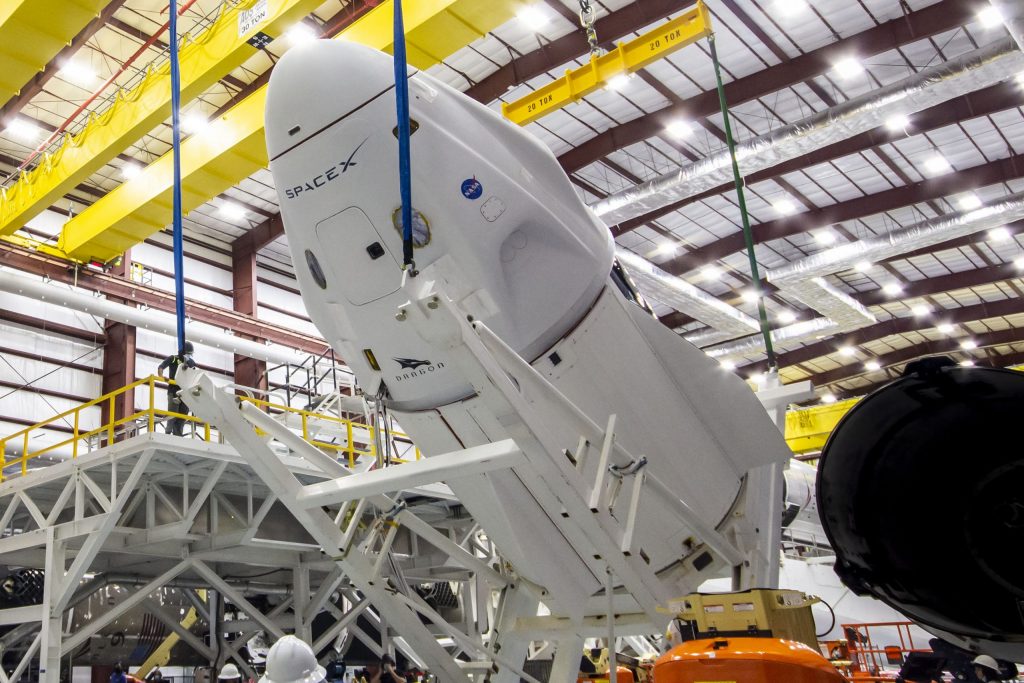 NASA and SpaceX managers are meeting today to assess the readiness for the Crew-2 mission. The Flight Readiness Review at the agency's Kennedy Space Center in Florida also is assessing readiness for the Crew-1 return scheduled for April 28. The traditional FRR focuses on the preparedness of SpaceX's crew transportation system, the International Space Station, and its international partners to support the flight, and the certification of flight readiness.
NASA will hold a media teleconference later today, no earlier than 6 p.m. EDT, April 15, about an hour after the conclusion of the review to discuss the outcome. You can listen to the news conference streamed live on NASA's website. Media may ask questions via phone only and should contact the Kennedy newsroom for connection details no later than 5 p.m.
SpaceX's Crew Dragon spacecraft, named Endeavour, arrived at Kennedy Space Center's Launch Complex 39A on Monday, April 12, after making the trek from its processing facility at nearby Cape Canaveral Air Force Station in Florida. The space capsule was placed atop the SpaceX Falcon 9 rocket and is scheduled to be transported to the pad later today, Thursday, April 15, and raised to the vertical launch position.
Crew-2 mission astronauts Shane Kimbrough and Megan McArthur, along with JAXA (Japan Aerospace Exploration Agency) astronaut Akihiko Hoshide, and ESA (European Space Agency) astronaut Thomas Pesquet, will fly from their home base at the agency's Johnson Space Center in Houston to the Florida spaceport, arriving on Friday, April 16.
The astronauts will depart from Ellington Field near Johnson and fly to Kennedy aboard a Gulfstream jet aircraft. They're expected to arrive at Kennedy's Launch and Landing Facility on Friday afternoon. Acting NASA Administrator Steve Jurczyk, Center Director Bob Cabana, Junichi Sakai, manager of JAXA's International Space Station Program, and Frank de Winne, manager of ESA's International Space Station Program, will greet the crew, followed by a media event at the runway that will broadcast live on NASA Television and the agency's website, weather permitting.
For NASA's SpaceX Crew-2 mission, Kimbrough, McArthur, Hoshide, and Pesquet will launch to the International Space Station aboard Crew Dragon, powered by the Falcon 9. Liftoff from Launch Complex 39A is targeted for 6:11 a.m. EDT, Thursday, April 22.
This is the second crew rotation flight of the SpaceX Crew Dragon and the first with two international partners following certification by NASA for regular flights to the space station as part of the agency's Commercial Crew Program. Operational, long-duration commercial crew rotation missions will enable NASA to continue the important research and technology investigations taking place aboard the station.
Awaiting Crew-2's arrival are the Expedition 65 crew, which includes Crew-1 astronauts. Crew-1 NASA astronauts Michael Hopkins, Victor Glover, and Shannon Walker, along with JAXA astronaut Soichi Noguchi, will undock Crew Dragon Resilience at 7:05 a.m. Wednesday, April 28, and splashdown off the coast of Florida at about 12:40 p.m., after 164 days in space.
More details about the mission and NASA's Commercial Crew Program can be found in the press kit online and by following the commercial crew blog, @commercial_crew and commercial crew on Facebook.