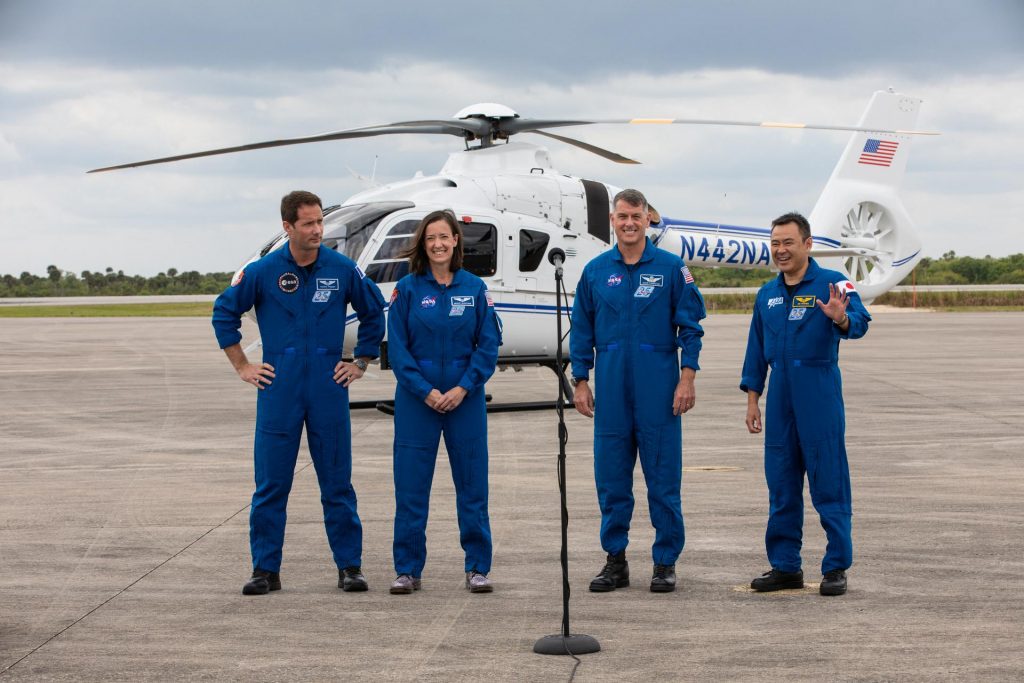 NASA's SpaceX Crew-2 astronauts will participate in a virtual media event at 9:45 a.m. EDT April 17 from inside the Astronaut Crew Quarters at the agency's Kennedy Space Center in Florida.
NASA astronauts Shane Kimbrough and Megan McArthur, along with JAXA (Japan Aerospace Exploration Agency) astronaut Akihiko Hoshide, and ESA (European Space Agency) astronaut Thomas Pesquet, will answer questions during the event about their upcoming mission to the International Space Station. The event will be broadcast live on NASA Television, the NASA app, and the agency's website.
The crew arrived at Kennedy from NASA's Johnson Space Center April 16 and began their stay in the crew quarters, located inside the center's Neil Armstrong Operations and Checkout (O&C) Building. The facility has housed astronauts over the years dating back to the Apollo and Space Shuttle Programs. When astronauts for commercial crew launches arrive before their missions, they usually spend about a week quarantined in the crew quarters.
The recently upgraded facility occupies about 26,000 square feet of the O&C building. The access-restricted area features 23 bedrooms – each with a bathroom – and the iconic suit room, where astronauts are helped into their pressure suits moments before boarding a vehicle to take them to Launch Pad 39A to board their spacecraft.
Kimbrough, McArthur, Hoshide, and Pesquet are scheduled to lift off at 6:11 a.m. EDT Thursday, April 22, aboard a SpaceX Crew Dragon spacecraft launched by a Falcon 9 rocket to begin a six-month science mission to the International Space Station as part of NASA's Commercial Crew Program.
This is the second crew rotation flight of the SpaceX Crew Dragon and the first with two international partners. More details about the mission and NASA's Commercial Crew Program can be found in the press kit online and by following the commercial crew blog, @commercial_crew and commercial crew on Facebook.