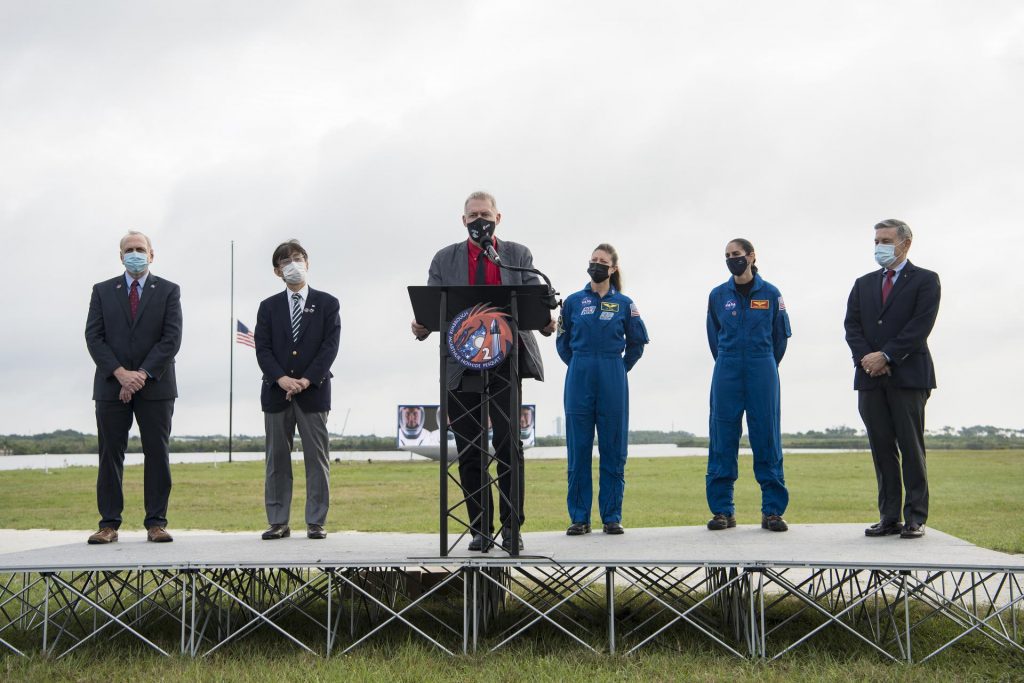 With the countdown clock and Launch Pad 39A serving as a backdrop, acting NASA Administrator Steve Jurczyk participated in a briefing for the Crew-2 mission at the agency's Kennedy Space Center in Florida on Wednesday, April 21, at 8:30 a.m. EDT.
The briefing came after Crew-2's launch was rescheduled to Friday, April 23, at 5:49 a.m. EDT, because of unfavorable weather conditions along the flight path. Although conditions around the launch site were expected to be favorable for a Thursday, April 22, liftoff, mission teams also must consider conditions along the flight path and recovery area in the unlikely event of a launch escape.
"We're now scheduled for 'go' on Friday and the crew is ready," said Acting NASA Administrator Steve Jurczyk. "I could not be more proud of the Commercial Crew Program, the SpaceX and NASA teams, and what they've been able to do to enable reliable, safe, effective transportation to and from space. We are looking forward to a great launch."
Crew-2 is the second crew rotation flight of a U.S. commercial spacecraft with astronauts to the space station and the first carrying two international crew members. Mission astronauts Shane Kimbrough and Megan McArthur of NASA, along with JAXA (Japan Aerospace Exploration Agency) astronaut Akihiko Hoshide and ESA (European Space Agency) astronaut Thomas Pesquet, will head to the International Space Station for a six-month science mission in the Crew Dragon spacecraft, which will launch on the SpaceX Falcon 9 rocket from Launch Complex 39A.
"On behalf of JAXA, I'd like to express my gratitude to the launch team," said Hiroshi Sasaki, vice president and director general, JAXA's Human Spaceflight Technology Directorate. "Last night, I spoke with Akihiko Hoshide, and he is ready for launch. I am excited that two Japanese astronauts – Akihiko Hoshide and Soichi Noguchi – will meet together at the International Space Station. I'm looking forward to the Crew-2 launch and wishing them great success."
The crew will conduct science and maintenance during their six-month stay aboard the space station and will return no earlier than Oct. 31. Adding more crew members aboard the microgravity laboratory increases the time available for scientific activities. The November 2020 addition of the Crew-1 astronauts more than doubled crew hours spent on science research and support activities, and Crew-2 will continue the important investigations and technology demonstrations that are preparing for future Artemis missions to the Moon, helping us improve our understanding of Earth's climate, and improving life on our home planet.
An important scientific focus on this expedition is continuing a series of Tissue Chips in Space studies. Tissue chips are small models of human organs containing multiple cell types that behave much the same as they do in the body. Another important element of Crew-2's mission is augmenting the station's solar power system by installing the first pair of six new ISS Roll-out Solar Arrays (iROSA).
"It's an exciting time for us," said Frank de Winne, manager, International Space Station Program. "We will have much more time to do research, science, but also technology development that we will need for the future of the Artemis program and for the future exploration of our solar system."
Crew Dragon will deliver more than 500 pounds of cargo, as well as new science hardware and experiments, including CHIME, a university student-led investigation to study possible causes for suppressed immune response in microgravity.
For an April 23 launch, the U.S. Space Force 45th Weather Squadron predicts a 90% chance of favorable weather conditions at the launch pad for liftoff based on Falcon 9 Crew Dragon launch weather criteria. The primary weather concerns for the launch area will be liftoff winds. Conditions also are expected to improve along the flight path and recovery area for the mission.
NASA TV coverage of Crew-2 launch preparations and liftoff will begin at 1:30 a.m. Friday, April 23. The Crew Dragon is scheduled to dock to the space station Saturday, April 24, at approximately 5:10 a.m. EDT.
Follow along with launch activities and get more information about the mission at: http://www.nasa.gov/crew-2. Learn more about commercial crew and space station activities by following: @Commercial_Crew, @space_station, and @ISS_Research on Twitter, as well as the Commercial Crew Facebook, ISS Facebook, and ISS Instagram accounts.