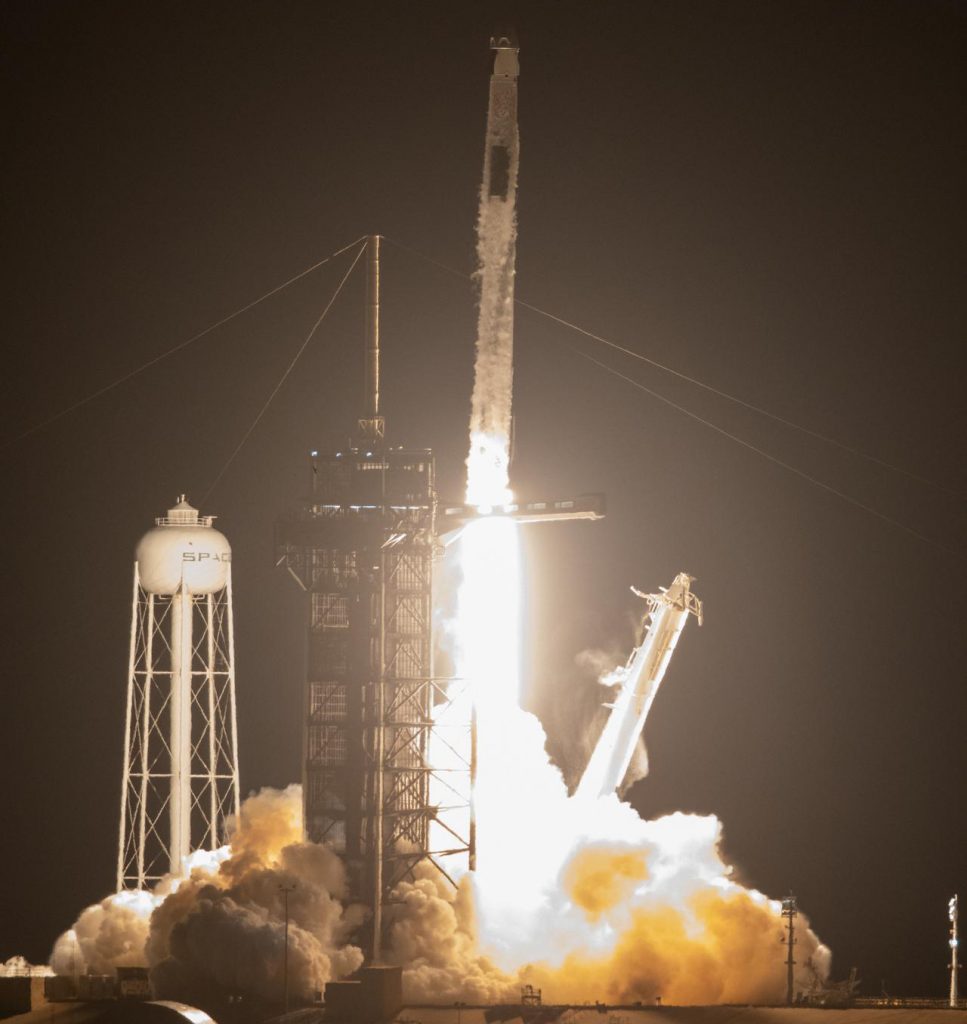 Liftoff of SpaceX's Falcon 9 rocket, with Crew Dragon atop, lit up the early morning sky at 5:49 a.m. today, April 23, as it lifted off from Launch Complex 39A at NASA's Kennedy Space Center in Florida. Crew-2 astronauts Shane Kimbrough and Megan McArthur of NASA, Akihiko Hoshide of JAXA (Japan Aerospace Exploration Agency), and Thomas Pesquet of ESA (European Space Agency) are now on their way to the International Space Station aboard Crew Dragon.
The four crew members are now a few hours into their 23.5-hour trip. The Crew Dragon spacecraft, named Endeavour, will dock autonomously to the forward port of the station's Harmony module about 5:10 a.m. Saturday, April 24.
"It has been an incredible year for NASA and our Commercial Crew Program, with three crewed launches to the space station since last May," said NASA Acting Administrator Steve Jurczyk. "This is another important milestone for NASA, SpaceX, and our international partners at ESA and JAXA, and for the future of scientific research on board the ISS. It will be an exciting moment to see our crews greet one another on station for our first crew handover under the Commercial Crew Program."
The Crew-2 mission is the second of six crewed missions NASA and SpaceX will fly as part of the agency's Commercial Crew Program. This mission has several firsts, including:
First commercial crew mission to fly two international partners;
First commercial crew handover between astronauts on the space station as Crew-1 and Crew-2 astronauts will spend about five days together on station before Crew-1 returns to Earth;
First reuse of the Crew Dragon spacecraft and Falcon 9 rocket on a crew mission –Crew Dragon Endeavour flew the historic Demo-2 mission and the Falcon 9 flew astronauts on the Crew-1 mission; and,
First time two commercial crew spacecraft will be docked to station at the same time.
"When I see a launch, I immediately think of what it took to reach this milestone and the dedication of all the people who made it happen," said Steve Stich, manager of NASA's Commercial Crew Program. "There's obviously a long way to go, but now we can celebrate the Crew-2 launch and look forward to seeing them join their other Expedition 65 colleagues as we prepare to bring Crew-1 home next week."
Kimbrough, McArthur, Hoshide, and Pesquet will join the Expedition 65 crew of Shannon Walker, Michael Hopkins, Victor Glover, and Mark Vande Hei of NASA, as well as Soichi Noguchi of JAXA and Roscosmos cosmonauts Oleg Novitskiy and Pyotr Dubrov. For a short time, the number of crew on the space station will increase to 11 people until Crew-1 astronauts Walker, Hopkins, Glover, and Noguchi return to Earth a few days later.
The Crew-2 members will conduct science and maintenance during a six-month stay aboard the orbiting laboratory and will return no earlier than Oct. 31. Adding more crew members aboard the microgravity laboratory increases the time available for scientific activities. The November 2020 arrival of the Crew-1 astronauts more than doubled crew hours spent on scientific research and support activities, and Crew-2 will continue the important investigations and technology demonstrations that are preparing for future Artemis missions to the Moon, helping us improve our understanding of Earth's climate, and improving life on our home planet.
Tune in to NASA Television or the agency's website for continuous comprehensive coverage of the Crew-2 mission, including docking at the space station on Saturday, April 24, at approximately 5:10 a.m. EDT.
A welcome ceremony from the International Space Station will take place Saturday, April 24, at 7:45 a.m. EDT, with the following participants:
Steve Jurczyk, acting NASA administrator
Kathy Lueders, associate administrator, Human Exploration and Operations Mission Directorate, NASA Headquarters
Hiroshi Yamakawa, president, JAXA
Josef Aschbacher, director general, ESA
Follow along with mission activities and get more information at: https://blogs.nasa.gov/spacestation/. Learn more about commercial crew and space station activities by following @Commercial_Crew, @space_station, and @ISS_Research on Twitter as well as the Commercial Crew Facebook, ISS Facebook and ISS Instagram accounts.