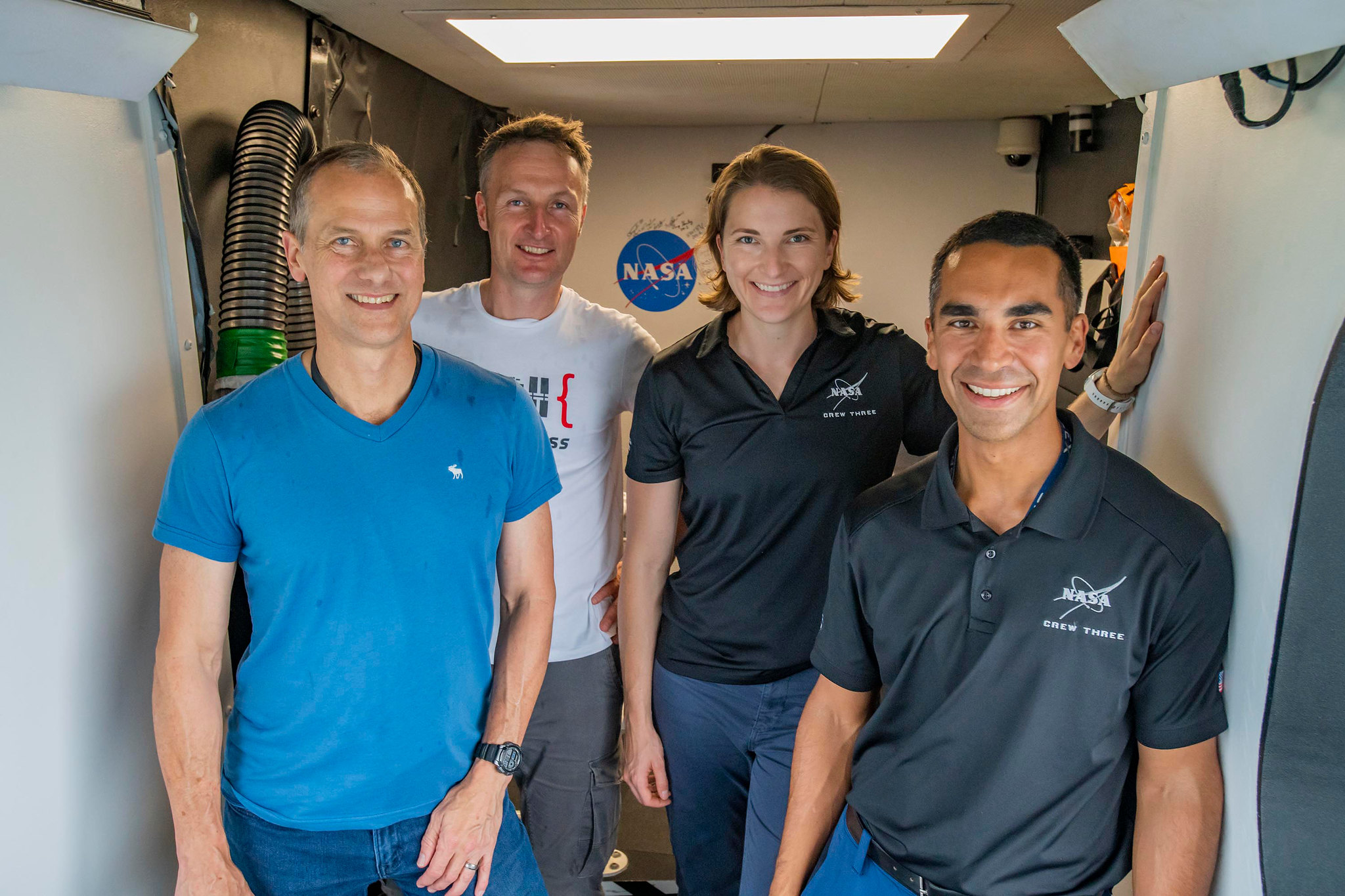 NASA astronauts Raja Chari, Tom Marshburn, and Kayla Barron, as well as ESA (European Space Agency) astronaut Matthias Maurer, will hold a virtual media event today, Oct. 27, at 8 a.m., from inside the Astronaut Crew Quarters at NASA's Kennedy Space Center in Florida. Watch live on NASA Television or the agency's website.
Media may call in to ask the crew questions ahead of their upcoming launch to the International Space Station. Contact the Kennedy newsroom for details on how to participate.
Housed inside the Neil Armstrong Operations and Checkout (O&C) Building, the crew quarters are where the astronauts remain while awaiting launch once they arrive at the Florida spaceport. The facility dates back to the Apollo Program and was also used for missions under the Space Shuttle Program. Inside the crew quarters are 23 bedrooms – each with its own bathroom – and the iconic suit room, where astronauts are helped into their spacesuits before exiting the O&C and making the short journey to the launch pad.
Crew-3 astronauts Chari, Marshburn, Barron, and Maurer are scheduled to lift off aboard a Falcon 9 rocket and Crew Dragon spacecraft from Kennedy's Launch Complex 39A on Sunday, Oct. 31. Launch is targeted for 2:21 a.m. EDT, and approximately 22 hours later, they will arrive at the orbiting laboratory for a short overlap with the astronauts who flew to the station as part of NASA's SpaceX Crew-2 mission in April.
Return of Crew-2 astronauts Shane Kimbrough, Megan McArthur, Akihiko Hoshide, and Thomas Pesquet is planned for early November, with a splashdown of Crew Dragon Endeavor at one of seven landing zones off the coast of Florida. Crew-3 astronauts will remain on board for a six-month science mission, living and working as part of what is expected to be a seven-member crew.