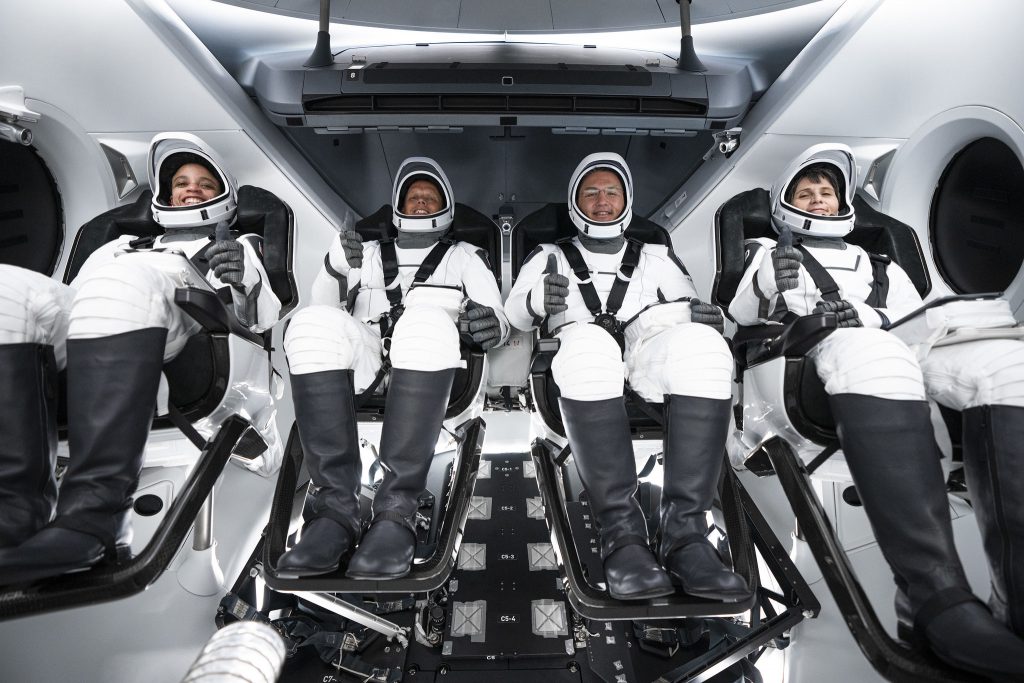 NASA astronauts Kjell Lindgren, Robert Hines, and Jessica Watkins, and ESA (European Space Agency) astronaut Samantha Cristoforetti are on their way to the International Space Station, following the picture-perfect launch of the agency's SpaceX Crew-4 mission. SpaceX's Crew Dragon spacecraft, named Freedom by the crew, launched atop the company's Falcon 9 rocket from Kennedy Space Center's Launch Complex 39A in Florida at 3:52 a.m. EDT.
"This is our fourth crew rotation flight – it's kind of hard to believe," said Steve Stich, manager, Commercial Crew Program, NASA's Johnson Space Center in Houston. "It seems like Demo-2 was just yesterday, and it's exciting to be here. We had a really clean countdown today – the Falcon 9 rocket did great; the Dragon vehicle did great. It was great to see the crew get in. You could tell they were excited to start their flight off."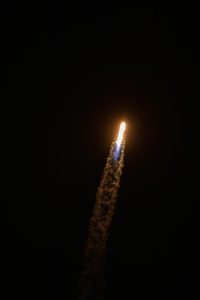 Upon their arrival at the space station, the Crew-4 astronauts will be greeted by NASA astronauts of the Expedition 67 crew already on board. During their six-month stay aboard the microgravity laboratory, Lindgren, Hines, Watkins, and Cristoforetti will join the Expedition 67 crew in conducting a number of science and research investigations.
The Crew-4 astronauts will conduct new and exciting scientific research in areas such as materials science, health technologies, and plant science to prepare for human exploration beyond low-Earth orbit and benefit life on Earth. Experiments will include studies on the aging of immune systems, organic material concrete alternatives, and cardiorespiratory effects during and after long-duration exposure to microgravity. These are just some of the more than 200 science experiments and technology demonstrations that will take place during their mission.
Launching alongside the crew in the Dragon capsule is an investigation that seeks to restore meaningful vision to people suffering from retinal degenerative diseases like retinitis pigmentosa and macular degeneration. The Protein-Based Artificial Retina Manufacturing experiment tests the manufacturing of artificial retinas or retinal implants in microgravity, where it is expected their production could be optimized.
Also traveling to space aboard the Crew Dragon are Smart-Tex shirts as part of the German Space Agency (DLR) investigation called Wireless Compose-2. The shirts are fitted with sensors, wiring, and a communications module to wirelessly transmit data to a base station. The shirt is designed to monitor cardiovascular activity like relative blood pressure and can provide details about heart contraction rate and valve opening and closing times – something normally accessible only through sonography or CT scans. These kinds of wearable technologies could be used to monitor health throughout a long-duration space exploration mission and could lead to a more flexible implementation of this technology in health monitoring equipment on Earth.
Crew-4 is NASA's fourth crew rotation mission with SpaceX for the agency's Commercial Crew Program. Lindgren and Cristoforetti have previously traveled to the International Space Station, while it will be the first trip for Hines and Watkins. Crew-4 astronauts are slated to arrive at the space station today, April 27, with docking targeted for 8:15 p.m. EDT. Following docking and hatch opening, a welcoming ceremony is planned for 2:40 a.m. EDT.
Coverage of Crew-4's arrival to the station will air live on NASA Television and the agency's website, beginning with docking at 8:15 p.m. EDT.
For mission updates, visit the station blog at https://blogs.nasa.gov/spacestation. Learn more about commercial crew and space station activities by following @commercial_crew, @space_station, and @ISS_Research on Twitter as well as the Commercial Crew and ISS Facebook pages and ISS Instagram accounts.