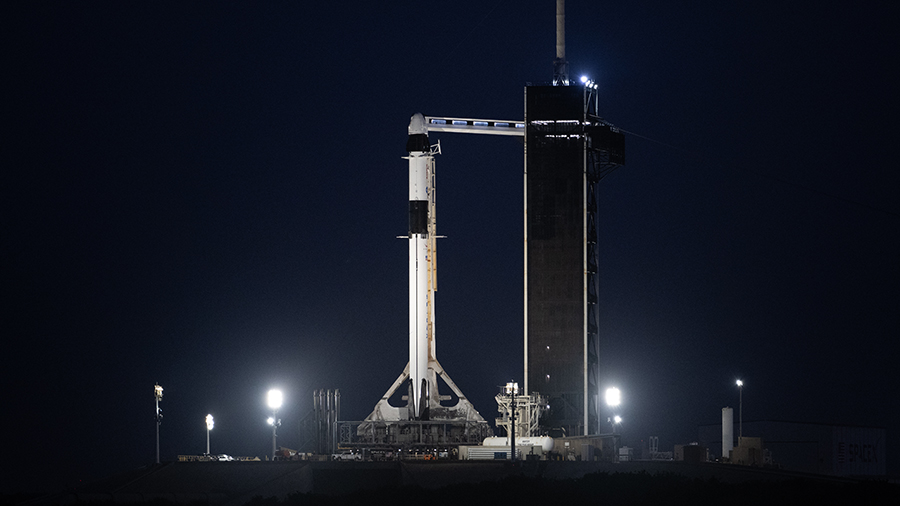 The Expedition 69 crew will receive a space delivery late Thursday night and just a few hours before a new crew will launch to the International Space Station. While the orbital residents are getting ready for both missions there was still some time for gene therapy research and lab maintenance tasks.
Two cosmonauts, Commander Sergey Prokopyev and Flight Engineer Dmitri Petelin, will be on duty monitoring the Roscosmos Progress 85 cargo craft during its automated docking planned for 11:50 p.m. EDT. During the morning, the duo practiced on the telerobotically operated rendezvous unit, or TORU, to remotely control an arriving spacecraft in the unlikely event the vehicle was unable to automatically dock. The Progress 85 is carrying three tons of food, fuel, and supplies the cosmonaut duo will begin unpacking about two hours after its arrival. The space freighter will remain docked to the Zvezda service module's aft port for six months of cargo activities.
About 4 hours after the resupply ship's arrival, the SpaceX Crew-7 mission will launch from NASA's Kennedy Space Center to the orbital lab. Liftoff of the SpaceX Dragon Endurance spacecraft with four Commercial Crew members atop the company's Falcon 9 rocket is scheduled for 3:50 a.m. Friday.
Endurance, commanded by NASA astronaut Jasmin Moghbeli with Pilot Andreas Mogensen of ESA (European Space Agency) and Mission Specialists Satoshi Furukawa of JAXA (Japan Aerospace Exploration Agency) and Konstantin Borisov of Roscosmos, will automatically dock to the Harmony module's space-facing port at 2:02 a.m. on Saturday. About two hours later the foursome will enter the station, greet the Expedition 69 crew, and begin a six-month microgravity research mission.
Flight Engineers Stephen Bowen and Woody Hoburg, both from NASA, and Sultan Alneyadi from UAE (United Arab Emirates) prepared for Saturday's Crew-7 arrival configuring the station for four new crew members. Bowen staged emergency equipment in the orbital lab's U.S. segment that is standard procedure before a new crew arrives. Hoburg set up a new crew quarters in the Columbus laboratory module. Alneyadi configured computers inside the cupola that will monitor Dragon Endurance's arrival on Saturday morning.
While the mission preparations were underway, NASA Flight Engineer Frank Rubio focused his time on biotechnology research. He treated cell samples to seek ways to closely mimic the human central nervous system and brain environment for the Neuronix investigation. Results may provide paths for researchers to discover new therapies treating neurological diseases such as Alzheimer's and Parkinson's.
On Thursday, Aug. 24, the International Space Station's Zvezda service module engines were fired for 21.5 seconds, beginning at 11 a.m. EDT to maneuver the complex away from the predicted track of an orbital debris fragment. The maneuver will not affect the rendezvous of the Roscosmos Progress 85 cargo vessel or the launch of NASA's SpaceX Crew-7 mission.
---
Learn more about station activities by following the space station blog, @space_station and @ISS_Research on X, as well as the ISS Facebook and ISS Instagram accounts.
Get weekly video highlights at: https://roundupreads.jsc.nasa.gov/videoupdate/
Get the latest from NASA delivered every week. Subscribe here: www.nasa.gov/subscribe