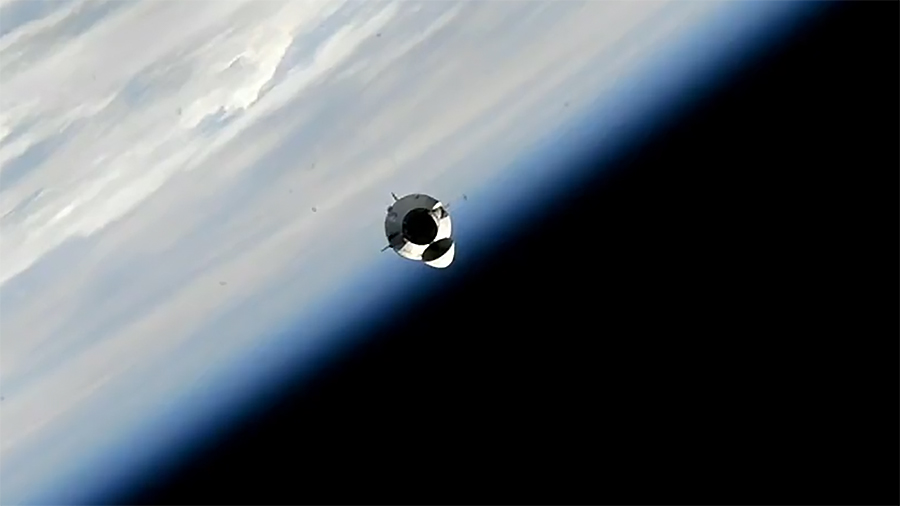 Eleven astronauts and cosmonauts are living together aboard the International Space Station following the arrival of the SpaceX Crew-7 mission on Sunday. While the new crewmates get adapted to life in microgravity another crew is preparing for its departure this weekend.
The orbital outpost's newest crew of four, representing the U.S., Denmark, Japan, and Russia, arrived on Sunday aboard the SpaceX Dragon Endurance spacecraft. NASA astronaut Jasmin Moghbeli, ESA (European Space Agency) astronaut Andreas Mogensen, JAXA (Japan Aerospace Exploration Agency) astronaut Satoshi Furukawa, and Roscosmos cosmonaut Konstantin Borisov are familiarizing themselves with station safety procedures and getting used to life on orbit.
The Crew-7 crew was now Expedition 69 Flight Engineers and will live and work 260 miles above the Earth for the next six months. During Monday afternoon, the new crew members were joined by station commander Sergey Prokopyev of Roscosmos and Flight Engineer Sultan Alneyadi of (UAE) United Arab Emirates) and reviewed the location of emergency hardware throughout the orbital lab.
Another crew is set to return to Earth this weekend after beginning its space station mission in March. NASA astronaut Stephen Bowen, commander of the SpaceX Dragon Endeavour spacecraft, will lead NASA Pilot Woody Hoburg and Mission Specialists Alneyadi and Andrey Fedyaev of Roscosmos when they end their mission as Expedition 69 flight engineers. The quartet is scheduled to undock Endeavour no earlier than Saturday, Sept. 2, and splash down off the coast of Florida.
The station's other two crew members, Frank Rubio of NASA and Dmitri Petelin, spent Monday on a variety of orbital tasks. Rubio checked out a Dragon pressure suit in the Endeavour spacecraft with assistance from Alneyadi. Petelin conducted photographic inspections throughout the station's Roscosmos segment then wrapped up his day with a vision test and exercise.