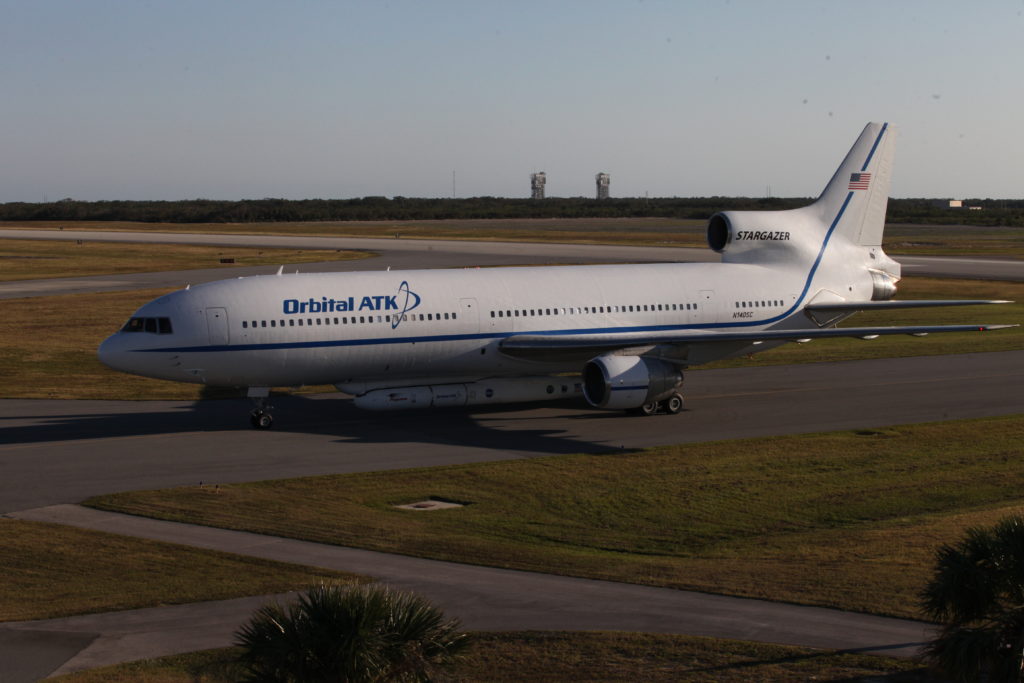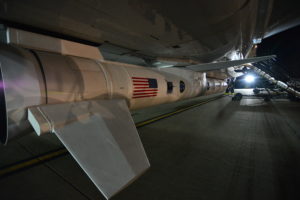 A revised forecast from the U.S. Air Force 45th Weather Squadron predicts deteriorating conditions and a 40 percent chance of favorable weather for the launch of NASA's CYGNSS spacecraft. Launch is scheduled for 8:24 a.m. EST Monday, Dec. 12 aboard an Orbital Sciences ATK air-launched Pegasus XL launch vhicle, seen on the right beneath the L-1011 aircraft called "Stargazer" that will carry the rocket to a deployment altitude about 39,000 feet above the Atlantic Ocean.
The primary concerns are for precipitation, lightning and Cumulus clouds. The rocket is scheduled for deployment over the Atlantic Ocean from Orbital's L-1011 carrier aircraft, seen above with the Pegasus underneath.
NASA's Kennedy Space Center will host a Facebook Live event at noon on Saturday from the Skid Strip runway at nearby Cape Canaveral Air Force Station. Briefers will highlight the science involved in the CYGNSS mission, the L-1011 aircraft and the Pegasus rocket, and participants will get a view inside the airplane. The event will stream live on Kennedy's Facebook page at http://www.facebook.com/NASAKennedy
Managers from NASA and Orbital ATK will hold a final Launch Readiness Review Saturday morning, followed by two news conferences. The Prelaunch News Conference will be at 1 p.m., followed by the CYGNSS Mission Science Briefing at 1:45 p.m. Both will be carried live on NASA Television and the agency's website.
CYGNSS will make frequent and accurate measurements of ocean surface winds throughout the lifecycle of tropical storms and hurricanes. The CYGNSS constellation consists of eight microsatellite observatories that will measure surface winds in and near a hurricane's inner core, including regions beneath the eyewall and intense inner rainbands that previously could not be measured from space. For more information about NASA's CYGNSS mission, visit https://www.nasa.gov/cygnss