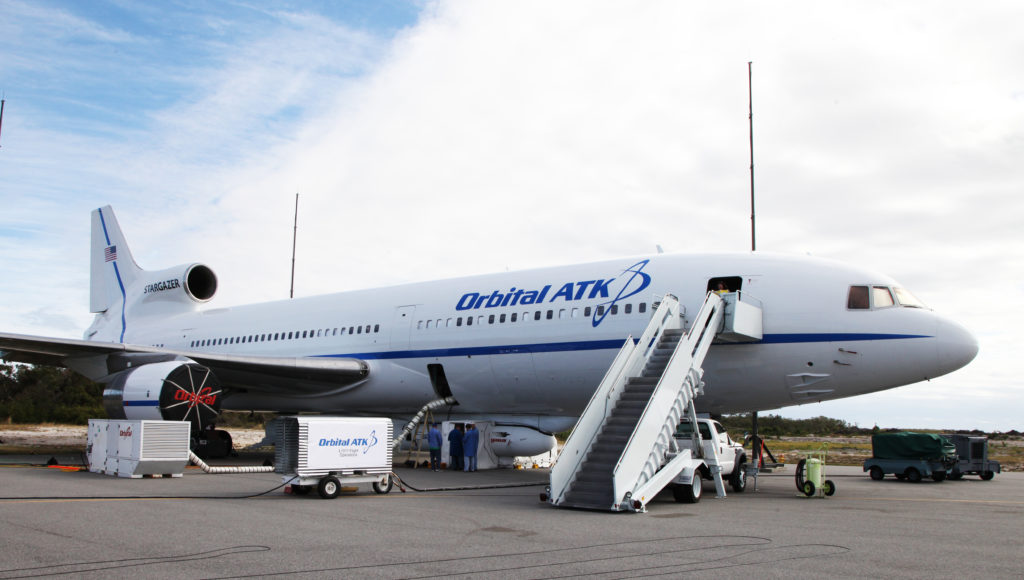 NASA managers have given a GO for the next attempt to launch of the agency's Cyclone Global Navigation Satellite System (CYGNSS) mission now scheduled for Thursday at 8:26 a.m. EST.
Mission personnel uploaded new flight parameter data to the CYGNSS spacecraft this morning, correcting an issue discovered during routine testing on Tuesday. There is no change in status of the Pegasus XL rocket and the Orbital ATK L-1011 Stargazer carrier aircraft. Both also are ready to fly.
Meteorologists with the U.S. Air Force 45th Weather Squadron are predicting an 80 percent chance of favorable weather for the launch.
The CYGNSS spacecraft will ride into orbit aboard an Orbital ATK air-launched Pegasus XL rocket. Orbital ATK's modified L-1011 aircraft will deploy the Pegasus XL and its CYGNSS payload from an altitude of approximately 39,000 feet above the Atlantic Ocean 110 nautical miles east southeast of Daytona Beach.
During the two-year mission, the eight CYGNSS microsatellites will fly in formation about 316 miles above Earth's surface, focusing on the tropics and studying wind speeds and intensification of tropical cyclones such as hurricanes.
Live updates from the countdown will begin at 7 a.m. here on the blog and on NASA Television. NASA EDGE will provide prelaunch coverage beginning at 6 a.m.
Photo credit: Bill White