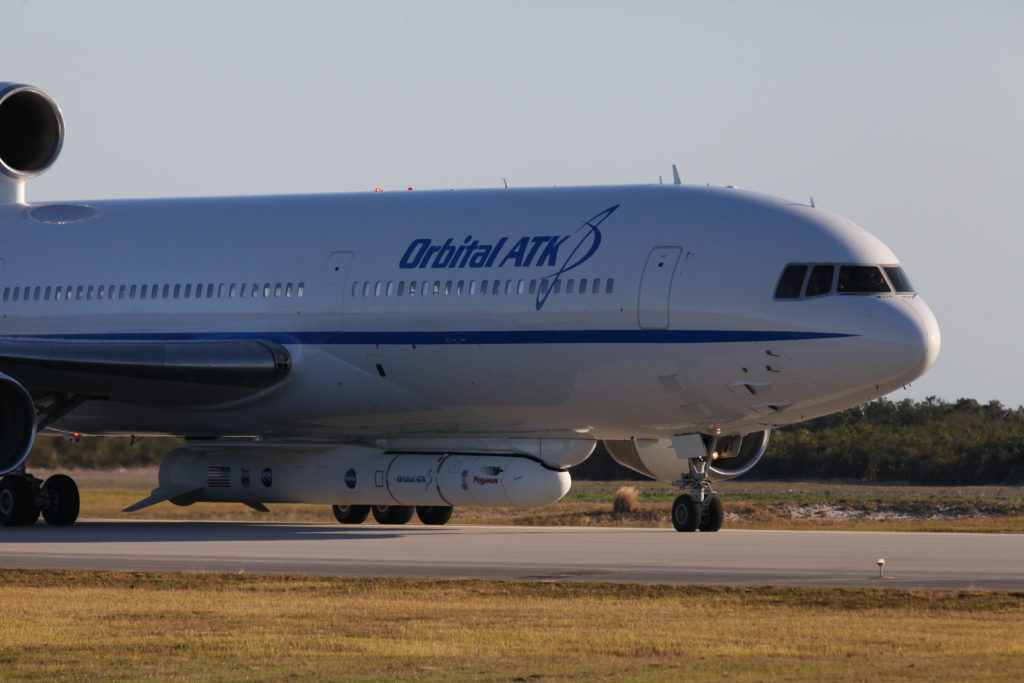 NASA's CYGNSS mission has been rescheduled for launch Thursday, Dec. 15 at 8:26 a.m. EST. The forecast calls for an 80 percent chance of acceptable conditions during the 1-hour launch window.
Mission personnel uploaded new flight parameter data to the CYGNSS spacecraft this morning, correcting an issue discovered during routine testing on Tuesday.
The launch will be broadcast live on NASA-TV  with coverage beginning at 7 a.m. EST.  NASA EDGE will provide prelaunch coverage beginning at 6 a.m.
During the one-hour window, CYGNSS will take off aboard an Orbital ATK air-launched Pegasus XL launch vehicle. The rocket is scheduled for deployment over the Atlantic Ocean from Orbital's L-1011 carrier aircraft.
CYGNSS will make frequent and accurate measurements of ocean surface winds throughout the lifecycle of tropical storms and hurricanes. The CYGNSS constellation consists of eight microsatellite observatories that will measure surface winds in and near a hurricane's inner core, including regions beneath the eyewall and intense inner rainbands that previously could not be measured from space.
The Space Physics Research Laboratory at the University of Michigan College of Engineering in Ann Arbor leads overall mission execution in partnership with the Southwest Research Institute in San Antonio, Texas. The Climate and Space Sciences and Engineering Department at the University of Michigan leads the science investigation. The Earth Science Division of NASA's Science Mission Directorate oversees the mission.