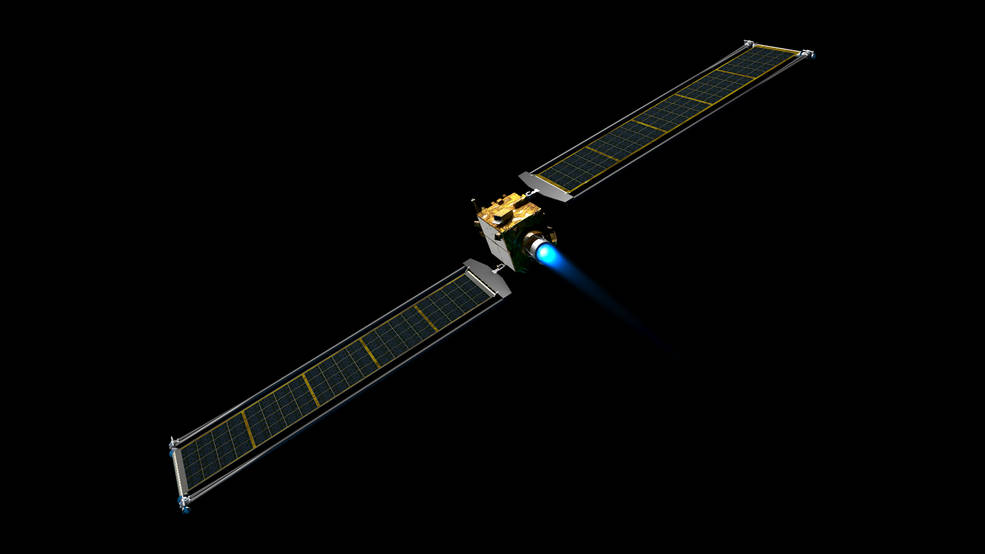 NASA's Double Asteroid Redirection Test (DART) spacecraft, the first designed to deflect an asteroid, arrived at the Astrotech Space Operations Facility at Vandenberg Space Force Base in California on Oct. 2, 2021. The spacecraft was transported by truck from a cleanroom at Johns Hopkins Applied Physics Laboratory (APL) in Laurel, Maryland.
Inside Astrotech, the APL team unpacked the spacecraft, performed a battery charge up, and put DART through a series of final tests and checkouts to confirm it is ready for launch. A launch countdown rehearsal of tests and operations also were completed.
"DART processing at Astrotech has been very smooth. The facility performance has been spotless, allowing the spacecraft electrical testing and non-hazardous launch preparation activities to be completed efficiently," said Julie Schneringer, NASA launch site integration manager.
DART was transported to the SpaceX Payload Processing Facility at Space Launch Complex 4 at Vandenberg on Oct. 26, where hazardous operations will take place, including fueling the spacecraft with hydrazine for its mission. DART will be integrated with the launch vehicle adapter and enclosed in the Falcon 9 payload fairing in preparation for launch.
DART is the first mission to test technologies for preventing an impact of Earth by a hazardous asteroid. One of those technologies is the kinetic impactor technique to change the motion of an asteroid in space. DART will encounter a binary near-Earth asteroid called Didymos in late September, 2022. The spacecraft will impact the orbiting moonlet, named Dimorphos, to change its orbital period around Didymos. That change will be measured using telescopes on Earth. A few days before impact, the LICIACube, a CubeSat attached to DART, will deploy and take photos while DART impacts Dimorphos. DART has a single instrument, the Didymos Reconnaisance and Asteroid Camera for Optical navigation (DRACO), used both for navigation and to determine the properties of the kinetic impact site.
"Not only is the DART mission a planetary defense demonstration, but so much of the spacecraft itself is new technology demonstration and being a part of a mission of firsts is stimulating," Schneringer said.
DART will launch aboard a SpaceX Falcon 9 rocket from Vandenberg during a launch window that opens at 10:20 p.m. PST, Nov. 23 (1:20 a.m. EST, Nov. 24). NASA's Launch Services Program, based at Kennedy Space Center in Florida, America's multi-user spaceport, is managing the launch. After the spacecraft separates from the launch vehicle, its Roll Out Solar Arrays (ROSA) will deploy to provide the solar power needed for DART's electric propulsion system and for the spacecraft operations.
DART is directed by NASA's Planetary Defense Coordination Office to the Johns Hopkins Applied Physics Laboratory and managed as a project of the Planetary Missions Program Office at Marshall Space Flight Center with support from several other NASA centers: the Jet Propulsion Laboratory, Goddard Space Flight Center, Johnson Space Center, Glenn Research Center and Langley Research Center.