2012 is just around the corner. Maybe you've resolved to get in shape, as most of us do after the damage we've done from Thanksgiving to January 1. A new year may be the motivation you need to build a podcast using the Fitness module.
The Train Like an Astronaut project is a good place to begin. The site was developed in cooperation with NASA scientists and fitness professionals working directly with astronauts. The activities are a physical and inquiry-based approach to human health and fitness on Earth and in space. Teach your students physical activities modeled after the real-life physical requirements of humans traveling in space.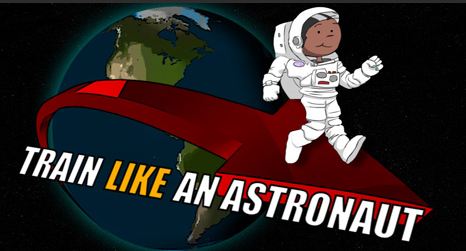 NASA recently added several new items to the Training Videos module with demonstrations of the physical exercises. Astronaut and educator Dottie Metcalf-Lindenberger and newly selected astronaut Kjell Lindgren introduce the activities. NASA trainers then explain the exercises to a group of students as they perform them.
The Train Like an Astronaut hands-on activities help students understand the science behind nutrition and physical activity in their lives and in the lives of astronauts in space.
A podcast made with the Fitness module and the Train Like an Astronaut project can easily become an interdisciplinary lesson — science and health education join with technology and physical education. See the post "Fitness Topic Module Offers Opportunity for Integrated Curricula".
The following videos have more background information for student research on astronaut fitness:
Working Out Aboard the Station
How Space Exploration Affects Muscles
Exercise Helps Keep Astronauts Healthy in Space
Train Like an Astronaut is inspired by First Lady Michelle Obama's "Let's Move!" initiative, dedicated to solving the challenge of childhood obesity and encouraging families across the country to commit to living healthier lives.