One of the most interesting things about life on the space station — besides floating, and being in space, and observing Earth from above — is seeing how everyday things respond to microgravity. (Okay, I'm saying this as someone who has only wished to go into space, but I'm taking my best guess based on what I've seen and heard.)
From November 2002 to May 2003, Don Pettit, who holds a doctorate in chemical engineering, spent 161 days on the International Space Station as Expedition 6 NASA ISS Science Officer. During Pettit's time off on Saturday mornings, he conducted spontaneous experiments in microgravity with everyday items. He recorded the experiments on video and called them Saturday Morning Science.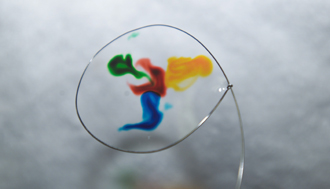 Water is being held in place by a metal loop to demonstrate
surface tension in microgravity.
Pettit performed experiments with large spheres of water, soap bubbles, antacid tablets and other items on the station. Microgravity had interesting effects on those simple items. You can watch some of the experiments on these sites:
We have made some of Pettit's clips available in the DIY Podcast Micro-g module. Students may want to perform and film some of these simple experiments to add a comparison of their 1-g experiments to Pettit's micro-gexperiments to their podcast episode.
Students may want to use some of the photographs of Pettit's experiment. The photos begin on this page.
Pettit returned to the station on Dec. 23, 2011 as a crew member for International Space Station Expeditions 30 and 31. You can check the NASA website to find out what he's doing on the station this time.
Please Note: If you leave a comment, please do not include a link to your blog or other websites. We typically won't be able to approve your comment if you add a URL.