Career planning can be fun for students. They can dream about their futures as they create a multimedia project with the Exploration Careers module. The experts featured in the clips tell interesting stories about their careers at NASA. But with NASA's Digital Learning Network™, students can speak with NASA experts via a videoconference.  
"NASA Careers in STEM (Science Technology Engineering Mathematics)" is a DLN event that covers the following topics:
•    The many careers at NASA.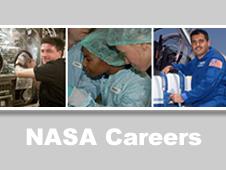 •    The difference between a job and a career.
•    What does an engineer do?
•    NASA scientist.
•    NASA astronaut.
•    Working for NASA.
•    What does NASA look for in its workforce?
The event has pre- and post-conference activities to prepare for and follow up after the event. Schedule a DLN event now.
Digital Learning Network: NASA Careers in STEM
DIY Podcast: Exploration Careers
Please Note: If you leave a comment, do not include a link to your blog or other websites. We typically won't be able to approve your comment if you add a URL.