Did you resolve to make 2014-2015 the school year to incorporate technology into your classroom? If so, we are here to help — with the redesigned Do-It-Yourself Podcast site. It has a new look, improved navigation and added features that make it more convenient to use. And, on the home page, a two-minute video gives educational and motivational reasons to create multimedia products with the DIY Podcast resources.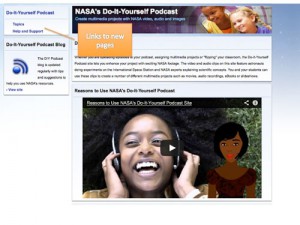 The left side of the page has a new navigation menu that includes links to two new pages within the site: Topics, and Help and Support.
Since the video and audio resources are divided into topical modules, the new Topics page lists, describes, and summarizes the content of each module. Another new feature for our site is the STEM disciplines key found on the Topics page. By each module description, an S, a T, or an E signifies whether the module supports science, technology or engineering curriculum. (Math is, of course, "hidden" in all three.)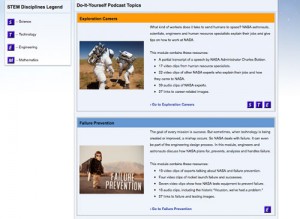 The second link on the left side of the page leads to the Help and Support page. There you will find questions and answers to help you begin using the site.
We've made downloading video and audio more convenient by placing all of those resources together. At the top of each topic module's clips page is a video player. You can watch all the videos in the module, and then download the video and the associated audio clip from the same page. The transcriptions are beside the download links.
Visit our new and improved site, and start creating multimedia projects with your students.
Please Note: If you leave a comment, do not include a link to your blog or other websites. We typically won't be able to approve your comment if you add a URL.