Originally Published: Jan. 14, 2017
Living in D.C., I get a unique front-window view on US politics and learn about the country in a new and unprecedented way.
Right now, the entire city is buzzing about the inauguration and the peaceful change of power that is typical of presidential transitions since the beginning of the US. Last week, the entire county listened to current president and his associates reflect on his last 8 years of presidential politics. We watched the vice-president's tearful reaction when he was surprised by his friend, the president, awarding him the medal of freedom, with distinction. Yes, this change is filling the news worldwide. But there are things you only see in DC.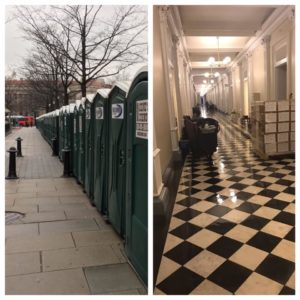 Here are two visual impressions of this transition. The right hand picture shows the inside of the White House's Eisenhower Executive Office Building on Friday, Jan. 13. It felt like the last day of summer camp: empty boxes everywhere, and full boxes stacked in hallways, friends hugging and taking pictures. There were lines of political employees looking for "single point checkout", where they can turn in their batches and government furnished cell-phones. And the White House gift store had a long line, as so many dedicated and loyal members of the U.S. government looked back to the past years and thought about what is next. I talked to some of them – they really, really care about the jobs they are leaving.
The picture on the left hand side shows the view out of the door of my apartment building. I live on Pennsylvania, about 10 blocks from the White House and right by the parade that will happen next week. The porta potties are in preparation of the hundreds of thousands of participants of the Inaugural Parade, and also the big march the day thereafter. There are bleachers, TV antennas, camera towers, and elevated platforms everywhere. In fact, a whole bunch of people have been working on these for weeks. As inauguration approaches, more and more security personnel show up. My apartment building sent a letter last week that told us to stay off the balconies and away from windows during Inauguration Day. This is real life in D.C., enabled by a cadre of civil servants, security personnel and police officers that enable one of these very things that make our country what it is.
Thanks to everybody who was part of the previous government in whatever role and thanks for those who are setting their personal goals aside for service as part of the next administration. It's these selfless and unsung heroes that make the government work!