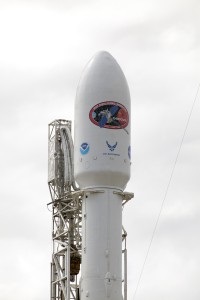 Good afternoon from Florida where NOAA's newest spacecraft stands ready for liftoff at 6:10 p.m. EST. The spacecraft, called DSCOVR, will be sent to an orbit 1 million miles away from the Earth where it will be able to watch the Sun and Earth at the same time. A SpaceX Falcon 9 is being fueled at Space Launch Complex 40 at Cape Canaveral Air Force Station.
DSCOVR will succeed NASA's Advanced Composition Explorer (ACE) in supporting solar observations and provide 15 to 60 minute warning time to improve predictions of geomagnetic storm impact locations.
We will update countdown milestones this afternoon and follow DSCOVR's ascent into space. We'll also offer details about DSCOVR's mission, which is the first deep space mission for the National Oceanic and Atmospheric Administration.