by Kate Squires / OSAN AIR BASE, SOUTH KOREA /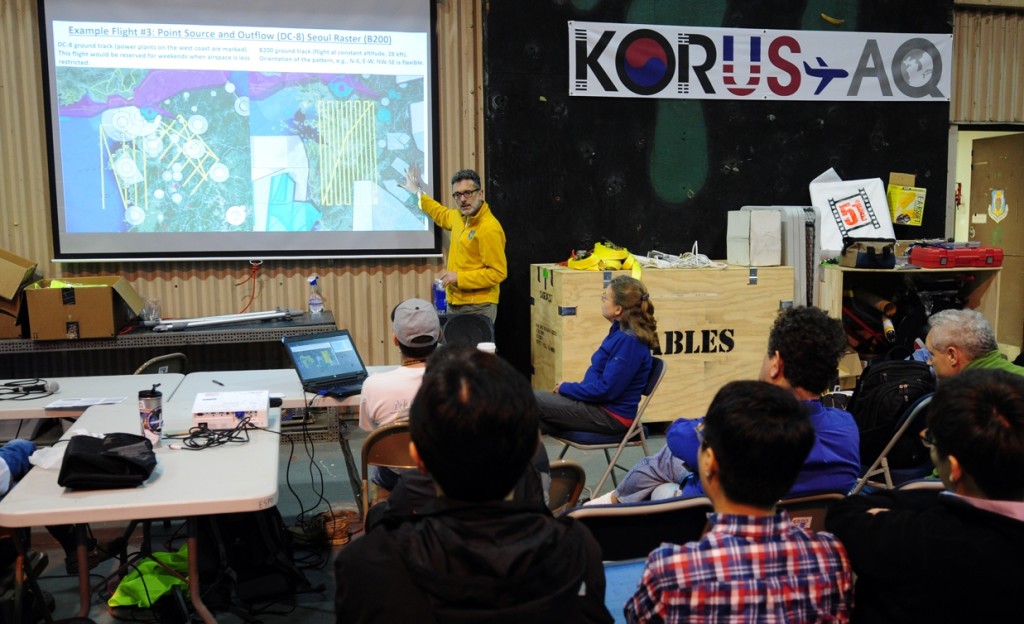 Jay Al-Saadi of NASA's Langley Research Center discusses preliminary plans for the NASA DC-8 and B-200 during a forecasting meeting. Credit: NASA/Jane Peterson
The science equipment is unloaded and jetlag has subsided for the KORUS-AQ team here getting settled in at Osan Air Base. Now the task at hand is to plan where and when the team's three aircraft will begin gathering actual observations in the air.
Sounds simple, right? Wrong.
Pollution forecasting, air space restrictions, and weather predictions are all major factors that determine conditions for KORUS-AQ science flights that are targeting a range of air quality conditions over and around South Korea.  To further complicate matters, these conditions change constantly. Determining the best of all three conditions requires careful coordination. This coordination happens through daily morning meetings by flight planners, forecasters, and science instrument teams inside a hangar at Osan that serves as the KORUS-AQ's headquarters.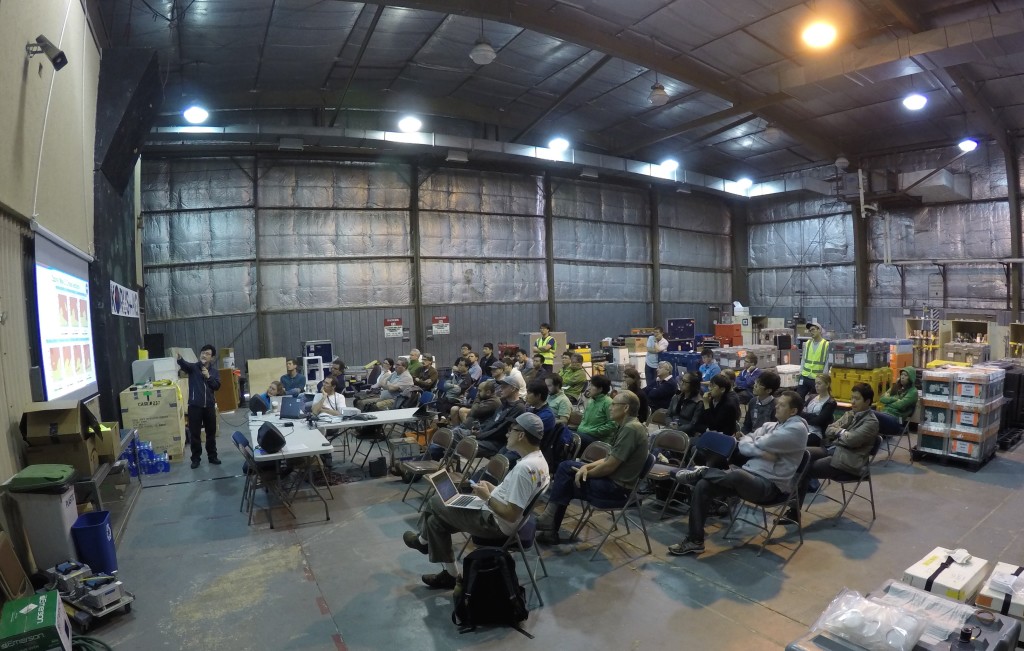 The forecasting group meets in the hangar to discuss Monday's flight. Credit: NASA/Jane Peterson
I attended the first of these meetings on Saturday morning April 30 where the team reviewed the conditions for the first proposed flight on Monday, May 2. The question: would those conditions accommodate the science objectives of KORUS-AQ?
Pollution forecast considerations included looking at:
the pollution plume from Seoul and other pollution sources in South Korea like power plants,

air and dust inflow over the West Sea and upwind of Seoul
, and

biomass burning impacts (wildfires).
Model run showing surface NO2 from point sources in Korea. KORUS-AQ observations in combination with these models will lead to better understanding of the factors controlling air quality. Credit: NCAR/Louisa Emmons
Another major requirement of the mission was negotiating with South Korea's air traffic control authority on designing flights that collect the type of data the scientists need. The aircraft will be flying less than conventional patterns over the South Korean peninsula. For example, the DC-8 will fly spiral patterns over specific ground sites and may fly as low as 1000 ft. above ground level to obtain measurement profiles from different altitudes.
Mission managers, pilots, and principals investigators have spent weeks working with air traffic control to determine flight paths that will achieve science objectives while also keeping the many commercial passengers in busy jetways safe.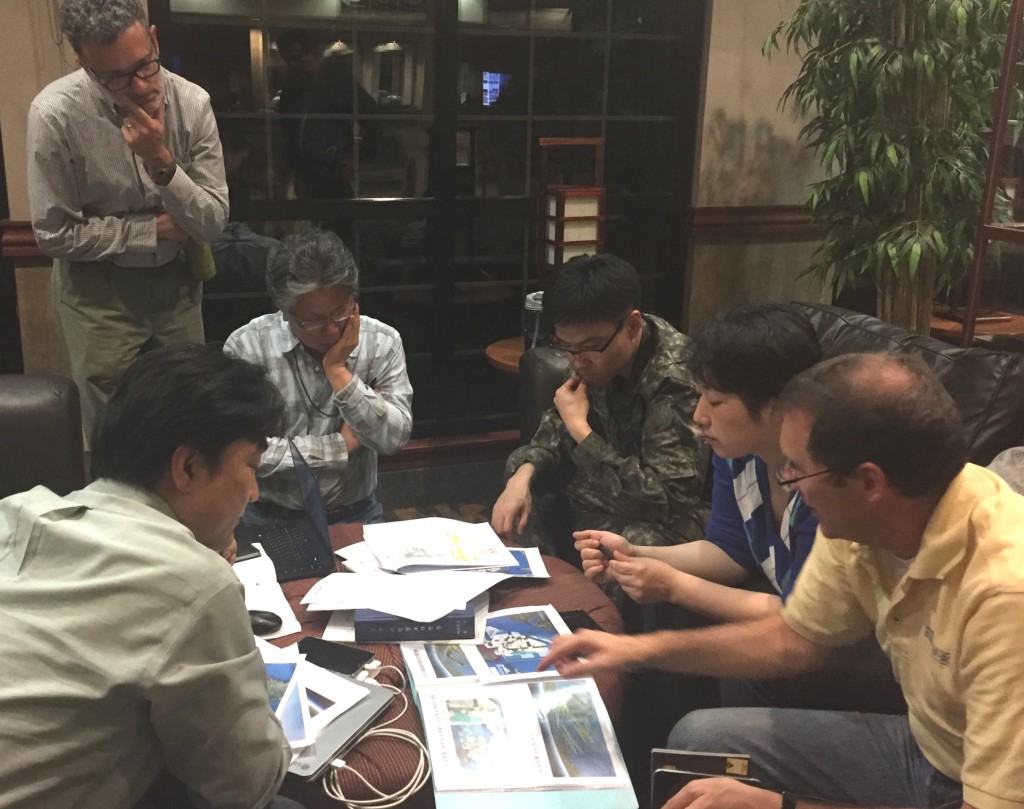 Flight planning discussions took place in some unconventional places and times. Here the KORUS-AQ science team meets after hours in the lobby of the Turumi Lodge at Osan Air Base to work out flight plans to submit to the air traffic control authority. Credit: NASA/Kate Squires
As complex as the planning sounds, the team knows how to work together to achieve progress.
"A lot of preparation goes into our daily flight planning meetings. We hold them on the hangar floor so that all of the science team members can participate. Team members scattered across the many  ground sites in South Korea join these meetings online  This ensures that we have access to all considerations that might influence our flight decisions," said Jim Crawford, lead U.S. scientist for KORUS-AQ.
The weather forecast shows an impending rainstorm early in the week, which could hamper flight efforts. But the team makes the  decision to fly Monday despite the storm.  
"While the conditions Monday are not ideal, these first flights will be difficult to coordinate. Better to give the pilots and scientists a chance to work through and identify difficulties and establish confidence with air traffic control on a marginal day so that we are ready to take advantage of the better sampling days ahead of us," Crawford said.