by Mariah Heck, Julia Lafond and Ariana Tribby / PALMDALE, CALIF. /
Thirty-two undergraduates from across the country had the experience of a lifetime last week flying on the NASA DC-8 laboratory as part of the NASA Student Airborne Research Program (SARP). This hands-on internship gives students the opportunity to not only help scientists collect data but also creatively design their own research projects based on that data to address environmental issues that have global impact.  
On June 17 and 18, the students flew on the DC-8, which had recently returned from research flights in the Republic of Korea as part of NASA's Korea U.S.-Air Quality mission. SARP participants observed and participated in flight planning and scientific data collection. Here, three of those students—Mariah Heck, Julia Lafond and Ariana Tribby—share their flight experiences. Julia is a geology major and biology minor from North Carolina State University. Mariah studies geophysics and geology at the University of Tulsa in Oklahoma. Ariana is a chemistry major at Pomona College in Claremont, California.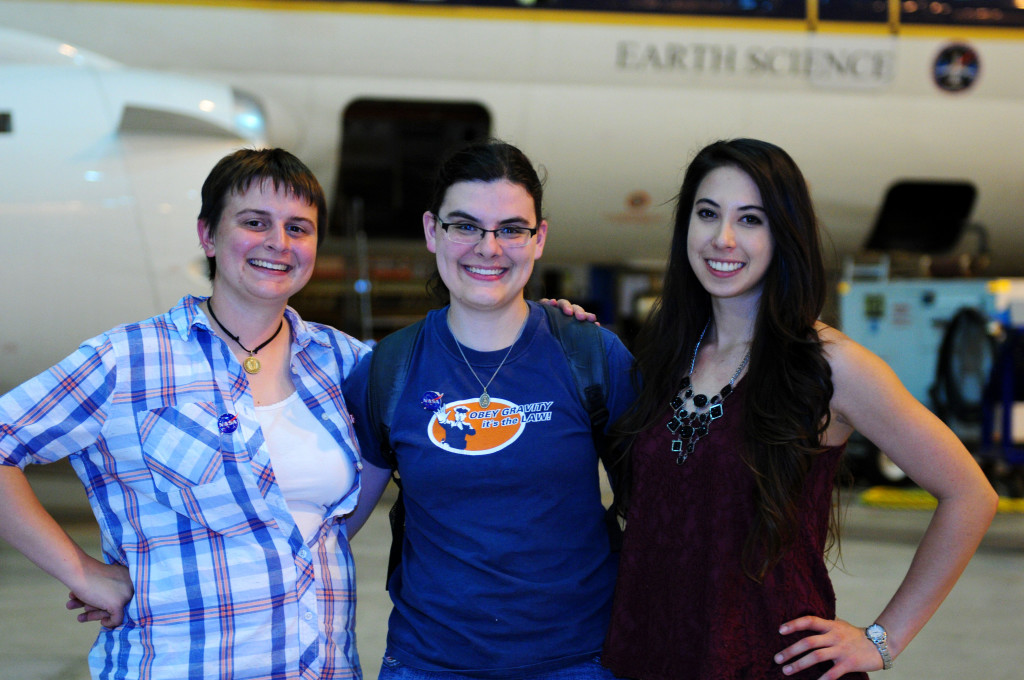 The NASA DC-8 is not your typical commercial aircraft. The windows are filled with many sensors and air sampling devices that feed into instruments inside the plane. Usually, SARP flights have just a few instruments on board, but this time there were more than 20 because of the recent Korea U.S.-Air Quality mission (KORUS-AQ).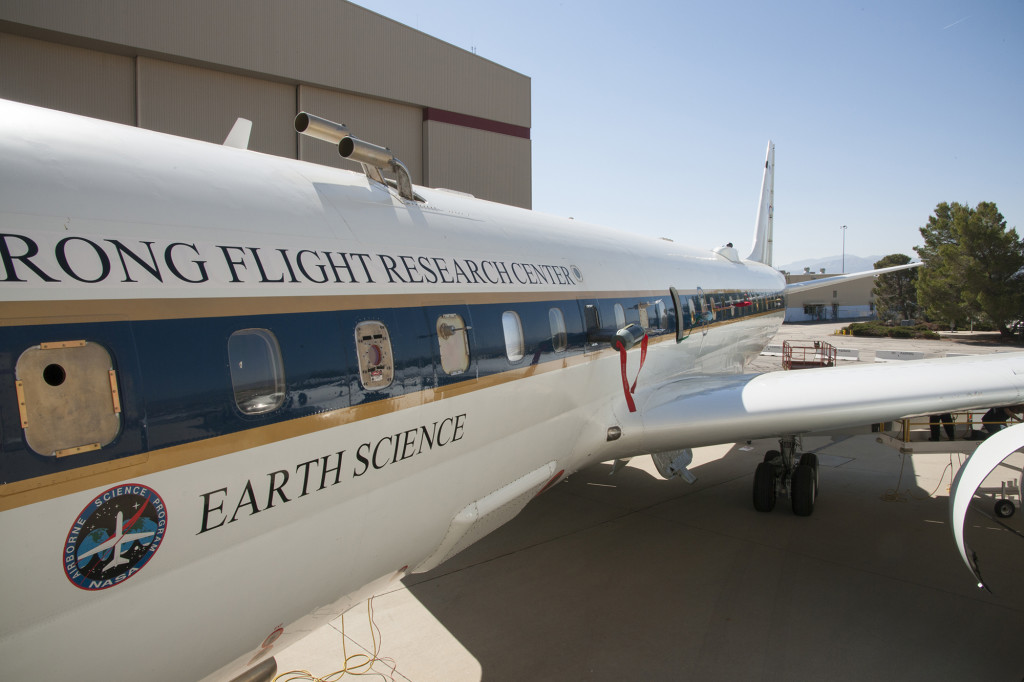 We wandered around the plane during flight to learn about not only the equipment on board but also how scientists work together on missions. Seeing the data-gathering process in action was incredible. While we were flying, the scientists announced their findings over headsets. They would often ask each other about the levels of specific compounds they were measuring, because results from each instrument comprised a piece of the entire puzzle of chemical reactions taking place in the atmosphere. It demonstrated that no scientific research is truly isolated—collaboration is key.
One of the instruments, the Airborne Tropospheric Hydrogen Oxides Sensor (ATHOS), required adjustments below deck to allow the flow of several gases into the sensor above. The scientist operating this instrument, Alexandra Brosius, gladly took students into the cargo area to demonstrate how to adjust gas flow inlets. It was extremely exciting to get into the pit, all while fighting to keep our balance because of all of the bumps and movement caused by the DC-8 flying through turbulent winds.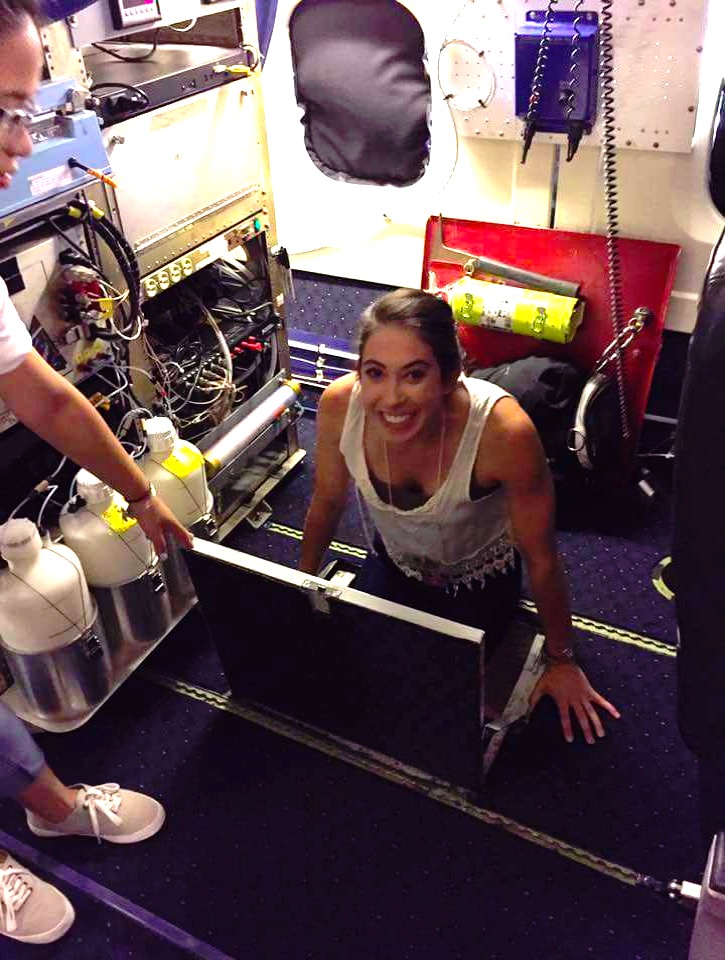 The whole air sampling team was the busiest student group. They took samples of the outside air by filling vacuum cylinders every five minutes throughout the duration of the flight. They took samples more frequently at specific locations, such as when the aircraft flew over oil drilling fields or during missed approaches. Careful sampling during these events is essential for examining harmful emissions at their source.
Going into the flights, we were both nervous and excited, as we were thoroughly warned that flying would consist of many spirals and missed approaches at area airports in order to collect data closer to the ground. A missed approach means approaching the runway like you are going to land, but then pulling back up. These maneuvers would also involve a lot of turbulence, and the high temperatures meant the plane would be uncomfortably warm—all factors that contribute to airsickness.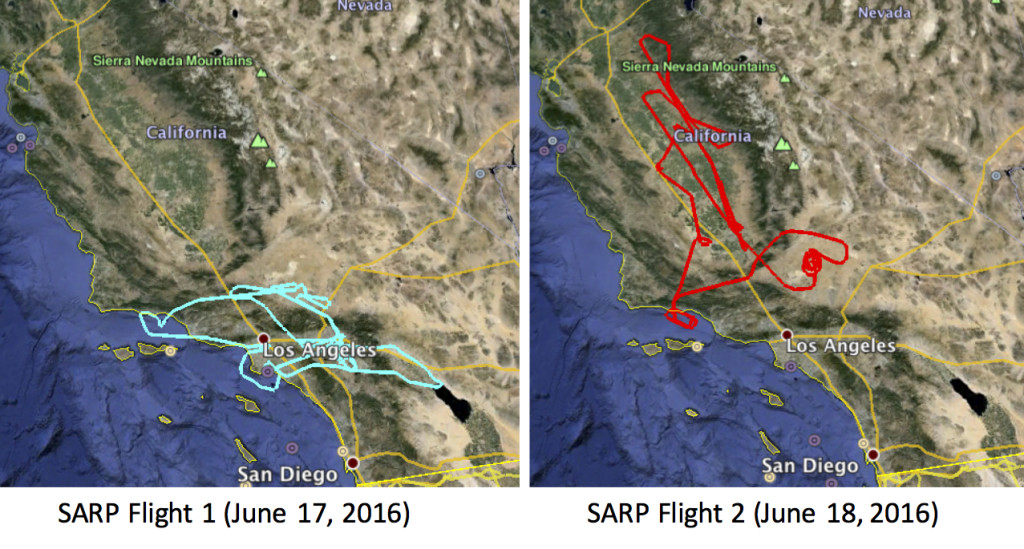 As planned, we made several missed approaches, and because most of the flight took place in the boundary layer (approximately 1000 feet above ground), it was a bumpy flight overall. The maneuvers and low flying made seven people queasy.
During parts of the flight, we could see smoke through the window. The Sherpa brush fire outside Santa Barbara was in full swing that weekend, and we could see how it directly influenced the chemistry of the atmosphere.
A time-lapse video of the NASA DC-8 sampling haze from a wildfire near Santa Barbara, CA on June 18, 2016 during a SARP flight.
Despite the motion sickness, heat and tight space, this was an experience of a lifetime and we were very honored and fortunate to work with such incredible, accomplished scientists, engineers and pilots!