by Samson Reiny / OVER THE EQUATORIAL PACIFIC OCEAN /
Feeling breakfast move toward my chest is the uneasy cue that NASA's DC-8 flying laboratory is dropping altitude. We drop all right, from 35,000 feet to just 500 feet above the open ocean — the water so close the airplane's wing starts to look like a diving board.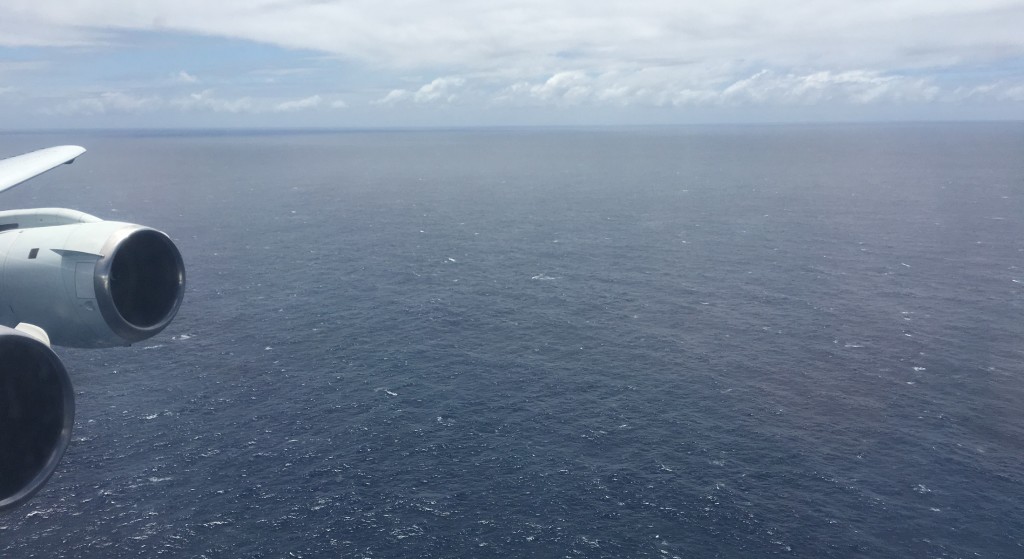 Suddenly, the plane climbs hard, zooming toward the clouds. Standing, my feet are glued to the floor, the rest of my body wanting to follow. I'm dizzy, but I eventually adjust as we ascend to higher elevation.
That is, until we dive again. Seven more times, to be exact.
"I've never had such a nice flight," says Donald Blake, smirking. An atmospheric scientist at the University of California, Irvine, he has flown on the DC-8 countless times over the years. "One of my students threw up 19 times during a really bad flight over Central California. I told him, 'You're never flying on this thing again.' Well, I barely managed not to throw up myself."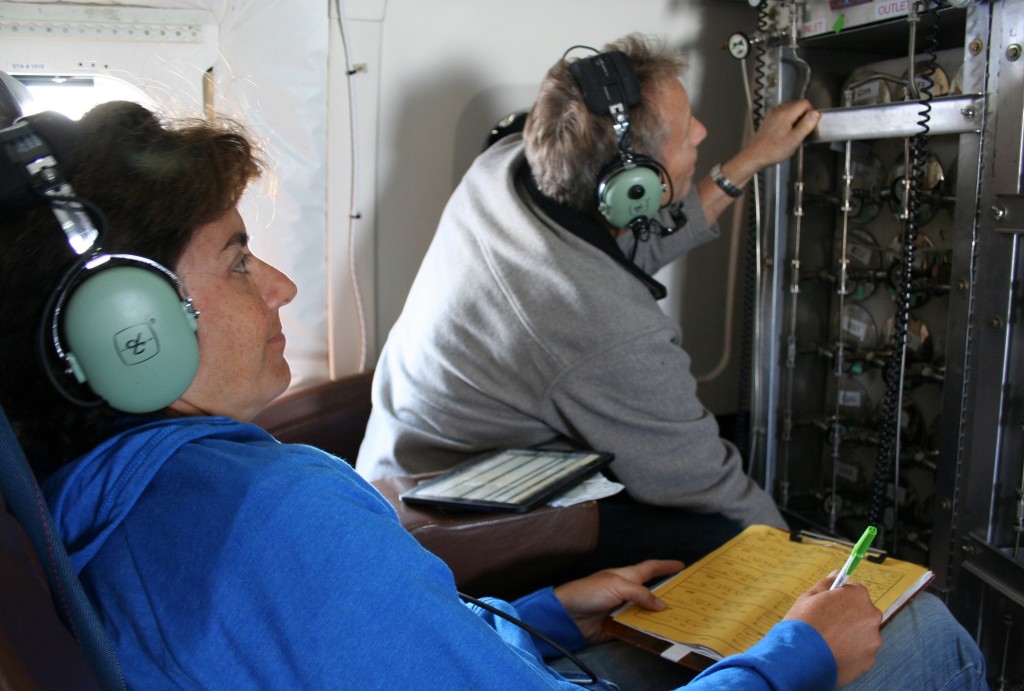 But in retrospect motion sickness is a small price to pay to accomplish the Atmospheric Tomography (ATom) mission's ambitious objective: to survey the atmosphere around the world at a range of altitudes (hence the dramatic dips and ascents). The 23 instruments on board are tasked with measuring all together more than 200 gases and airborne particles in the most remote regions on Earth in order to help advance a number of scientific investigations.
On Friday, July 29, I joined 30 researchers on their first science flight: a nine-hour trek from NASA's Armstrong Flight Research Center in Palmdale, Calif., to the equator in the Pacific Ocean and back. Next up would be a 23-day whirlwind trip, with far-flung stopovers in American Samoa in the Pacific, Ascension Island in the middle of the Atlantic, and Kangerlussuaq, Greenland, in the Arctic Circle, among others.
What is clear about being on a science flight is that instruments are the first-class passengers. These costly, often oven-sized machines are checked incessantly, the thermostat set to their liking, their bodies secured for the vicissitudes of flight. From the onset, they cause a ruckus, some more than others. At one point, a distressed passenger snatches my front row seat while I'm away. She points first to her ears then to the back of the plane. I hear a high-pitched warble that becomes more shrill the closer I move toward it.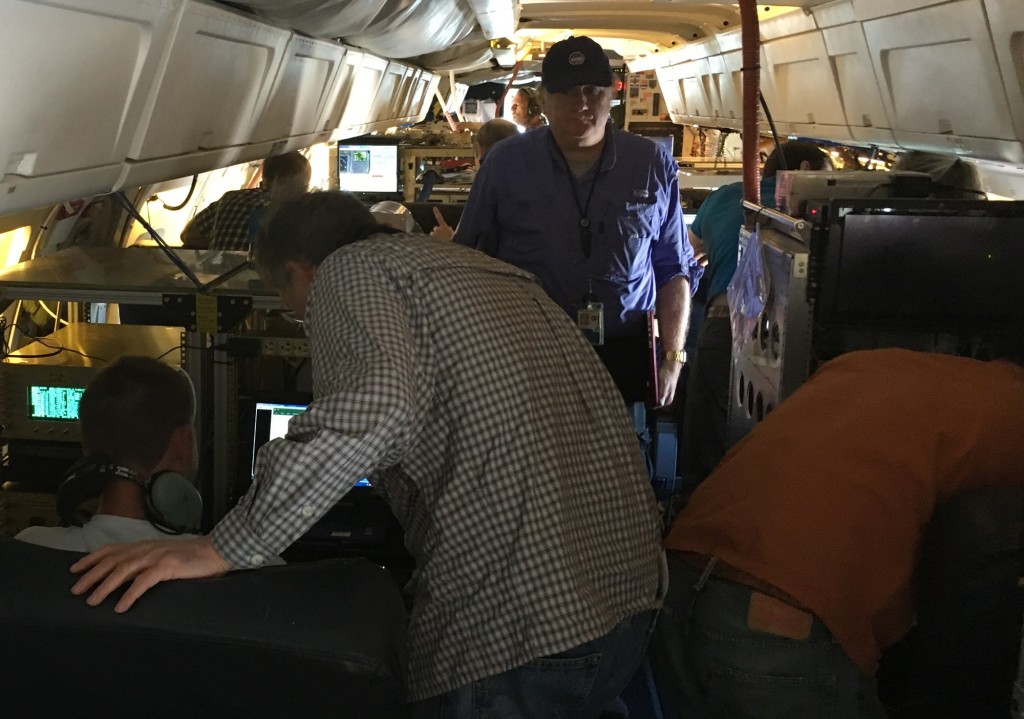 "I should have told her the instrument behind me gets particularly loud," says a regretful Roisin Commane, an Irish-born Harvard University scientist who's assisting with the Quantum Cascade Laser, or QCLS, which uses light absorption to measure levels of carbon dioxide, methane, carbon monoxide, and nitrous oxide.
If all is well, Roisin's instrument pretty much runs on its own, making her one of the lucky ones. Others are married to theirs. University of New Hampshire scientist Jack Dibb, a gruff, ponytailed man, is always on his feet changing out filters for his Soluble Acidic Gases and Aerosols, or SAGA, instrument as it passes through a string of altitudes and latitudes. The filters will be brought back to a lab and analyzed for pollutants such as nitric acid and for aerosols that are signatures of biomass burning, which includes wildfires.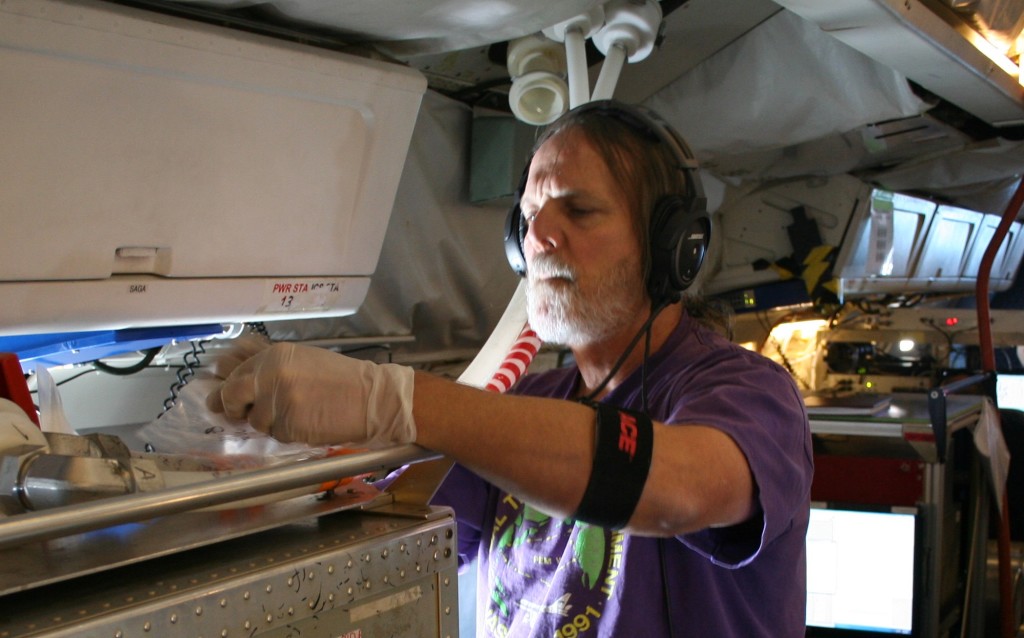 Donald Blake, the veteran DC-8 traveler, usually has his hands full fussing with the valves of his Whole Air Sampling machine, capturing air samples in cans to be sent to his and others' labs for analysis of a hundred different gases and particles. Today fellow UC Irvine researcher Barbara Barletta is helping out. The duo eventually fills 166 cans.
Some instruments even require their own maneuvers. The Meteorological Measurement System records in situ pressure, wind and temperature data. To establish a reference point for the wind measurements, the DC-8 pilots conduct a few maneuvers, namely the "pitch" (quick up-and-down movements), the "yaw" (moving side to side like a crab), and the "box" (a succession of tight turns that result in a box pattern when seen from above).
Even in the cockpit, the safest spot for a sensitive stomach, these maneuvers make me squirm. "Nobody likes that guy," Blake later says jokingly of the instrument's scientist.
Throughout it all, many researchers are hunched over computers, transfixed by the incoming data displayed through colorful graphs and charts. Over the intercom, they share results, talking in science jargon, and communicate with the navigator and the mission director and assistant mission director, who negotiate the science team's needs with the pilots.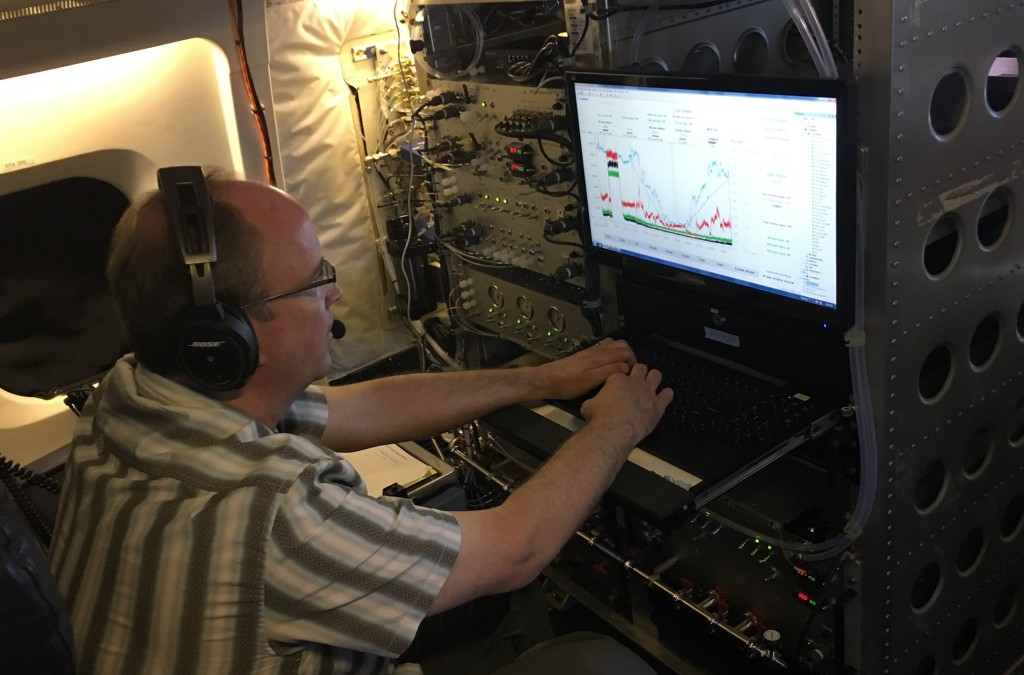 As we near the equator, when I hear Tom Ryerson, who leads a research group in the National Oceanographic and Atmospheric Administration's Chemical Sciences Division, exclaim over the intercom, "This is lowest NOy [total reactive nitrogen] measurement I've ever seen, 70 ppt [parts per trillion]," I take notice.
NOy, Ryerson explains, is the sum of all nitrogen oxides, which derive from pollutants emitted from power plants, cars and trucks, and forest fires. His Nitrogen Oxides and Ozone instrument is delivering that measurement in real time. Levels of NOy are usually lower near the southern hemisphere, far away from their sources, but not this low, he says. "This was really low—about 10 times lower than in the northern hemispheric air we just sampled on our way south from Palmdale."
NOy measurements taken during the rest of the mission will be useful for testing global models that simulate sources of NOy on the continents and how they're mixed around between the northern and southern hemispheres and also how they're scrubbed by clouds.
"The key thing about ATom is that we're making these measurements in very under-measured parts of the world where the global models have very few measurements to compare against," Ryerson says. "We'll measure some things in some parts of the world that really haven't been observed before."
Moments later, he informs me that a few of the instruments picked up dust particles the team think came from Africa.  Their sizes are much larger than expected and may indicate something new about how far dust can travel after being picked up by windstorms in the world's deserts.
"Not bad at all for a first flight," Ryerson says. "It feels like the start of a concert. The instruments are warming up, right before the symphony starts. There's lots of anticipation of great stuff to come."