by Carol Rasmussen / KEFLAVIK, ICELAND /
The Oceans Melting Greenland science team carefully planned each location for the team to drop its ocean probes. Some sites are in narrow fjords; others are hundreds of miles out on the continental shelf. Each site was chosen to add value to the data the team is collecting.
The two biggest enemies of this planning are ice and weather.
Sea ice is at its lowest at this time of year, but there's plenty of it around Greenland, especially in the north. The probes can't punch through it to reach the water below. If a drop site is ice covered, the team looks for a location that is "close by and second best," said principal investigator Josh Willis.  They might need to go to the next fjord over or a bit farther out on the shelf. Since no data whatsoever have been collected from much of the northern coastline, these alternatives have value too.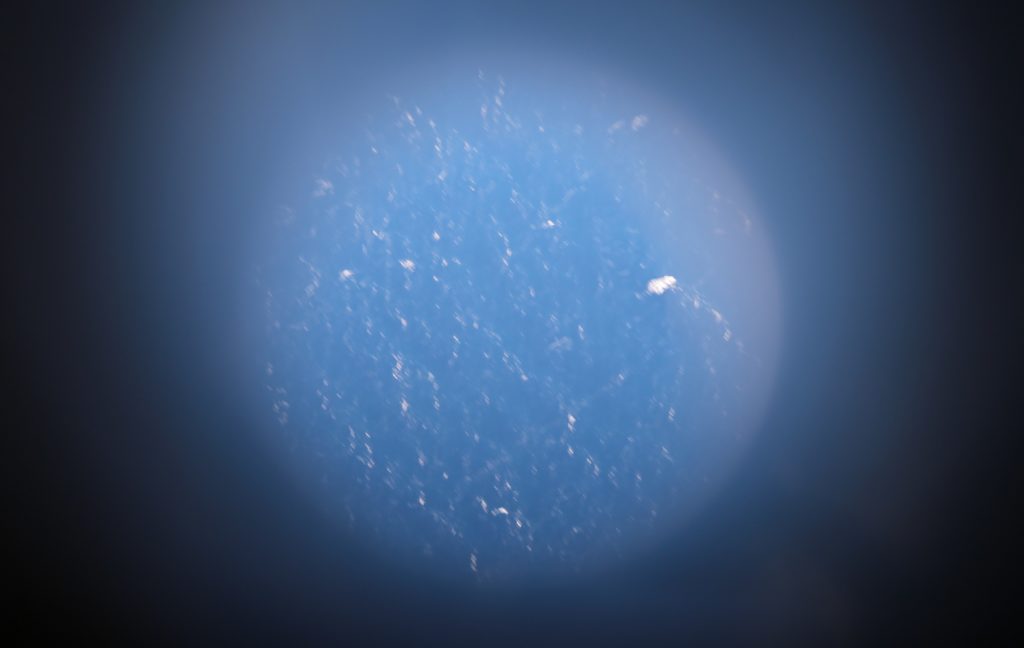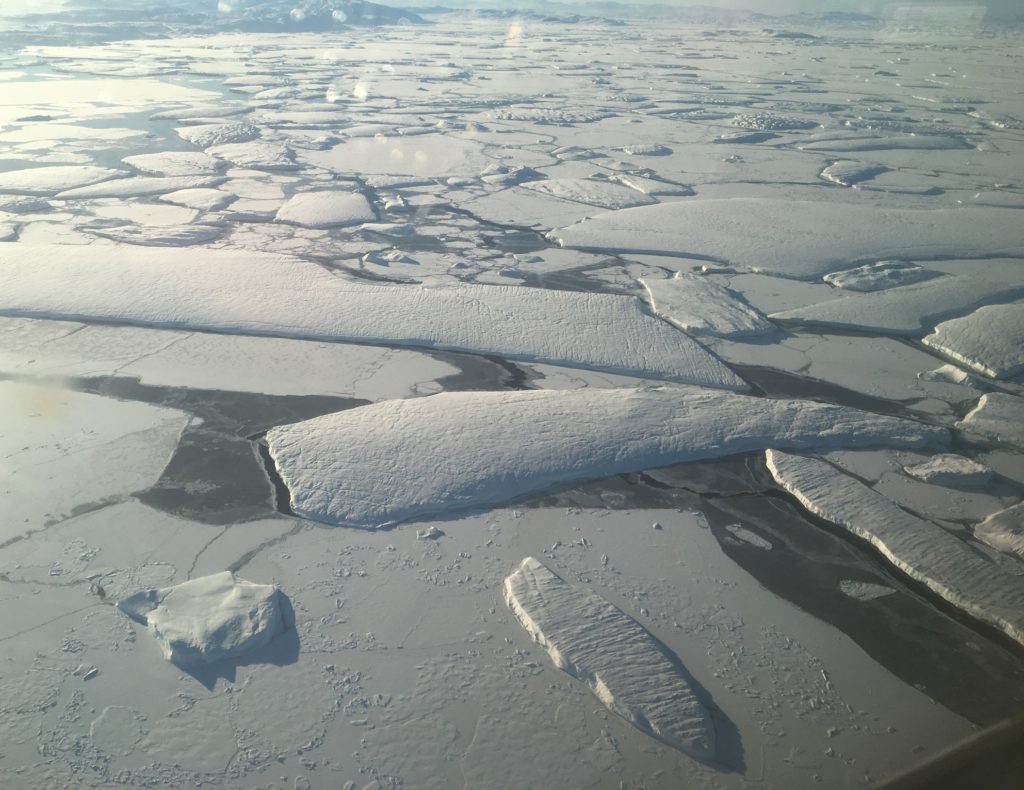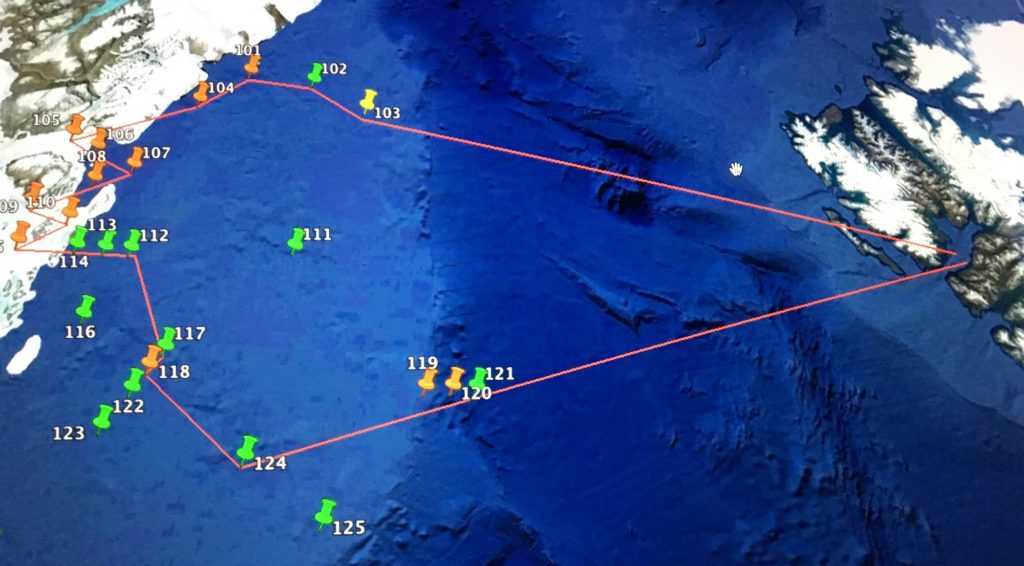 Project manager Steve Dinardo has been working on airborne projects for 38 years. "Weather is always the problem. When you don't want clouds, you get clouds. When you want clouds, you don't get them," he said.
OMG doesn't want clouds. If the team can't see the ocean, they can't risk hitting a ship or whale by blindly dropping a probe. "We're always looking for places where we can get a lot of work done in a short period of time," Willis said. "If we fly in a region where the clouds are low and we can't see the water through them, those can be really frustrating days."
Turbulence can be a problem as well. To prepare and drop the probes, team members have to move around the cabin, not sit with the seatbelts securely fastened like commercial airline passengers.
On the windy flight of Oct. 1, Dinardo was sitting at the computer to read the probe data.  "We were getting pretty hammered in the back," he said. "Between me vibrating up and down and the keyboard vibrating up and down, I hit a number-lock key on the keyboard. The computer froze and I had to reboot it." Despite that mishap, it was a successful day, with 14 probes dropped and returning signals.
Over the weeks of the mission, the team has gained skill at hitting small targets, Willis said. "We got really lucky one day when we were operating out of Svalbard, Norway. On a day when we were particularly frustrated by ice, we found a gigantic iceberg pushing through a huge area of sea ice, leaving a small wake behind it. The team amazingly bullseye'd the wake, dropping an ocean probe right through the water on the backside of the iceberg. It was a shining moment when the team showed we could hit a very small target from an aircraft traveling 200 knots."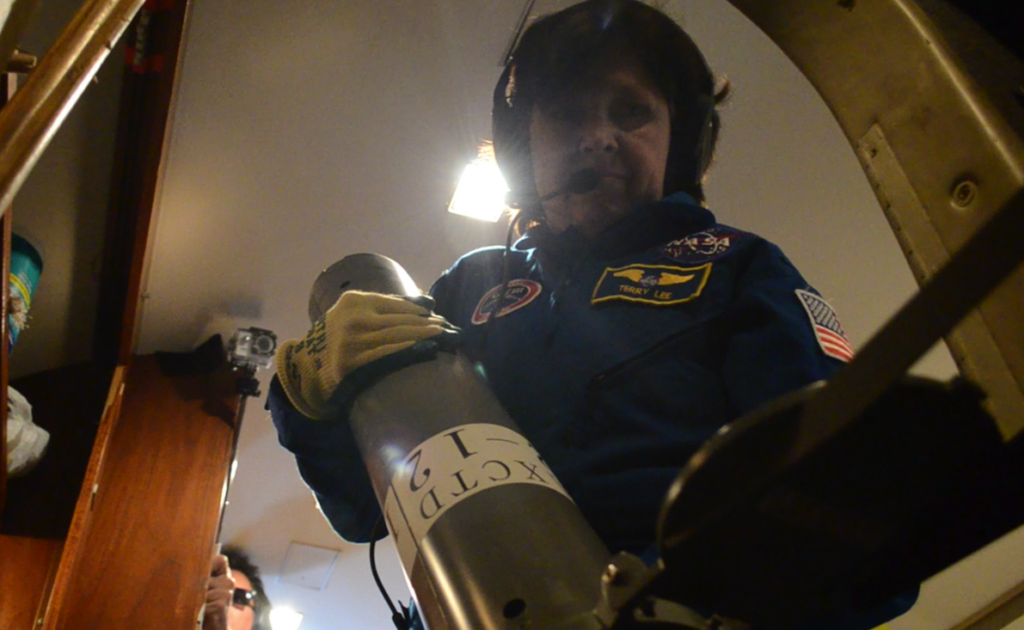 Today, however, weather is keeping the team on the ground. For several days, Dinardo and senior pilot Bill Ehrenstrom have been watching a forecast storm approach from the south. Today, it finally arrived. The crew was grounded by clouds and gusty winds over Greenland. Tomorrow doesn't look any better, with the forecast calling for gusts up to 55 miles per hour.
"I think we have at least one more day before we have any chance of flying," Ehrenstrom said, though he won't make the final call till tomorrow morning.