by Stephanie Schollaert Uz, North Pacific Ocean
Shark attack. Rough weather. Intermittent technology. These are just a few of the challenges of shipboard research on the R/V Falkor. Yet the science continues with unbelievable tenacity on the 28-day Sea to Space Particle Investigation.
When Melissa Omand's sediment traps, deployed to measure sinking particles, were returned from the sea bent and broken at the end of the first 4-day sampling site, she was briefly discouraged. She wondered whether her experiment to collect data with an iPhone was jeopardizing established collection methods. The iPhone housing is big and heavy and could have swung into the other three sediment-collecting tubes and smashed them.
Then one of the line handlers showed me a shard that got stuck in his finger—later revealed under the microscope of the resident taxonomist as part of a shark's tooth and confirmed by shark experts ashore. Shark bite marks were also noticed on the more rugged, indefatigable wire walker. Several ship's crew volunteered their time and talent to rebuild the sediment traps stronger and better. After that, the refurbished sediment traps survived deployment and collected stunning data at the next station.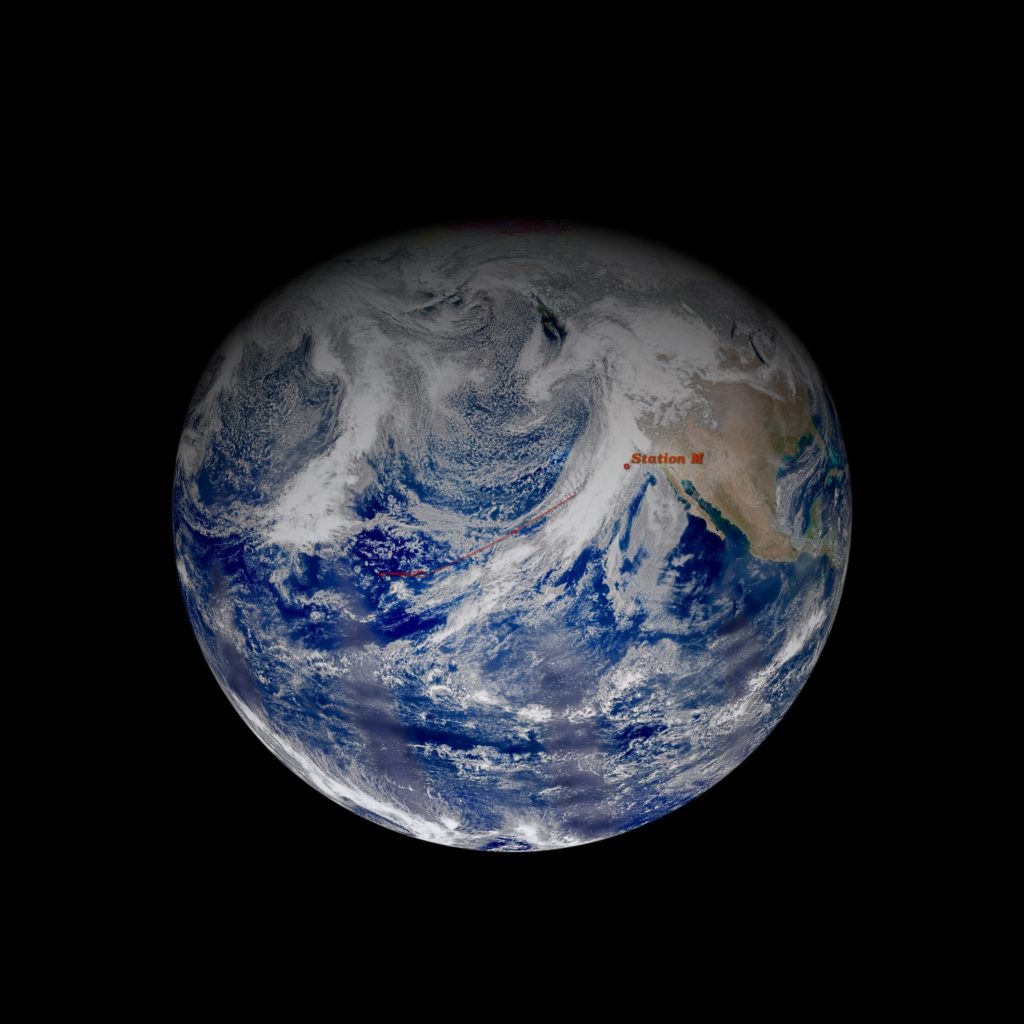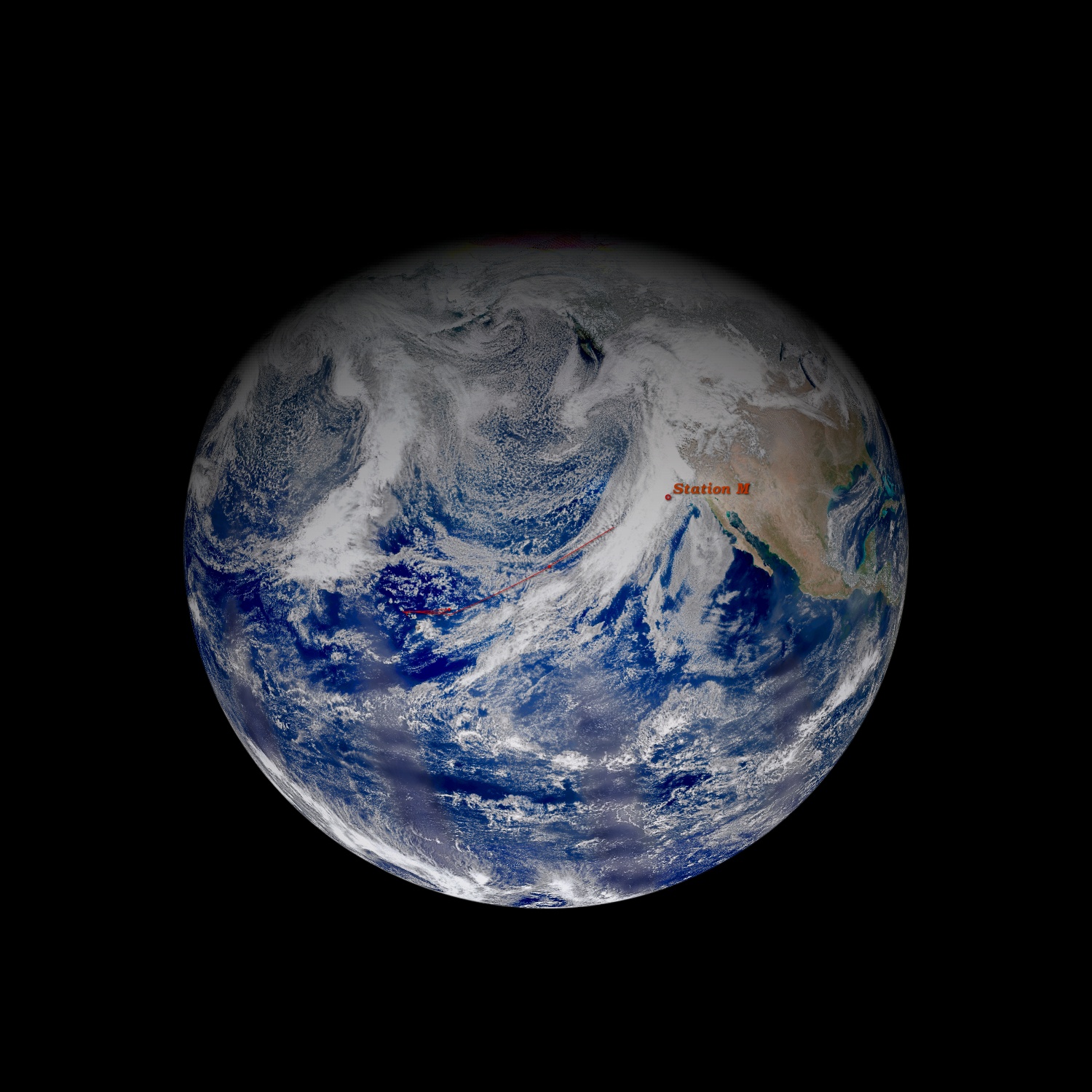 As those on the U.S. West Coast are well aware, the past month has seen a constant procession of low pressure weather systems across the Pacific. One of the main goals of this cruise is to collect data that can later be used to tune ocean color satellite measurements. Rough weather at sea is more than an inconvenience: it makes it unsafe to use the light sensor we put in the water to compare to satellite measurements. Persistent clouds obscure satellite coverage of our area—making match-ups between in-water measurements and satellite data impossible anyway.
To avoid the bad weather and high seas we would have encountered on our original planned cruise track nearly straight north, the ship's captain worked closely with the chief scientist to revise our plans and head east.
As we started work at our second site, however, we lost all internet. The ship's IT coordinator found a broken satellite antenna that caused the internet not to work during certain ship headings. Again, the captain worked closely with the science party to modify the course track for on-site sampling that would also permit internet connectivity.
In spite of everyone's best attempts to maximize our bandwidth, we still experienced repeated drop-outs during the NASA Earth Facebook live event we conducted from the ship on Feb 6. It felt like the movie Groundhog Day, with repeated re-introductions as we reconnected to the event again and again. Thankfully, we had help from NASA JPL colleagues ashore and an engaged audience who remained online and sent excellent questions and follow-up questions afterward.
Another challenge was finding and recovering the sediment traps from the second sampling site as it was issuing a weak and intermittent GPS signal between large waves. All hands on deck kept look-out during the wind and rain until its little orange top was spotted. The crew skillfully maneuvered the ship along-side and caught the instrument's yellow handling line to lift it back aboard with a crane.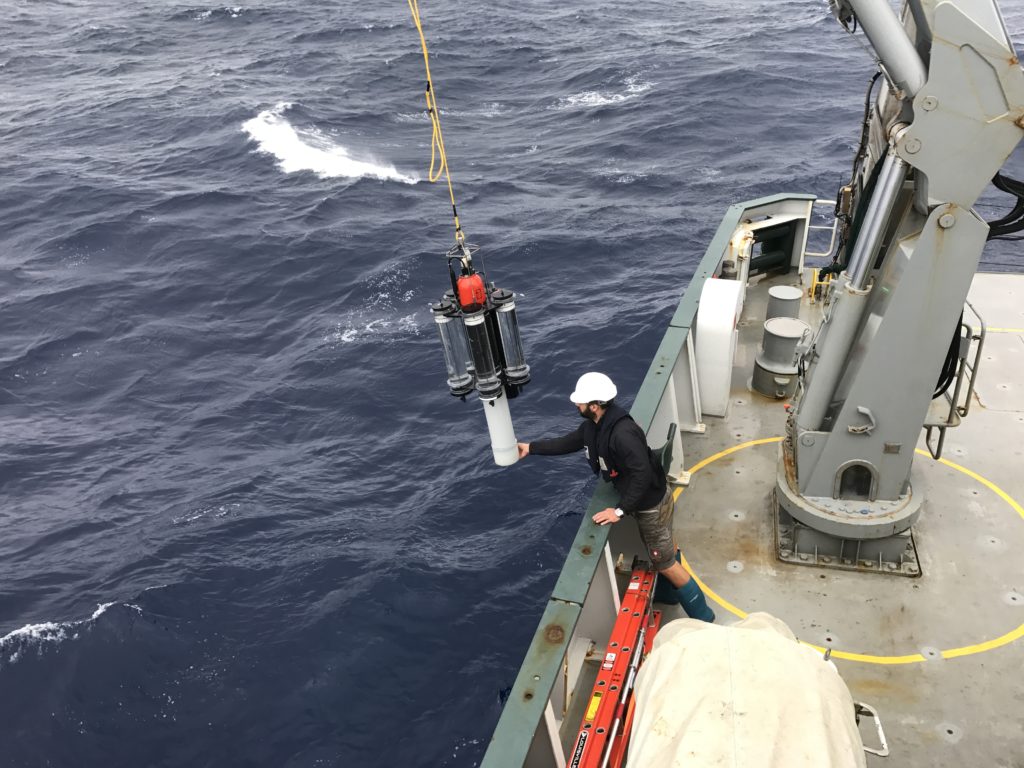 Over and over again during this expedition, we experience challenges that are solved through teamwork between the science party and ship's crew. The novel data being collected here would not be possible without this persistence and collaboration.
Participating in this field campaign to improve the quality of ocean color satellite measurements are five of us from NASA Goddard's Ocean Color group, plus NASA- and NSF-funded scientists from other organizations. In addition to improving current satellite measurements, data collected here will assist in the development of algorithms for NASA's first hyper spectral satellite, Plankton, Aerosol, Cloud, ocean Ecosystem (PACE), scheduled to launch in 2022.
R/V Falkor ship-time is generously provided by the Schmidt Ocean Institute, a philanthropic organization led by Google CEO Eric Schmidt and his wife, Wendy Schmidt. For #Sea2Space cruise track and updates: https://schmidtocean.org/cruise/sea-space-particle-investigation/