by Linette Boisvert / NASA WALLOPS FLIGHT FACILITY, VIRGINIA /
Linette Boisvert is a sea ice scientist at NASA's Goddard Space Flight Center in Greenbelt, Maryland, and researcher with Operation IceBridge. The mission of Operation IceBridge, NASA's longest-running airborne mission to monitor polar ice, is to collect data on changing polar land and sea ice and maintain continuity of measurements between ICESat missions. This blog describes test flight activities before the mission's spring Arctic ice survey, which began on March 22 and will be ongoing through most of April.
For more about Operation IceBridge and to follow future campaigns, visit: http://www.nasa.gov/icebridge
And click here for part 2 of Linette's blog.
Wednesday, March 14 2018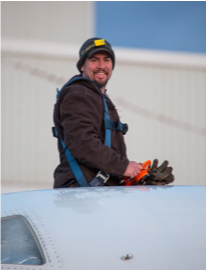 I woke up early Wednesday morning at our shared "beach house" to make coffee and was greeted with a beautiful sunrise from the front porch over Wallops Island and the NASA water tower in the distance. Sipping on my coffee, I had high hopes that this was going to be a great day. Coincidentally, Kyle Krabill, Airborne Topographic Mapper (ATM) ground GPS guru, and John Sonntag, the legend and the man behind why the Operation IceBridge (OIB) missions run so smoothly, were at the Wallops Flight Facility doing a calibration of the NASA P-3 Orion research aircraft's GPS antenna.
My colleague and friend Melinda Webster and I arrived at Wallops at 8 a.m. on this clear, brisk and windy morning, driving around the grounds trying to find the D-1 hangar. However, it didn't take us long to find it, as we saw the tail of the P-3 sticking above a few buildings. We headed over and immediately saw Jeremy Harbeck, OIB's resident photographer, data analyzer and pun-master coming out of the hanger door with a big smile on his face to greet us. Inside, we watched an informative, somewhat corny pre-flight safety video (don't wear open-toed shoes or heels on the plane) before the flight.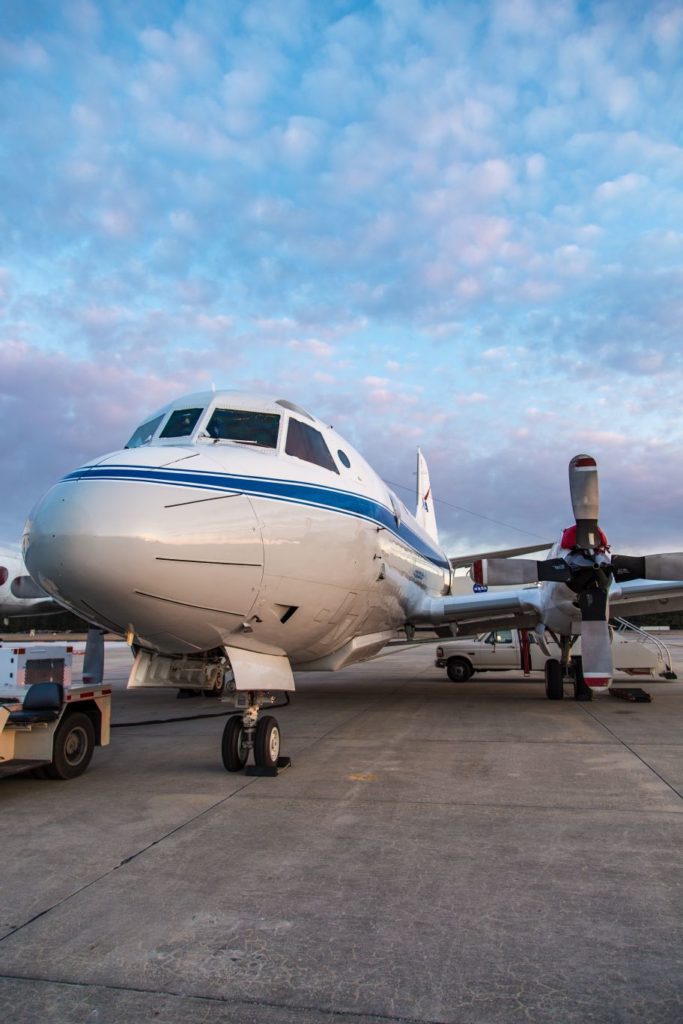 After the video, we were free to board the plane, and as we walked on the tarmac, careful to mind the P-3's propellers, we noticed the wind had picked up significantly. In hand, I carried homemade sugar cookies shaped like airplanes, decorated in red and green icing with words like "ATM" and "OIB"; red and green to signify the red and green lasers on the ATM. With these cookies, I was determined to win over the instrument team members, pilots and flight crew who I did not know well and to put smiles on everyone's faces. I wanted to come out of my shell and get to know everyone and learn how the teams worked. As I was handing out cookies, each engineer and flight crew stopped what they were busily working on to chat and munch on the cookies before getting back to it. Everyone on the plane was frantically working and knew what they had to accomplish before the flight. As we were hanging out in the plane we noticed that the strong winds that had picked up since the early morning were causing the plane to shake. No big deal, we thought.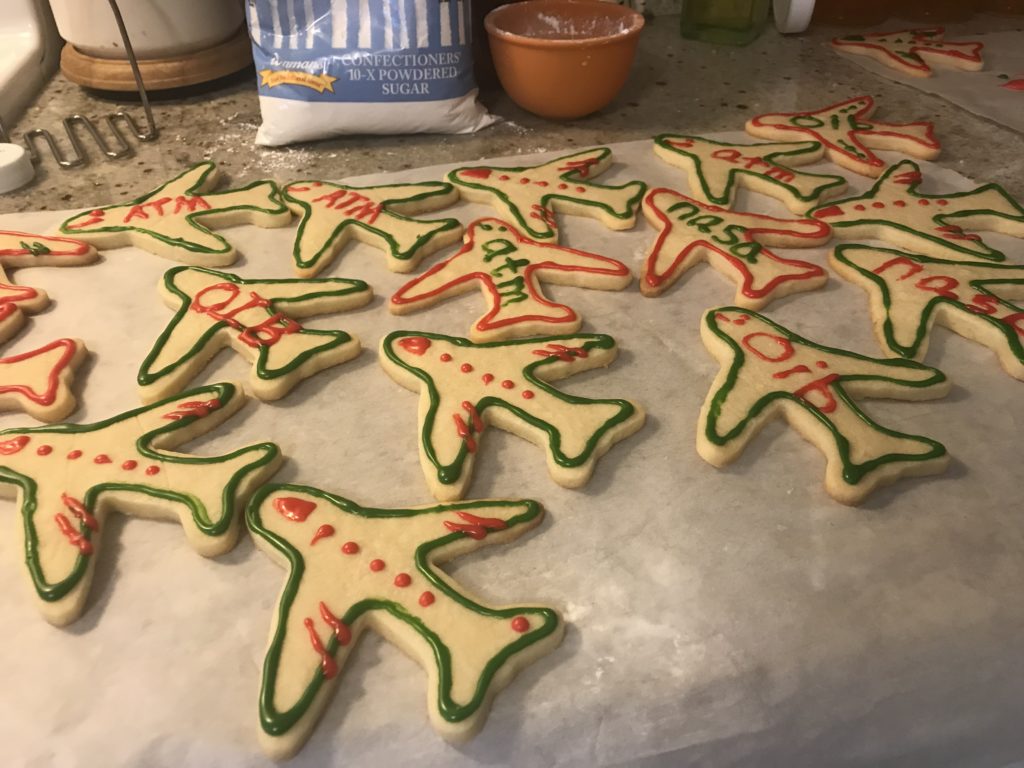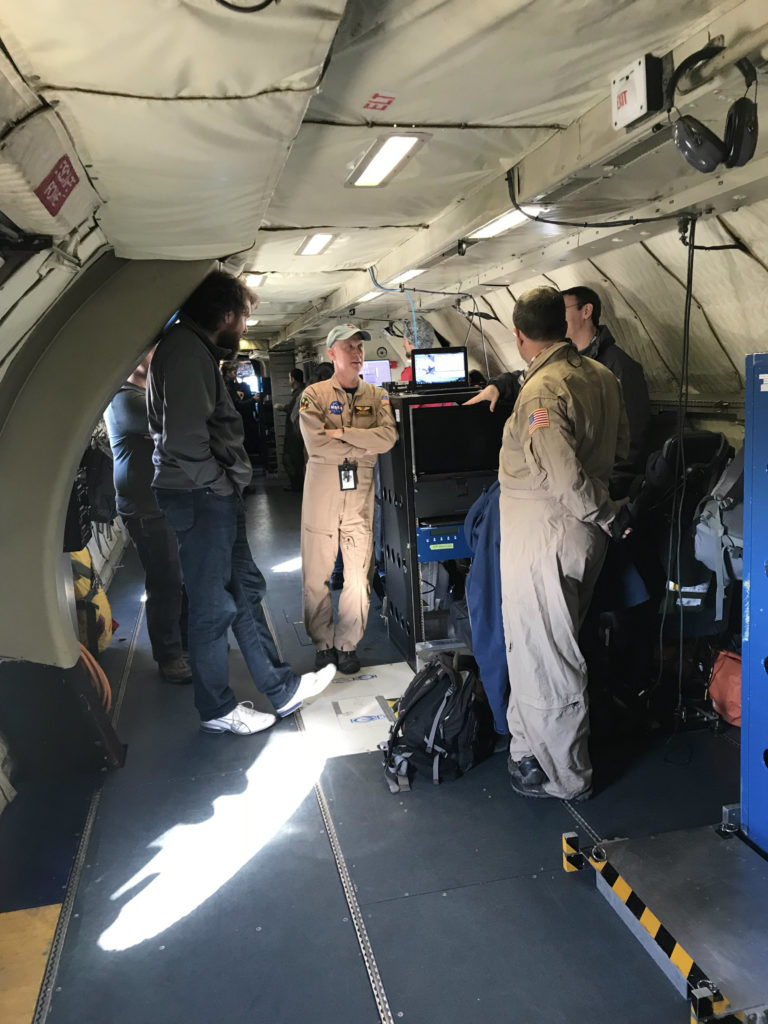 The day's two-hour flight would be to test the ATM lasers and the Digital Mapping System (DMS) camera in order to make sure that they were calibrated in the air on the plane for the science flights over Arctic sea ice and the Greenland Ice Sheet. We would fly 1,500 feet above the surface along the coast to Bethany Beach, Delaware, back south over the ocean to a buoy measuring wave height (for scientists at the University of Washington's Polar Science Center, because science never stops, after all), and then a series of six "ramp passes" at different altitudes over the Wallops Flight Facility runway, where highly accurate ground GPS surveys have been taken for calibration. ATM surface elevation data are used to infer the thickness of the sea ice pack from the "freeboard"—how high the Arctic sea ice extends above the ocean surface—and for surface elevation changes and mass loss from the Greenland and Antarctic Ice Sheets.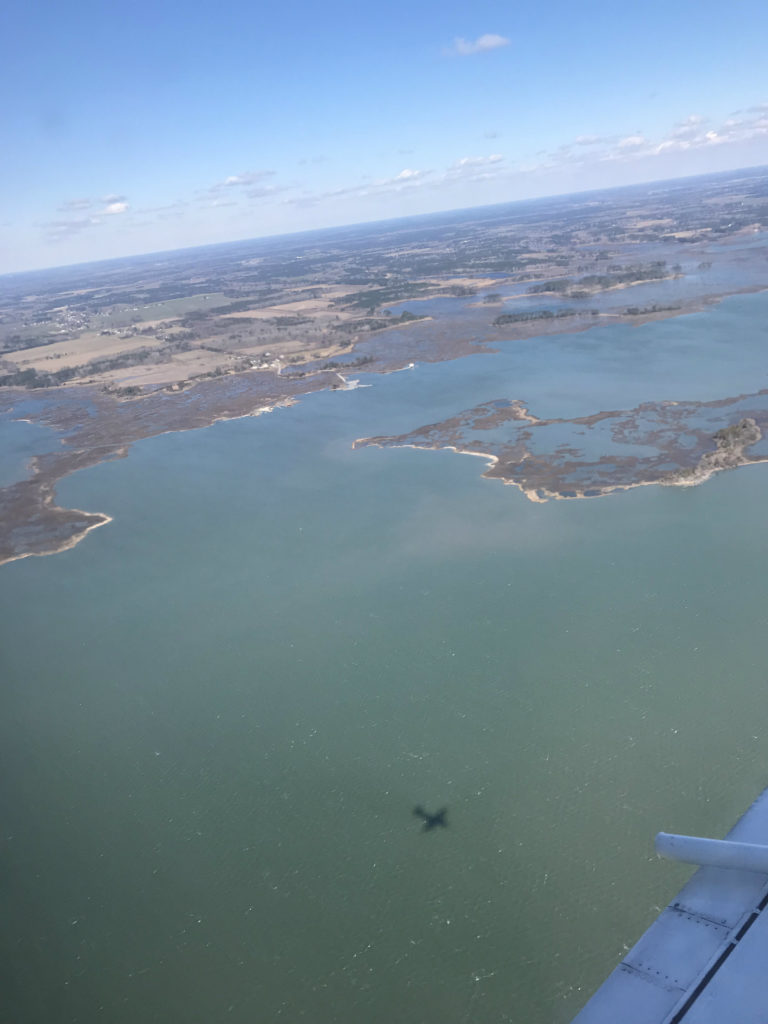 The P-3 took off as it normally would, as I've been on it a few times before with OIB, with a little bumpiness; however, once we were up at 1,500 feet the turbulence did not go away. Not thinking much of it, Melinda and I had moved to a window to watch the coastline below (it was very odd to NOT view sea ice out of the P-3 window) when I began to feel a little bit funny, despite everyone around me looking fine and happy.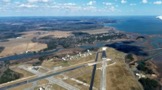 Now, flights over sea ice are not very turbulent because the boundary layer over the ice is often very stable due to the small contrast in temperatures between the cold ice surface and cold air above. However, 1,500 feet above the land and so near the Atlantic Ocean, there are drastic temperature differences between these surfaces, both ocean and land and also the air above. Mix that with strong winds and sunny conditions warming the surface, and you get thermals and instability with the air in the boundary layer. In simple terms, this means lots of turbulence, and lets just say I was not used to it.
So I was beginning to feel pretty queasy, and I was wondering what this feeling was since I have never experienced motion sickness before. I tried not to think about it and snapped a few photos of the coastline and of some ATM instrument team members lying on the floor of the P-3 reaching underneath the floor to performing an optical alignment of the T7 ATM laser. (This photo would be likened to a crime scene photo. What do you think?)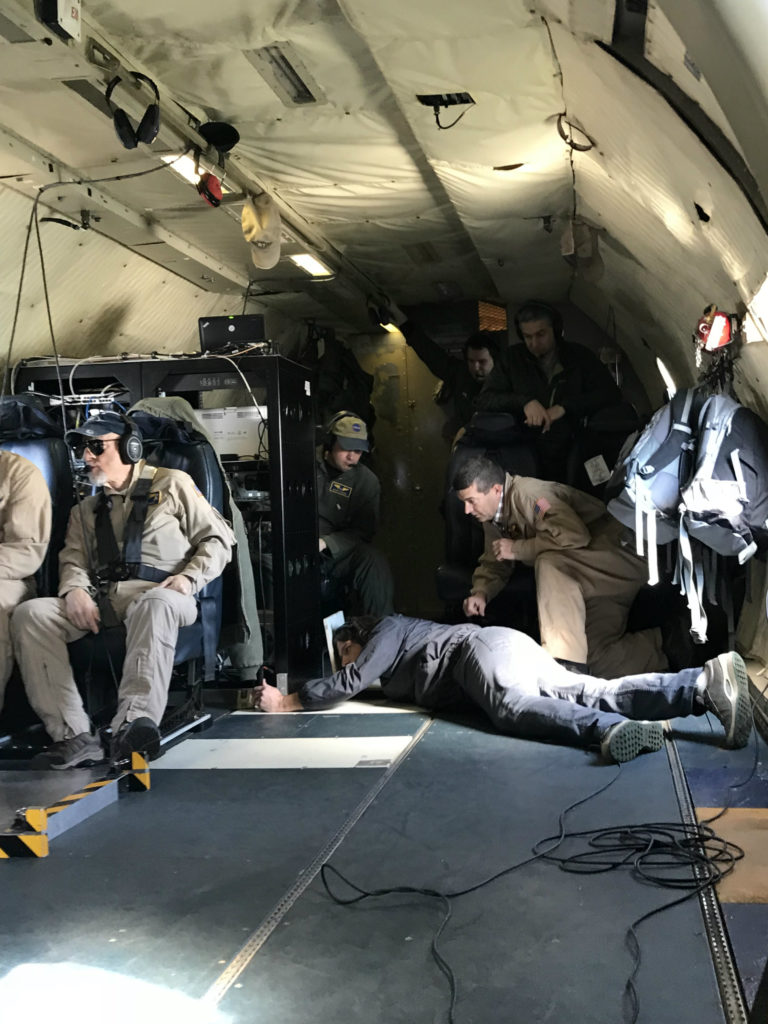 Taking pictures was not making the feeling in my stomach go away. With this feeling growing worse, I asked Melinda, still smiling and happy, if she could find me a container to "lose my breakfast" in. She came back quickly with "sick sacks," as they are called, thanks to the quick reaction time of Michael Studinger, a seasoned ATM and airborne veteran, and I was told to go in the cockpit and look at the horizon. It supposedly helps.
So I went and sat on my ledge in the cockpit, my usual spot during normal sea ice flights, but the motion sickness feeling was not letting up. Finally, I "let it go," as a Frozen Disney princess once said. Up came my airplane cookie, which made its way into my sick sack right there in the cockpit. How embarrassing. On top of that, I was too afraid to move. After six torturous ramp passes and unending turbulence, we finally landed back at Wallops. The turbulence was no big deal to the pilots, underscoring, again, the seasoned veterans' expertise.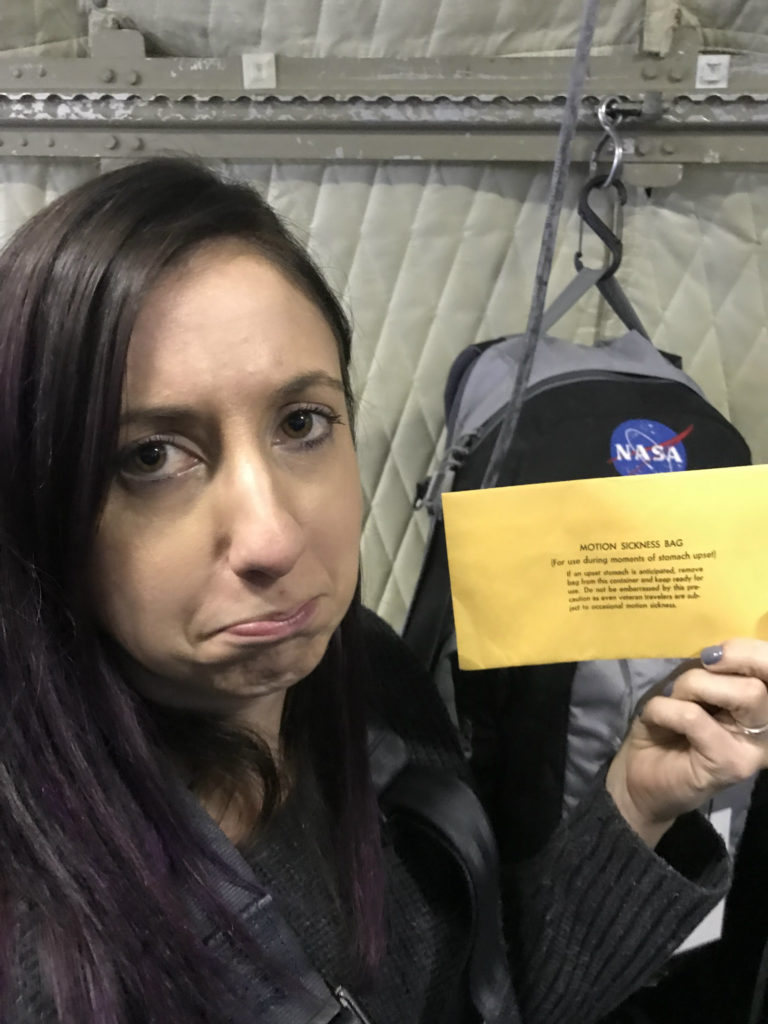 Needless to say, I was not sad that this flight was over, but I was pleased to hear that all of the instruments had no problem collecting data on the flight, which in large part was due to the instrument teams' efforts. It is also clear to see that these people love their jobs and what they do so much that they are willing to—and even often do get—motion sickness on the plane and keep on chugging along.