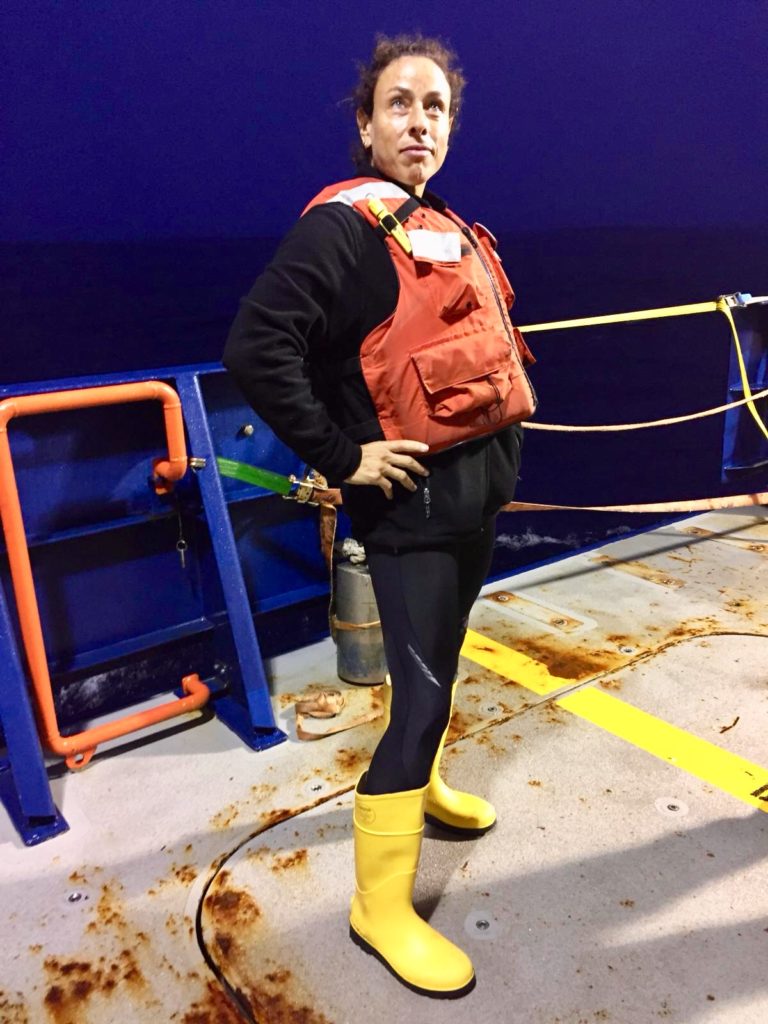 by Kelsey Bisson / NORTHEASTERN PACIFIC OCEAN /
Kelsey Bisson is a PhD candidate working with Dave Siegel at UCSB and is graduating this December. Her dissertation seeks to understand carbon flux in the ocean through data syntheses of satellite and field data around the world. She is currently working aboard the R/V Sally Ride for the EXPORTS field campaign.
Let me now say this: Step aside Jimmy Choo; steel-toed boots are having their moment. Indeed, "Every day is a fashion show and the world is the runway," according to Coco Chanel. The same can be said for life on the R/V Sally Ride, as I'll try to demonstrate.
Since I hopped aboard to join the hydro team (with Sasha Kramer, my fellow lab mate also working with David Siegel at UCSB), I've noticed there's no shortage of runways on the Ride, from the hallways leading to the main lab, to the starboard side sampling deck, to her majestic bow with infinite views of blue. Those participating in this field campaign have been rocking this summer's hottest treads and threads (hottest as in pushing 65 degrees Fahrenheit on a good day), and we expect these trends to hit the continent any week now.
Of course, living on a ship for five weeks with hazardous working conditions and tiny closets means that comfort and consistency here is key. But don't confuse those two C's with "boring." Nay, when these sub-arctic silver seas aren't stealing the show, Dr. Claudia Benitez Nelson's yellow boots most definitely are.
They're not just any yellow; they're the bright, waxy color not unlike that of French's yellow mustard. We're left wondering, did the inspiration from this look come from an anticipation of the galley's carefully curated condiments, OR is this a nod to Marc Jacob's summer collection showing plastic yellow pieces as a comment on the dissonance between solar power and our longtime reliance on human-made materials? We may never know, but that's the fun of fashion. She keeps the rest of her look simple, expertly showcasing how bright boots become the exclamation point of an outfit. "Amazon.com," she says, when I ask where she got these punchy power pedestals.
Research scientists have been accused of being myopic at times, and that could be because we're obsessed with microbes & their biogeochemical adventures far beyond that of the average Jack and Jill. Naturally, color us guilty as charged, but we also love the big picture. Perhaps nowhere is this more apparent than in the impossibly chic monochromatic getups of Drs. Collin Roesler and Xiaodong Zhang.
Collin is sporting an all-black "nekton noir" ensemble, maybe alluding to the expansive dark abyss below us, teeming with life and unknown probabilities that connect us all. (Nekton are all the organisms that swim freely in the ocean, as opposed to plankton, for example.)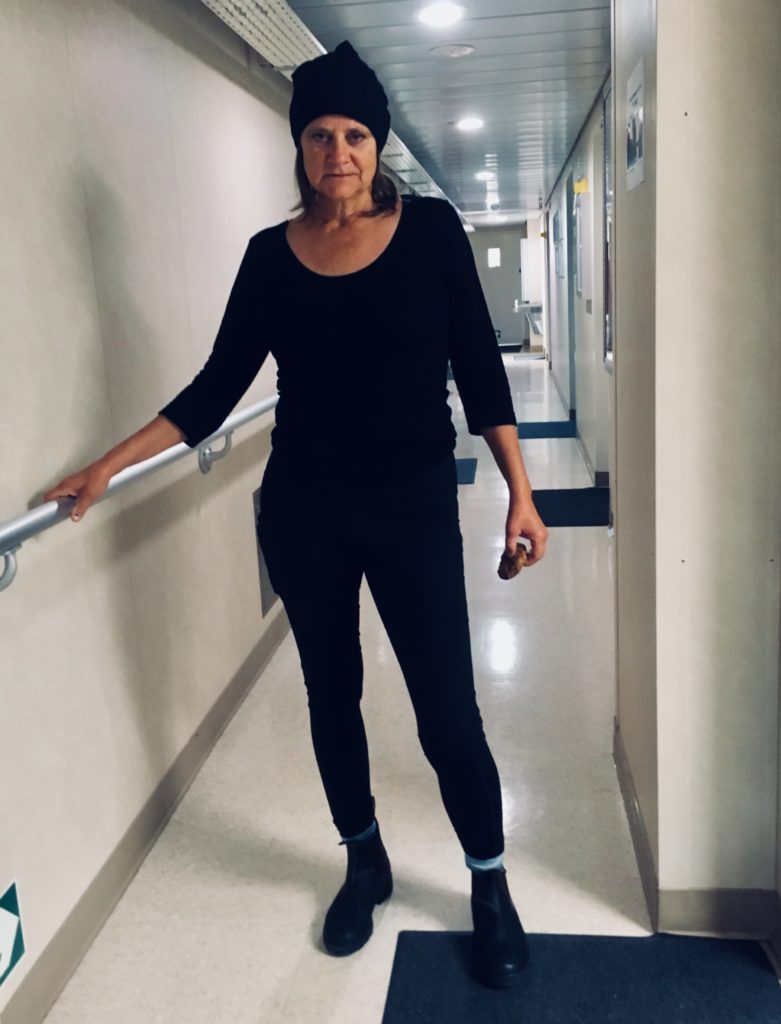 Xiaodong Zhang's all-grey getup can only be described as simply celestial, boldly celebrating the fact that we haven't seen the Sun for days.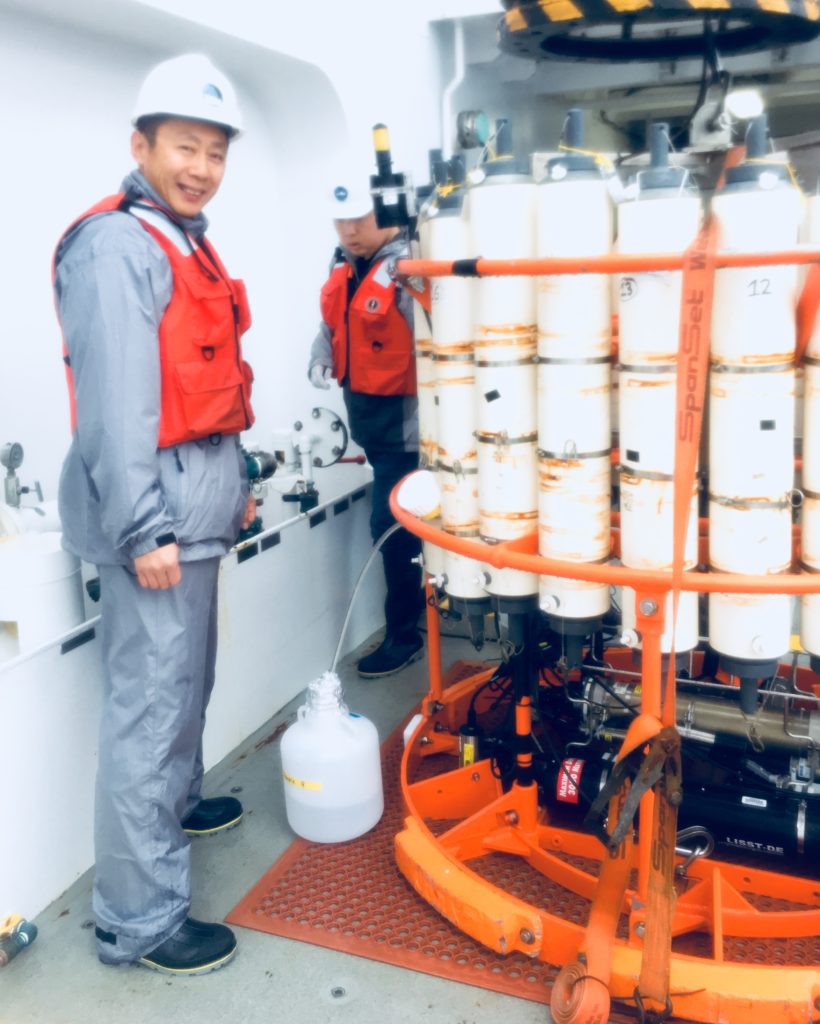 No, you will not find Louis Vuitton here on R/V Sally Ride. Nor will you find Dr. Jason Graff, a first round draft pick for chief scientist on R/V Roger Revelle, and a narrowly close second to Louis in his personal sense of style.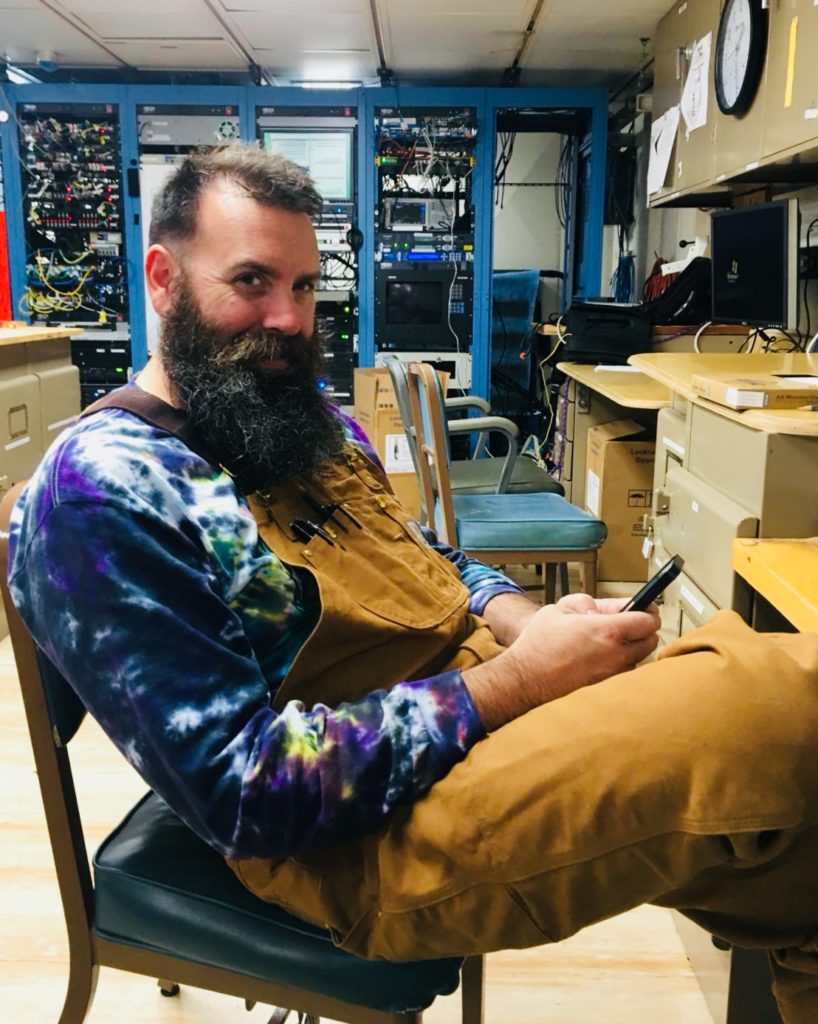 But you will find Taylor Crockford and her fierce flannels as she hauls hundreds of liters of seawater throughout our labs every day.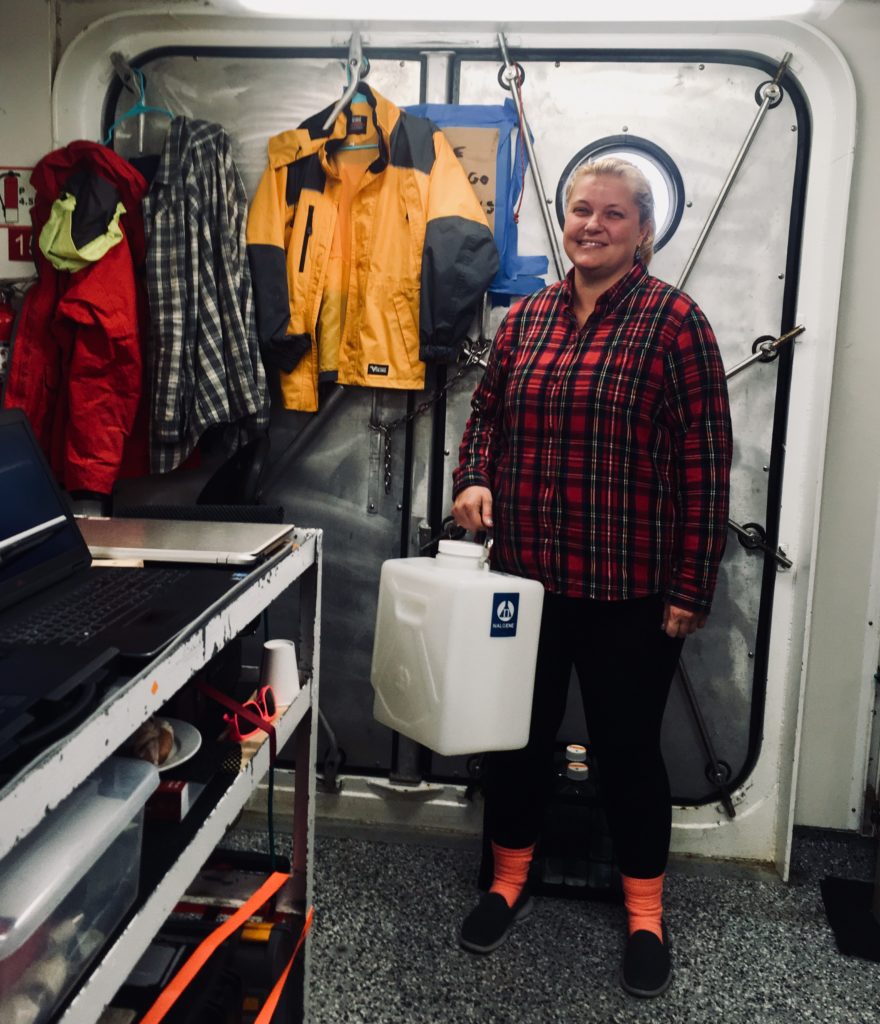 And my lab mate Sasha Kramer sporting some sensational stitches you'd half expect were designed by Donatella Versace herself.
"My mom got me these for my birthday," she says. Through 20-foot seas, instrument mishaps, whipping winds, fake fire alarms, fake abandon ship alarms, diesel miasmas, and all too real sleep deprivation, I look around at all the hardworking happy fashionistas around me. I can't help but wonder: Was Tim Gunn thinking of us when he muttered his words to live by, "Make it work"?