Video Credits: NASA/Rafael Luis Mendez Peña
by Emily Schaller / ANGELES CITY, PAMPANGA, PHILIPPINES /
NASA airborne scientists, engineers and pilots have exciting jobs studying and exploring Earth, but one thing that is not typically part of the job description is getting treated like a famous celebrity.  However, for the past three weeks, signing autographs and taking selfies with hundreds of people has been the new norm for members of the NASA CAMP2Ex team when visiting schools here in the Philippines.
For the past four weeks, our NASA team of scientists, engineers, and pilots have been conducting science flights studying clouds and pollution from the Philippines as part of the Cloud, Aerosol and Monsoon Processes Philippines Experiment (CAMP2Ex), based at Clark Airport in Central Luzon.
We are fortunate that Philippine Science High School Central Luzon campus (PSHS-CLC) is less than a mile away from where our aircraft are currently based at Clark Airport. Campus Director Theresa Diaz has welcomed our NASA team seven times into her school over the past three weeks.  Students and teachers from across the Philippines have also traveled to PSHS-CLC to see our NASA presentations and interact directly with our scientists, engineers and pilots.

In addition to presenting at PSHS-CLC, we have also traveled to present at the Philippine Science High School Main Campus in Quezon City, the Quezon City Experience Museum, Paranaque Science High School in Metro Manila and Ateneo de Davao University in Mindanao.
The way our team has been received at schools across the Philippines demonstrates the incredible Filipino hospitality as well as NASA's global reach. For example, upon arrival to the Paranaque Science High School in metro Manila, our team received a welcome from the school marching band, a program of dancing and singing, as well as paper medals placed around our necks. After our presentation, we dined with the principal and other teachers on a delicious meal and all received certificates of appreciation as well as more food and gifts to take home with us. At most presentations, students also asked for our autographs and to pose with us for selfies. We are not used to such Rock Star treatment!
In coordinating outreach to local schools, we partnered with the Global Learning and Observations to Benefit the Environment (GLOBE) program. GLOBE, sponsored by NASA and supported by NOAA, NSF, and the Department of State, is a worldwide network of schools where students make observations of their environment and upload those observations to an online database.  Citizen scientists can also participate via the free GLOBE Observer app. This long-term, world-wide data is publicly available and can be accessed by students and teachers at other GLOBE schools. It is also used by NASA scientists and others for Earth science research, including ground-truthing of satellite data. The GLOBE Program began in 1995; the Philippines joined in 1999 and has a very active program.  After many of our presentations, GLOBE Philippines Country Coordinator Rod Allan De Lara and Assistant Coordinator Joan Callope gave presentations about GLOBE and led students in executing GLOBE observation protocols relevant to our airborne science program mission here in the Philippines.

In total, we gave twelve presentations that reached over 1500 students in 39 different schools. (Many students traveled from great distances across the Philippines to see our presentations.) During many school visits, we also connected in real-time to our scientists flying aboard our aircraft via a live chatting application. Students were able to ask questions directly to people flying aboard our airplanes using the NASA Mission Tools Suite for Education (MTSE) website.
Finally, we also brought students and teachers into our hangar at Clark Airport three times to see our aircraft close-up and to interact directly with our scientists, engineers and pilots. We hope our presentations, chats and tours have inspired the next generation of Filipinos to pursue careers in science, technology, engineering and math.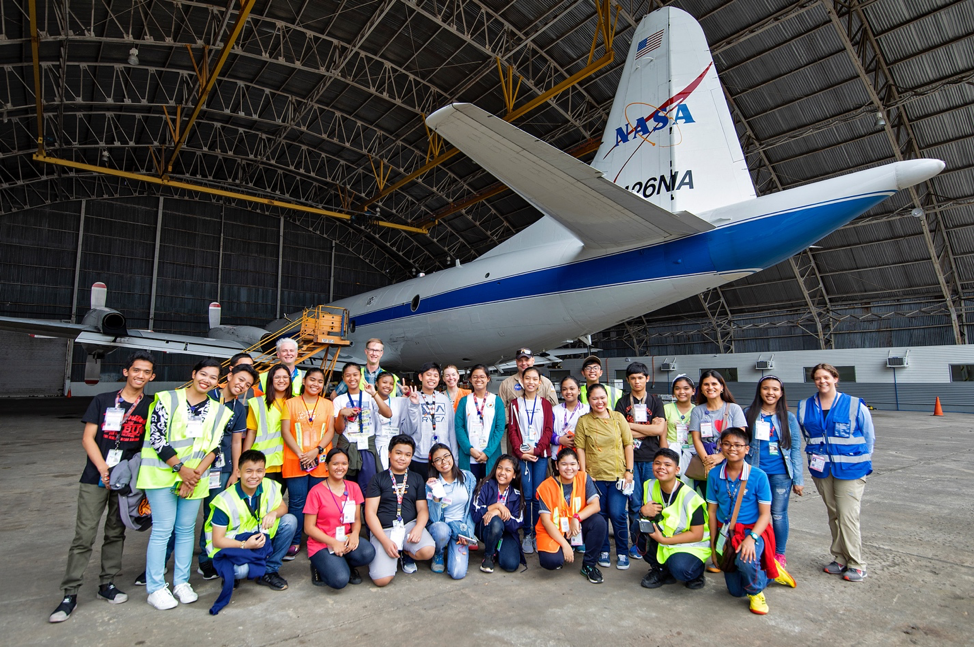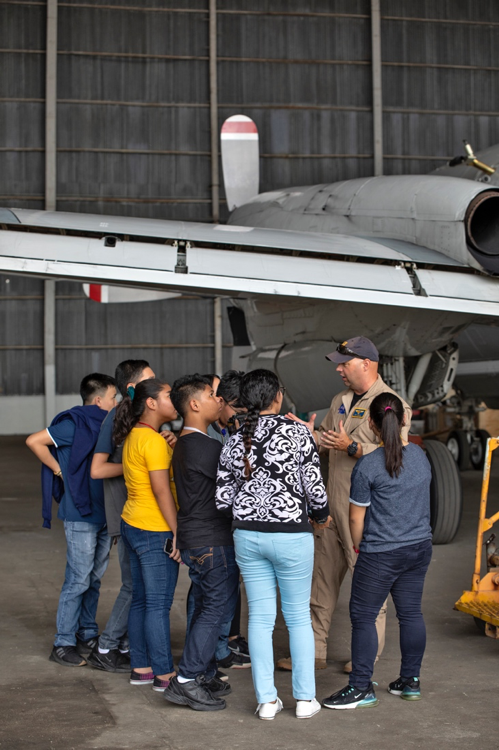 Though our time in the Philippines is coming to a close shortly, we will never forget the students and teachers we met and the warm Filipino welcome we received everywhere we visited. Salamat (thank you) to all of the Filipino teachers and students who welcomed our NASA team so warmly.