By Jessica Merzdorf / GRAND MESA LODGE, COLORADO
After visiting with part of the SnowEx 2020 airborne team, we headed up the mountain to rendezvous with the ground team, stationed at Grand Mesa Lodge.
"Does anyone have a headache?" asked Jerry Newlin, SnowEx operations manager, as we left the little town of Delta and the rugged brown foot of the mountain range loomed up in front of us.
"Nope, feeling great" was our answer at the time. We traveled up the winding roads, commenting on the views that became more incredible the higher we went, and arrived at Grand Mesa Lodge in time for dinner and the evening briefing with the team.
But later that evening, at 10,500 feet, both video producer Ryan Fitzgibbons and I started developing symptoms of altitude sickness. Lower oxygen levels at higher elevations can cause headaches, nausea, shortness of breath, dizziness and other symptoms as the body adjusts. Sometimes the symptoms resolve on their own as the body gets used to the conditions; after a long, rough night of intense headaches and nausea, I gratefully accepted an herbal medication from the Grand Mesa Lodge owners. (Severe cases of altitude sickness require quickly moving back down to lower elevations. The ops team kept a close eye on me to make sure I didn't need medical attention.)
After I took a nap back at my cabin and started to feel better, we checked in with Jerry and were cleared to snowmobile up to the snow pits.
The ground team's daily "commute" varies depending on where they're working that day, but it can be as much as 16 miles of hills, curves, bouncy stretches and incredible views of the valley below.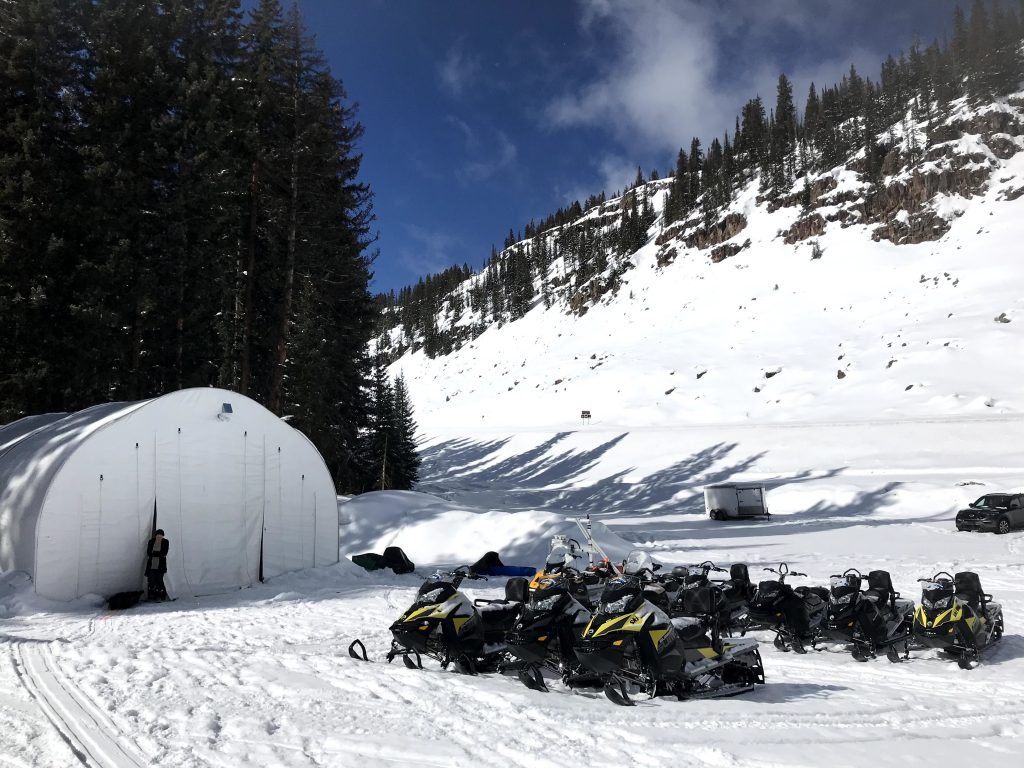 At each of the snow pits in this 3-week phase, the SnowEx ground team digs until they reach the ground, exposing a "wall" of snow where they take their measurements: Depth, density, water content, temperature, reflectance and particle size.
"We can see, and even hear, how the snow's characteristics change from top to bottom," said Chris Hiemstra, a researcher with the U.S. Army Corps of Engineers' Cold Regions Research and Engineering Laboratory (CRREL). "The newest snow at the top is fluffy and loose. Below that, the wind has packed it into dense layers. The snow at the bottom has more water and the particles are sharper. When you dig into it, it sounds different than the other layers at the top."
When we stopped by deputy project scientist Carrie Vuyovich's pit, we heard the story of the "strong work mouse," and saw a snow statue (made from wind-packed snow, incidentally) built in the mouse's honor.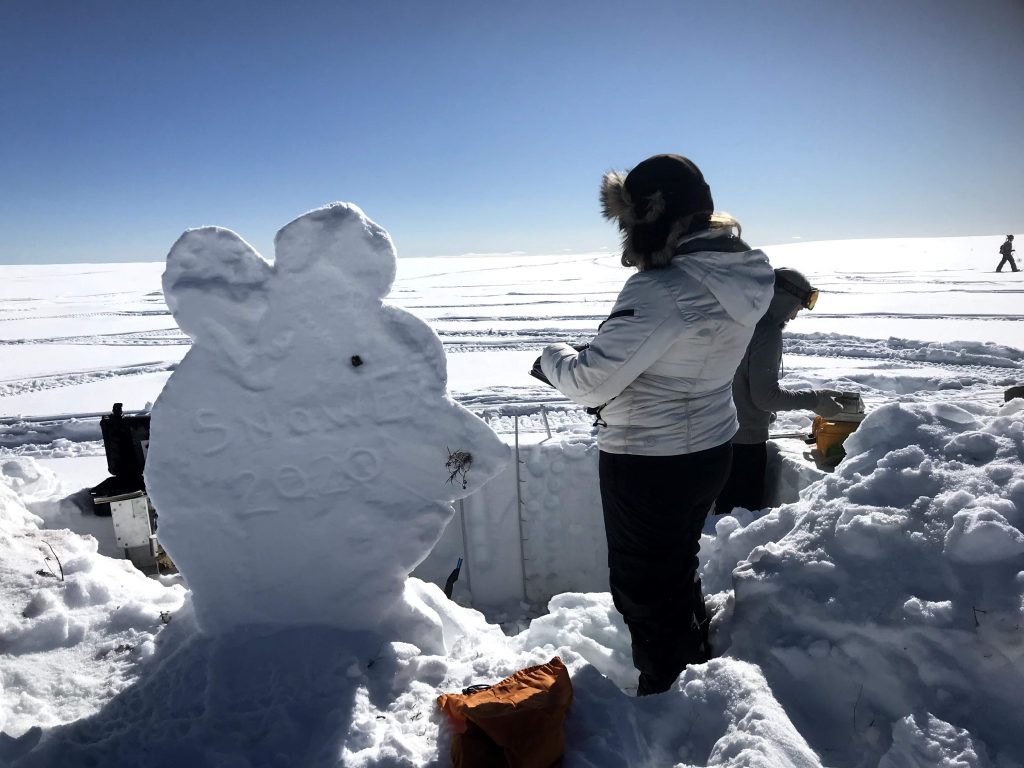 "There were these little mice that came to visit us in the first couple of weeks," she said. "We'd be in pits, and these little mice would come running across the snow – one came down into the pit and hung out with us for a while, another team had a mouse running along beside them, and another member had a mouse come right up next to his boot. So that became our mascot – the 'strong work mouse.'"
Not all of the research takes place in pits. Team members on skis used snow micro-penetrometers (SMP's) to measure hardness and microstructure throughout the snow layers with incredibly high precision: The SMP takes 250 measurements every millimeter. Other snowshoe-wearing scientists used MagnaProbes, which have a magnetic probe that goes into the snow and a "basket" that rests on top. The distance between the two parts provides a highly accurate, GPS-tagged measurement of snow depth, and is many times faster than writing depth measurements in a notebook.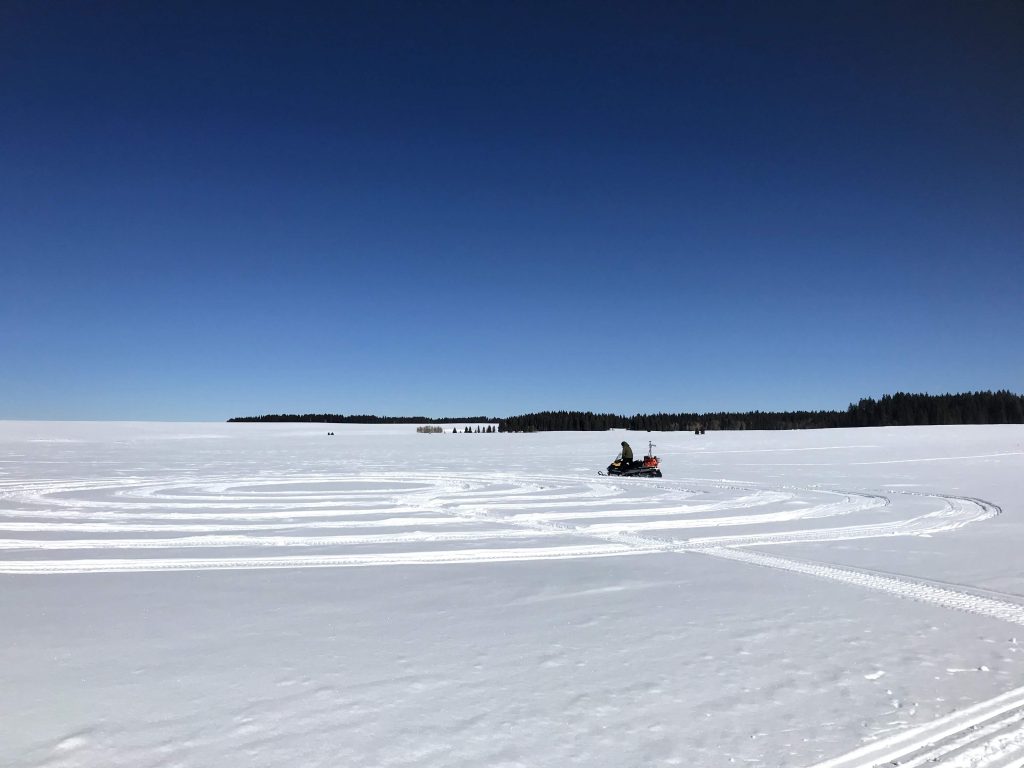 SnowEx project scientist Hans-Peter (HP) Marshall and Mike Durand, an associate professor at Ohio State University, used snowmobiles to create tight clockwise circles of radar measurements. This spiral sampling strategy is called a "Hiemstra spiral" after Chris Hiemstra, who developed them using the MagnaProbe, Marshall said. His snowmobile carried an active radar instrument, which generates pulses that bounce off the snow and the layers.  These pulses are timed to nanosecond accuracy, allowing estimates of snow depth, water equivalent and thickness of major layers, 100 times per second. Durand's had a passive instrument that measured the radiation naturally generated by earth and scattered by snow.
If these measurements sound familiar, that's because they're the same types, frequencies, and polarizations as the airborne instrument SWESARR, Marshall said. The Twin Otter aircraft flies over these spirals and takes the same measurements in the same location. Later, the two teams can compare the data and see how well they align with each other and the standard snow pit and depth observations.  Data from both the active radar and passive microwave sensors on SWESARR will be combined to estimate snow properties such as snow water equivalent.
On the last day of data collection, Vuyovich revealed that the team had successfully collected data from 153 snow pits and 6 SWESARR flights in just three weeks — even more than originally planned.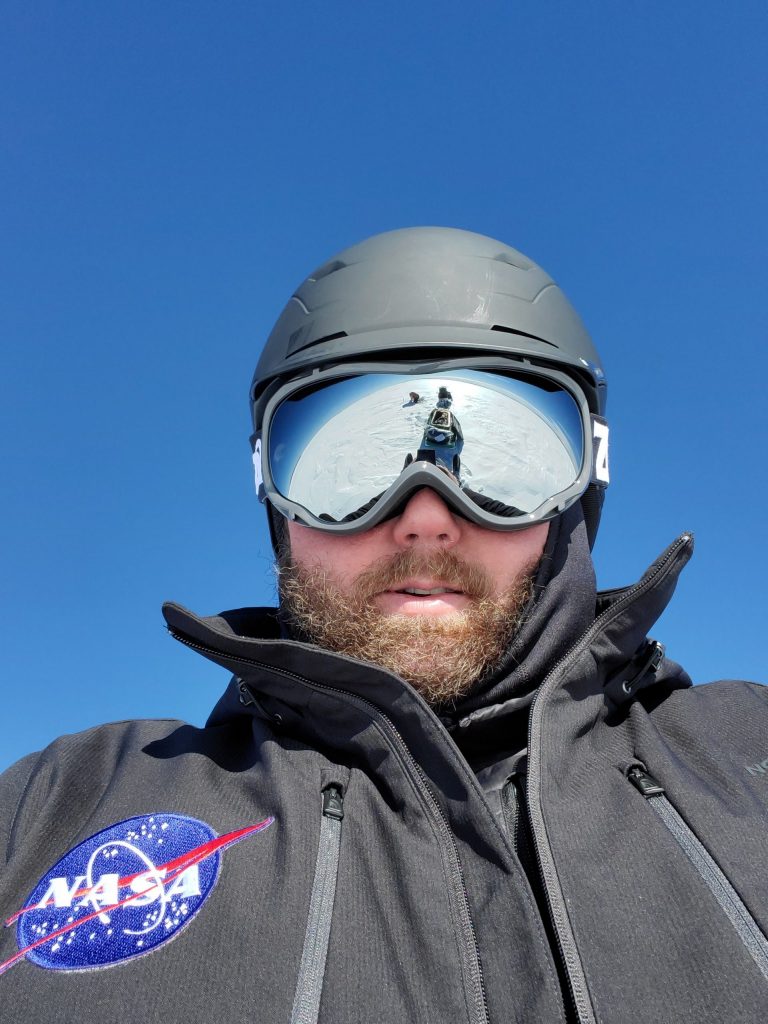 But SnowEx is off to a great start, not wrapping up. SnowEx 2020 has another phase: The time series. Smaller, local ground teams are currently performing weekly snow measurements at sites in Colorado, Utah, Idaho, New Mexico and California through March, and bi-weekly in April and May, at the same time as UAVSAR overflights. UAVSAR is an L-band InSAR (radar) instrument developed by NASA's Jet Propulsion Laboratory. The time series will give the researchers data on how snow changes over time, especially as it melts in the spring.
When asked about the best memories they will take home from the mesa, each team member's answer was the same: The team.
"The best part has been the team," Vuyovich said. "The people that have been out here have been working super hard, and it's been a lot of fun."
"These kinds of intensive field campaigns form bonds that last a career," said Marshall. "Chris Hiemstra and I met during the last big series of field experiments 17 years ago, and we have been working together ever since.  The younger generation in particular really stepped up this campaign – it will be exciting to see where their careers take them."