By Sara Blumberg, NASA's Goddard Space Flight Center and Inia Soto Ramos, Universities Space Research Association / GREENBELT, MARYLAND /
Pandemics can change the plans of nearly everything, including ocean research.

That's exactly what happened with EXPORTS. In 2019, the original North Atlantic Expedition along with its active research projects were cancelled.

Despite the setback, the group kept meeting and sharing results. With strong support from our funding agencies, the EXPORTS team started looking for options to do the second expedition.

After a lot of challenges, the idea of a field campaign started to become a reality. In April, researchers from all over the world landed in England to begin two weeks of quarantine before setting out for the seas.

Here's what happens when a group of scientists are asked to isolate:
1. COVID Testing
So many tests! Scientists had to ensure regular negative test results before they could get on the boat. The result? Three ships of crew all COVID free!
Video caption: Instructions on how to take a COVID test during quarantine. Video credit: NASA EXPORTS field campaign
2. Cheese making!
The daily supply of milk at the hotel was overwhelming for our scientists, so ideas and recipes started overflowing the group chat! One of the clever ideas was to use some of the pantyhose. Yes, pantyhose have a use in oceanography.

Pantyhose are used to hold the filter pads that go in liquid nitrogen to keep them very cold until samples get processed. Dewars, a double-walled flask with a vacuum between the walls, have a metal container that sometimes issues when opening and closing.  We found that the filter pads can escape and fall in the bottom of the liquid nitrogen bottles. To prevent this ,we put the histoprep (with filters) capsules inside the pantyhose leg section and tighten it with a string. This  keeps the filters safe, making it easier to pull out.
After a bit of online DIY searching, EXPORTS researcher Sue Drapeau debuted her hotel-quarantine-made paneer cheese. While that surely made good use of the extra milk, it surely sparked a few complaints of spoiled milk smells around the hotel!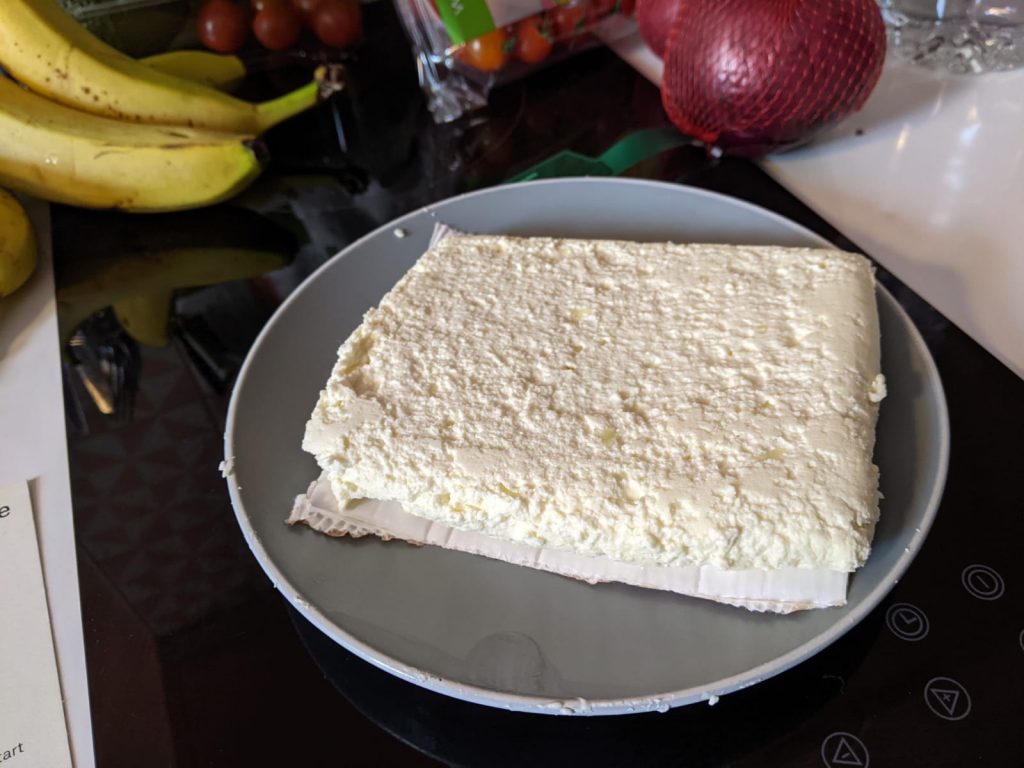 3. Knitting Hats
Biological oceanographer Colleen Durkin had a quarantine goal in mind – knitted hats. During her two weeks of isolation she knitted a hat for each member of her team. She dubbed them the "Mesopelagic Fade" and were all ready when they set sail. In knitting jargon, a "fade" is a method for transitioning across a color gradient. The mesopelagic is the depth gradient that we are studying.
Finished my 2 week quarentine project just in time. "Mesopelagic Fade" series for the EXPORTS trap team. pic.twitter.com/0wwajGEiRW

— Colleen Durkin (@ca_durkin) April 26, 2021
Tweet caption: Researcher Colleen Durkin's finished hats for her team. Credit: Colleen Durkin 
4. Crafts
To bring everyone together, researchers spent their time making cards, painting, and doing trivia nights. They also engaged in a virtual Plankton Action Drawing Workshop with Cynthia Beth Rubin. Cynthia is a digital/analog artist, and has been drawing plankton with the Menden-Deuer Lab for many years and incorporating it into her own work.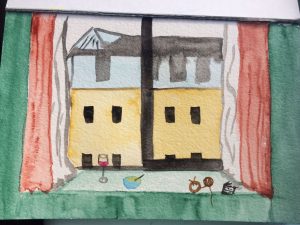 5. Weather-watching
Scientists spent a lot of time looking out of their windows. The weather ranged from snow sightings, beautiful spring days and a continued question of when the quarantine would be over. 
For the researchers, the quarantine impacted everyone differently. Stay tuned for more personal accounts of what it was like to do field work while away from loved ones.