By Mikayla Cote, Master's student at the University of Rhode Island / UNITED KINGDOM /
After flying to the United Kingdom, the EXPORTS scientists were in quarantine for two weeks prior to embarking on a month-long research cruise. While there was still some last-minute work to be done before departure, for most of us this meant there would be no shortage of free time spent alone in our hotel rooms. As one of the lab mates cheering on the sailors from home, I wanted to be a part of the effort to facilitate remote activities as they anticipated their month at sea.
Cynthia Beth Rubin, an artist who has been working with our plankton ecology lab for over a decade, began offering her plankton drawing workshops over Zoom earlier on in the pandemic.
The plankton we study in our lab are microscopic plant-like and animal-like organisms, so Cynthia's workshop aims to enable us to see and even feel these organisms' movement through drawing since most do not know what microscopic plankton look like.  While EXPORTS researchers have an idea of what these creatures look like thanks to microscopes, many in the general public don't. Through Cynthia's class, people are getting to see what plankton look like for the first time. 
 Many of those in isolation did not have access to paper typically used for drawing in their rooms, but it did not matter: lined paper, sticky notes, and even napkins were just fine. One of the postdocs in our lab decorated the hotel room T.V. with her sticky note drawings to enjoy for the rest of her time there. My favorite part of the workshop was holding up our finished drawings in front of our cameras to share with the group.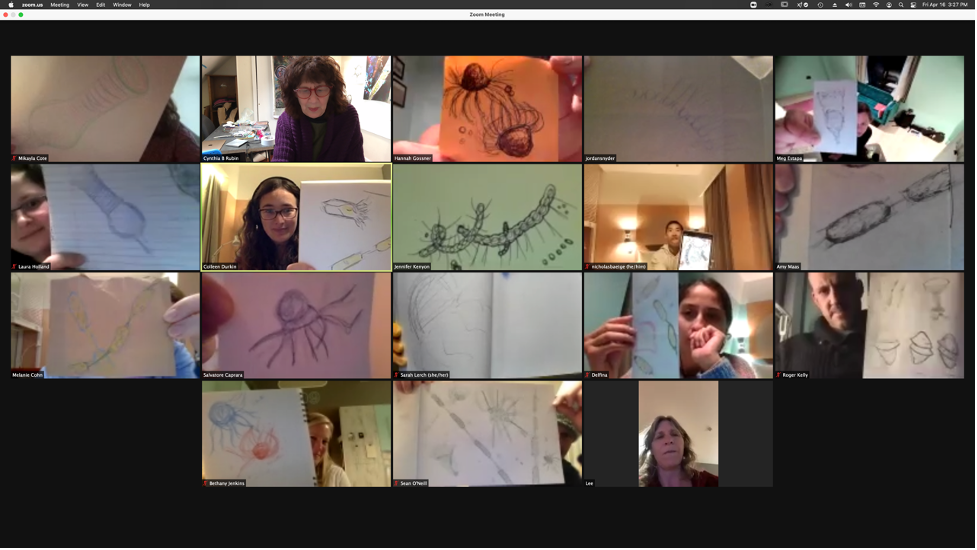 We spent a few hours together and while I cannot say exactly how those felt in isolation far away from home, this workshop offered a release to loosely draw and share sketches with others as well as a brief distraction from the global pandemic.