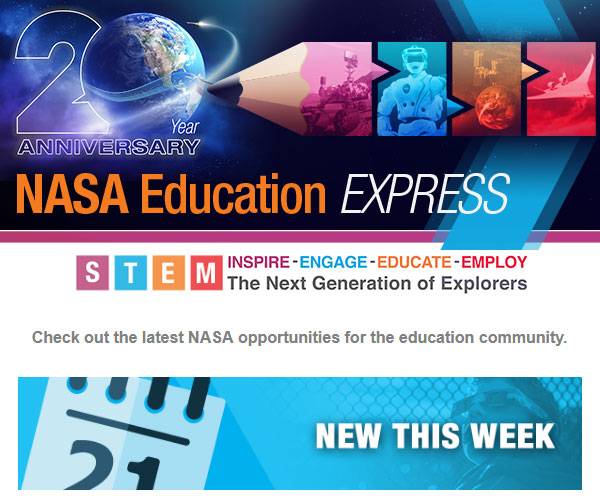 Cross the Curriculum With the Wind: Let's Go Fly a Kite!
Audience: Educators of Grades K-5
Event Date: Sept. 6, 2017, at 5 p.m. EDT
Contact: susan.m.kohler@nasa.gov

Join the NASA STEM Educator Professional Development Collaborative at Texas State University for a free 60-minute webinar to explore the NASA Aeronautics educator guide. Learn how to incorporate the ideas and principles found in popular children's books to engage students in science and engineering process skills and cross-cutting principles in the Next Generation Science Standards. Register online to participate.

There's Space in Your Classroom for Cross-Curricular: STEAM-rolling Through Space
Audience: Educators of Grades 5-12
Event Date: Sept. 7, 2017, at 6 p.m. EDT
Contact: stephen.p.culivan@nasa.gov

Join the NASA STEM Educator Professional Development Collaborative at Texas State University for free 60-minute webinar. Explore beyond the science, technology, engineering and mathematics of space. Integrate the "A" in STEAM in your classroom by learning the important role language, art and music play in space exploration. Online registration required

 
 
NASA Swarmathon: Seeking College Teams for Virtual Robotics Competition!
Audience: Higher Education Faculty and Students at Minority Serving Universities and Minority Serving Community Colleges
Event Date: Sept. 15, 2017
Contact: info@nasaswarmathon.com

The 2018 NASA Swarmathon Virtual Competition challenges students to develop search algorithms for robotic swarms. These algorithms will be tested by competition organizers in a virtual environment. Selected teams will receive a $500 stipend for their faculty member; training via live webinars, videos and guides; and access to technical forums.

Museum Day Live! Event at NASA's Ames Research Center
Audience: All Educators and Students
Event Date: Sept. 23, 2017
Contact: arc-visitorcenter@mail.nasa.gov

Museum Day Live! is an annual celebration of boundless curiosity hosted by Smithsonian magazine. Participating museums and cultural institutions across the country provide entry to anyone presenting a Museum Day Live! ticket. The visitor center at NASA's Ames Research Center in Moffett Field, California, is taking part with special events planned throughout the day. Click here for directions and a schedule of events.

 
 
Solar System Ambassadors Program Accepting Applications
Audience: All Educators
Application Period: Sept. 1-30, 2017
Contact: ambassad@jpl.nasa.gov

The Solar System Ambassadors Program is a nationwide network of space enthusiast volunteers. Highly motivated enthusiasts nationwide are eligible to join — and those in Arkansas, Delaware, Idaho, Iowa, Mississippi, Montana, Nebraska, North Dakota, South Dakota, Vermont, West Virginia, Wyoming, the District of Columbia and U.S. territories are especially encouraged to apply.

Exploring Beyond the Planets: Meteorite Mysteries
Audience: Educators of Grades K-12
Event Date: Aug. 31, 2017, at 4 p.m. EDT
Contact: susan.m.kohler@nasa.gov

Join the NASA STEM Educator Professional Development Collaborative at Texas State University for free 60-minute webinar. Shooting stars, or meteors, are bits of interplanetary material falling through Earth's atmosphere and heated by friction to glow. These objects are called meteoroids as they hurtle through space before they reach Earth's atmosphere; they become meteors for the few seconds they streak across the sky and create glowing trails. Bits and pieces that reach the ground are called meteorites. Find out how you can borrow meteorite samples from NASA's Johnson Space Center. Online registration is required.

 
 
National Science Foundation's Historically Black Colleges and Universities — Undergraduate Program
Audience: Historically Black Colleges and Universities
Various Projects — Notice of Intent Deadline: Sept. 5, 2017
Contact: crankins@nsf.gov

The National Science Foundation' s HBCU-UP is committed to enhancing the quality of undergraduate STEM education and research at Historically Black Colleges and Universities as a means to broaden participation in the nation's STEM workforce.

Earn STEM Digital Badges to Celebrate the Centennial of NASA's Langley Research Center
Audience: Educators and Students in Grades 5-9, Informal Educators
Deadline: Oct. 21, 2017
Contact: marile.colonrobles@nasa.gov

To celebrate NASA's Langley Research Center's Centennial, three STEM digital badges are now available for educators and students in grades 5-9. Discover the role of cloud types in the Earth's Energy Budget; how drag is used to land the Mars2020 Rover on Mars; and the importance of composite materials for airplanes. The first 1,000 educators to complete all three badges by Oct. 21, 2017, will receive a NASA insignia iron-on patch.

 
 
Sign Up for NASA Education 'Science WOW!' Weekly Email Newsletter
Audience: All Educators
Contact: https://science.nasa.gov/about-us/contact-us

Are you a science educator or interested in science education? Sign up to receive an email with NASA's latest science education offerings delivered "Weekly on Wednesdays." It's a simple way to keep up with the latest professional development webinars, student contests, workshops, lectures and other NASA science education activities.

Call for Submissions — NASA Announcement for High Impact / Broad Implementation STEM Education Partnerships (EDUCATION01SP16)
Audience: Education Institutions and Organizations
Application Deadline: Dec. 31, 2017
Contact: NASAEdPartners@nasa.gov

NASA Education seeks to partner with eligible domestic or international organizations on a no-exchange-of-funds basis to reach wider and more diverse audiences and to achieve mutually beneficial objectives. Priority will be placed on collaboration involving digital learning; engaging underrepresented groups in STEM; NASA-themed STEM challenges; and youth-serving organizations.

 
 
Now Accepting Applications for NASA Spring Internships
Audience: High School, Undergraduate and Graduate Students
Application Deadline: Oct. 17, 2017
Contact: https://intern.nasa.gov/oic/

Now is your chance to apply for exciting hands-on spring internship opportunities available at all NASA centers. Help NASA scientists and engineers with ongoing scientific and engineering research, technology development and spaceflight operations activities. Internship opportunities also exist in nontechnical areas such as communications, budget, procurement, education and human resources. NASA internships are stipend-paid and offer students mentor-directed, degree-related, NASA-relevant tasks.

Fly Your Exoplanet on the Transiting Exoplanet Survey Satellite
Audience: All Educators and Students
Submission Deadline: Nov. 20, 2017
Contact: GSFC-TESS@mail.nasa.gov

Set to launch in June 2018, TESS is an explorer-class planet finder and will identify planets ranging from Earth-sized to gas giants. As the TESS team prepares for launch, it invites the public to ponder what exoplanets might look like and share their ideas in the form of sketches and graphics. This opportunity is open to all ages and skill levels.

 
 
NASA Seeks Creative Arts Inspired by Cassini's Mission to Saturn
Audience: All Educators and Students Ages 13 and Older
Contact: cassinimission@jpl.nasa.gov

During nearly two decades in space, Cassini has inspired people on Earth. Now the mission is moving toward its "Grand Finale," and in September 2017 it will finally draw to a dramatic end. NASA's Cassini team would like to know: How has Cassini inspired you? Visit the Cassini Inspires website to explore images and more from the mission. Then use inspiration to get creative. Write a poem. Paint a picture. Choreograph a dance. Tell a story. The possibilities are endless!
Are you looking for NASA educational materials to support your STEM curriculum?
Search hundreds of resources by subject, grade level, type and keyword at http://www.nasa.gov/education/resources/.
Find NASA science resources for your classroom. NASA Wavelength is a digital collection of Earth and space science resources for educators of all levels — from elementary to college, to out-of-school programs. http://nasawavelength.org/
Check out the 'Explore NASA Science' website! Science starts with questions, leading to discoveries. Visit https://science.nasa.gov. To view the site in Spanish, visit http://ciencia.nasa.gov.
Do you just want to receive weekly updates on NASA Education opportunities relating to science? Sign up for the NASA Education "Science WOW!" newsletter for science opportunities delivered to your inbox "Weekly on Wednesdays!" https://www.nasa.gov/education/sciencewow/
FOLLOW, SHARE, AND BE A PART OF THE STEM EDUCATION CONVERSATION WITH NASA!
---
Visit NASA Education on the Web:
NASA Education: http://www.nasa.gov/education
For Educators: http://www.nasa.gov/audience/foreducators/index.html
For Students: http://www.nasa.gov/audience/forstudents/index.html
NASA Kids' Club: http://www.nasa.gov/kidsclub