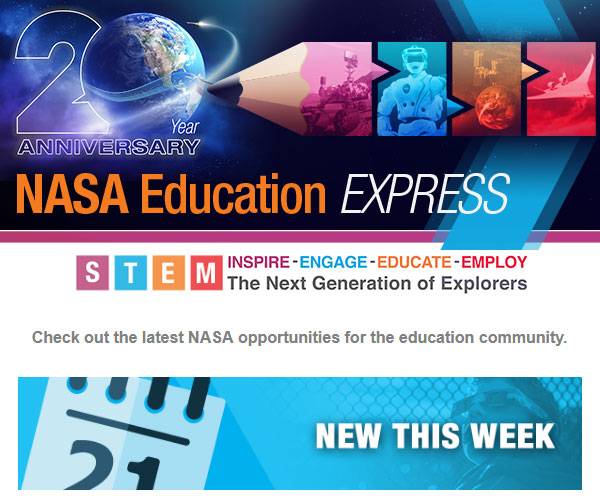 See Your Town From Space: Sign Up for Next Sally Ride EarthKAM Mission
Audience: All Educators and Students
Contact:JSC-STEMonStation@mail.nasa.govWould you like to take pictures like astronaut and former teacher Joe Acaba does? Sally Ride EarthKAM allows anyone to become a photographer from space. Students, educators and the public can create an account, then program a camera placed in a window of the International Space Station to take an aerial photo of their desired location. Mission dates run Nov. 1-3, 2017, so make sure to register soon!Look for more ways to get involved with the station and find other great resources during NASA's A Year of Education on Station, a celebration of an almost 12-month presence of a teacher on board the International Space Station.
Celebrate International Observe the Moon Night at the U.S. Space & Rocket Center
Audience: All Educators and Students
Event Date: Oct. 28, 2017, 5:30 – 8:30 p.m. CDT
Contact: stephanie.w.henry@nasa.govJoin in the celebration of International Observe the Moon Night with an evening of fun-filled events at the U.S. Space & Rocket Center in Huntsville, Alabama. Enjoy hands-on activities, a live interactive solar system show, solar system virtual reality simulators from NASA, and a chance to see the moon up close with the help of telescopes and astronomers. The event is free and open to the public.
 
 
Using Rover Design Challenges to Teach Simple Machines
Audience: Educators of Grades 4-10
Event Date: Oct. 30, 2017, at 5 p.m. EDT
Contact: susan.m.kohler@nasa.govJoin the NASA STEM Educator Professional Development Collaborative at Texas State University for free 60-minute webinar that features all six simple machines — lever, wedge, wheels and axles, screw, pulley, and inclined plane. Combine different machines to create more complex, kinetic systems. Use inspiration from real NASA missions to help students gain critical mechanical skills, "design-thinking" principles and physical science concepts. Online registration is required.
Earth Sense — Remote Sensing at NASA: For Your Eyes Only
Audience: Educators of Grades 5-8
Event Date: Nov. 2, 2017, at 6 p.m. EST
Contact: stephen.p.culivan@nasa.govJoin the NASA STEM Educator Professional Development Collaborative at Texas State University for free 60-minute webinar to explore our Earth through the eyes of the astronauts. Learn how human observations from space enable us to better understand our planet. Using NASA missions, real data, online resources and classroom lessons, we'll investigate Earth with eyes from above. Online registration is required.
 
 
2018-2019 Albert Einstein Distinguished Educator Fellowship
Audience: K-12 STEM Educators
Application Deadline: Nov. 16, 2017, at 8 p.m. EST
Contact: sc.einstein@science.doe.govThe Albert Einstein Distinguished Educator Fellowship is a paid fellowship for K-12 science, mathematics, engineering and technology teachers. Einstein Fellows spend a school year in the Washington, D.C., area serving in a federal agency or on Capitol Hill. Applicants must be U.S. citizens currently employed full time in a U.S. elementary or secondary school or school district. Applicants must have been teaching STEM full time for at least five of the last seven years.
Smithsonian National Air and Space Museum Research Fellowships for 2018
Audience: Predoctoral, Postdoctoral and Non-Academic Researchers
Application Deadline: Dec. 1, 2017
Contact: NASM-Fellowships@si.eduThe Smithsonian National Air and Space Museum is accepting applications for research fellowships for 2018. Fellowships are available for predoctoral, postdoctoral and non-academic researchers. Fellows work closely with museum staff and have access to the museum's archival collections. Proposals must reflect that the research to be undertaken is intended for publication in peer-reviewed books and journals.
 
 
Aviation Space Writers Foundation Award
Audience: Researchers of Aerospace Topics
Application Deadline: Dec. 1, 2017
Contact: NASM-Fellowships@si.eduThe National Air and Space Museum is offering a $5,000 grant to support research on aerospace topics that results in a product suitable for potential public dissemination in print, electronic, broadcast or other visual medium. Potential topics include contemporary aviation or space events of interest to the public; significant persons, historical events or trends that illuminate the history of human flight in air and space; records; or compendia of aerospace source material.
National Science Foundation's 2017-2018 Community College Innovation Challenge
Audience: Community College Students and Faculty
Entry Deadline: Feb. 14, 2018
Contact: innovationchallenge@nsf.govThe National Science Foundation's Community College Innovation Challenge is seeking teams to propose innovative STEM-based solutions for real-world problems. Teams must include three to five community college students, a faculty mentor and an industry partner. Submissions consist of a written portion and a 90-second video. Finalists will be invited to attend an Innovation Boot Camp, which is a professional development workshop on innovation and entrepreneurship. First- and second-place teams win cash awards.
 

 
Testing Terror – Technology for Exploration: Mysteries of Saturn and Cassini
Audience: Educators of Grades 4-10
Event Date: Oct. 26, 2017, at 6:30 p.m. EDT
Contact: karen.c.roark@nasa.govSaturn's ringed world has attracted attention ever since humans first looked at the sky. Scientists first got a close-up look at the planet when the Pioneer and Voyager spacecrafts swung by Saturn in the 1970s and 1980s. Join the NASA STEM Educator Professional Development Collaborative at Texas State University for a free 60-minute webinar to explore the incredible Cassini mission and learn Saturn facts to share with your students.Online registration is required.
International Observe the Moon Night
Audience: All Educators and Students
Event Date: Oct. 28, 2017
Contact: https://eclipse2017.nasa.gov/contact-usOn Oct. 28, 2017, the whole world has the chance to admire and celebrate our moon on International Observe the Moon Night. And you can join in the fun! Visit the website to find a map of registered events and make plans to attend. If you don't see an event near you, sign up to host your own! The website has step-by-step plans for hosting an event of any size. Ideas for hands-on activities are available to make your event a success.
 
 
Call for Proposals — NASA Research Announcement for Use of the NASA Physical Sciences Informatics System: Appendix D
Audience: Graduate Students
Notice of Intent Deadline: Oct. 31, 2017
Proposal Deadline: Dec. 15, 2017
Contact: francis.p.chiaramonte@nasa.govNASA invites graduate students and established researchers to submit proposals for ground-based research that uses NASA's Physical Sciences Informatics system to develop new analyses and scientific insights. This solicitation appendix focuses on five research areas: combustion science, complex fluids, fluid physics, fundamental physics and materials science. Research and development efforts will take place over two years. The typical award will be $100,000 per year, for up to two years.
Apply to Receive Free 'Explore Science: Earth & Space 2018' Toolkits
Audience: Children's Museums, Science Centers and Museums, NASA Visitor Centers, Public Planetariums and Observatories Located in the U.S.
Application Deadline: Nov. 1, 2017
Contact: cmccarthy@smm.orgThe National Informal STEM Education Network, in collaboration with NASA, has assembled a new set of engaging, hands-on Earth and space science experiences with connections to science, technology and society. A total of 250 toolkits will be awarded to eligible organizations through a competitive application process.
 
 
Send Your Name to Mars on NASA's Next Red Planet Mission!
Audience: Educators and Students Worldwide
Submission Deadline: Nov. 1, 2017
Contact: http://mars.nasa.gov/feedback/NASA invites the public to send their names to the Red Planet aboard NASA's InSight Mars lander! InSight will launch in May 2018 and land on Nov. 26, 2018. The mission will do an in-depth study of the interior of Mars to answer key questions about how the solar system's rocky planets formed, including Earth. InSight will place the first seismometer directly on the surface of Mars and deploy a self-hammering heat probe that will burrow deeper into the ground than any device on the planet has ever done.
Commercial Crew 2018 Calendar Artwork Contest
Audience: Students Ages 4 to 12
Entry Deadline: Nov. 2, 2017
Contact: ksc-connect2ccp@mail.nasa.govNASA's Commercial Crew Program is holding an art contest to create a 2018 calendar. Each month will have a different theme related to the International Space Station, astronauts, growing food in space and more! Unique and original artwork will be selected for each month. Once the calendar is complete, NASA will transmit it to astronauts aboard the space station. The calendar also will include supplemental education materials for kids on Earth to learn more about the space-related themes.
 
 
NASA Space Technology Research Fellowships — Fall 2018
Audience: Graduate Students
Application Deadline: Nov. 2, 2017
Contact: hq-nstrf-call@mail.nasa.govNASA's Space Technology Mission Directorate seeks to sponsor graduate student researchers who are U.S. citizens or permanent U.S. residents. They must show significant potential to contribute to NASA's goal of creating innovative space technologies for the nation's science, exploration and economic future. The research grants, worth up to $75,000 per year, will coincide with the start of the 2018 fall academic term. Selected candidates will do research at their colleges or universities and at selected NASA centers.

Be a Mosquito Habitat Mapper With 'GLOBE Observer' App
Audience: All Educators and Students
Project Dates: Now Through Nov. 10, 2017
Contact: Holli.riebeek@nasa.govCitizen scientists can use the "GLOBE Observer" app, available for Apple and Android phones, to help those who are working to understand and reduce mosquito-borne diseases. The app helps users identify and eliminate mosquito breeding sites. This local, ground-based information helps NASA by supporting satellite-based research of environmental conditions that indicate possible outbreaks of mosquitoes.
 
 
Amateur Radio on the International Space Station Contact Opportunity
Audience: All Educators
Proposal Deadline: Nov. 15, 2017
Contact: ariss.us.education@gmail.com ARISS-US is accepting proposals from U.S. schools, museums, science centers and community youth organizations (working individually or together) to host an amateur radio event between July 1 and Dec. 31, 2018. To maximize these radio contact opportunities, ARISS-US is looking for organizations that will draw large numbers of participants and integrate the contact into a well-developed education plan. Radio contacts are approximately 10 minutes long.
Space Shuttle Thermal Protective Tiles and Blankets Available for Educational Use
Audience: Educational Institutions, Museums and Other Education Organizations
Contact: GSAXcessHelp@gsa.govNASA invites U.S. educational institutions to request space shuttle thermal protective tiles, space shuttle thermal protective blankets, and other special items offered on a first-come, first-serve basis while quantities last. A nominal shipping fee must be paid online with a credit card.
 
 
NASA's 2018 Drop Tower Challenge: Microgravity Expulsion From Water
Audience: 9-12 Students
Proposal Deadline: Nov. 10, 2017
Contact: Ed-DropTower@lists.nasa.govNASA challenges teams of high school students to design and build objects that sink in water in normal gravity but will be expelled as far as possible out of water during free fall in NASA's 2.2 Second Drop Tower at Glenn Research Center. The expulsion must result from hydrophobic surface properties of the object. Top-performing teams will be invited to present their results in a poster session at the 2018 meeting of the American Society for Gravitational and Space Research. Visit the website to learn more.
Virginia Earth System Science Scholars Program
Audience: Virginia High School Juniors and Seniors
Application Deadline: Nov. 12, 2017
Contact: joyce.h.corriere@nasa.govVESSS is an interactive online STEM learning experience for Virginia high school juniors and seniors. Participants will complete seven web-based modules and a final project. Those who perform well in the online course may be selected for a one-week residential summer academy at NASA's Langley Research Center in Hampton, Virginia. Participants will be eligible to receive college credits through Thomas Nelson Community College with costs underwritten by the Virginia Space Grant Consortium.
 
 
2018 RASC-AL Special Edition: Mars Ice Challenge Competition
Audience: Full-time Undergraduate and Graduate Students
Project Plan Submission Deadline: Nov. 16, 2017
Contact: rascal@nianet.orgThis engineering design and technology demonstration contest challenges teams to design, build and test prototype systems capable of extracting water from simulated Martian subsurface ice. Up to 10 teams will be selected to participate in a multi-day competition in June 2018 at NASA's Langley Research Center. In addition to the technology demonstrations, participation includes the submission of a technical paper and poster presentation to NASA and industry judges that details the team concept's "path-to-fight" (i.e. essential modifications required to operate their system on Mars).
Are you looking for NASA educational materials to support your STEM curriculum?
Search hundreds of resources by subject, grade level, type and keyword at http://www.nasa.gov/education/resources/.
Find NASA science resources for your classroom. NASA Wavelength is a digital collection of Earth and space science resources for educators of all levels — from elementary to college, to out-of-school programs. http://nasawavelength.org/
Check out the 'Explore NASA Science' website! Science starts with questions, leading to discoveries. Visit https://science.nasa.gov. To view the site in Spanish, visit http://ciencia.nasa.gov.
Do you just want to receive weekly updates on NASA Education opportunities relating to science? Sign up for the NASA Education "Science WOW!" newsletter for science opportunities delivered to your inbox "Weekly on Wednesdays!" https://www.nasa.gov/education/sciencewow/
FOLLOW, SHARE, AND BE A PART OF THE STEM EDUCATION CONVERSATION WITH NASA!
---
Visit NASA Education on the Web:
NASA Education: http://www.nasa.gov/education
For Educators: http://www.nasa.gov/audience/foreducators/index.html
For Students: http://www.nasa.gov/audience/forstudents/index.html
NASA Kids' Club: http://www.nasa.gov/kidsclub