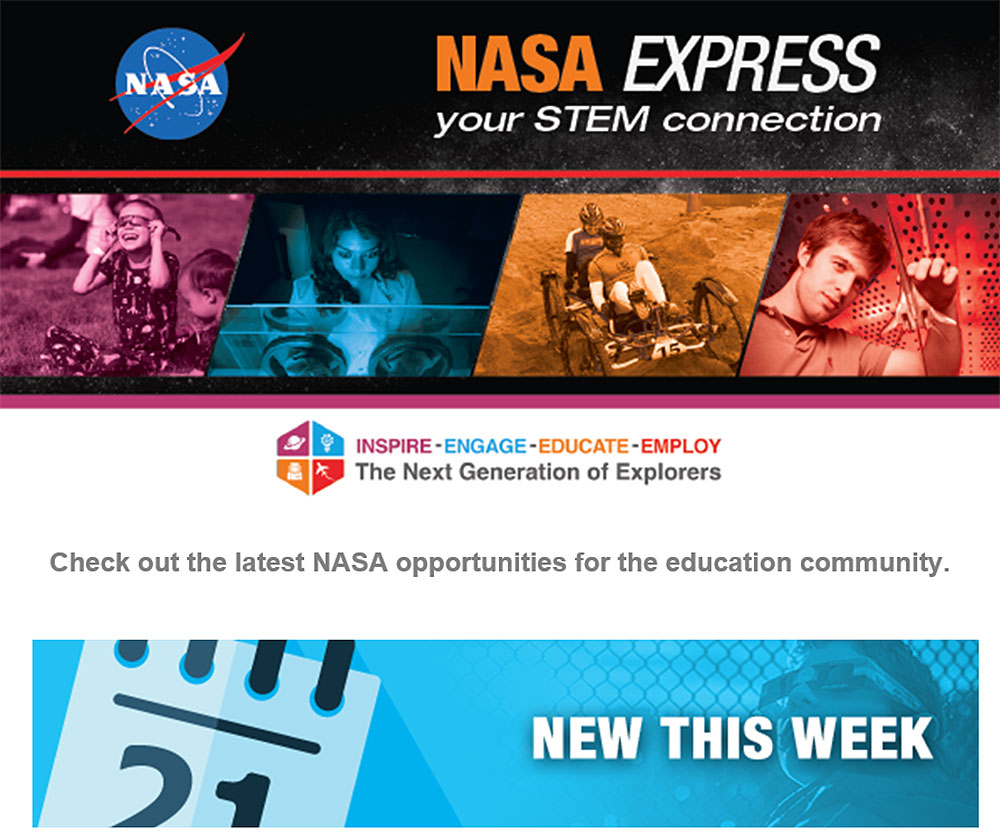 STEMonstration: The Science of Nutrition!
Audience: All Educators
Contact: JSC-STEMonStation@mail.nasa.gov

Astronaut Scott Tingle is a big fan of raisins. In the latest STEMonstrations episode, he talks about how they are a favorite source of carbohydrates, which help him stay active aboard the International Space Station. Nutrition is key to an active lifestyle on Earth and in space. Do your students wonder how astronauts eat in space? Do they understand the importance of a healthy diet? NASA's food lab certainly does, and they provide the station crew with healthy meals to keep their mission going. Try this lesson plan that allows your students to build their own astronaut menu! They'll learn about caloric content and the nutritional value of space food, and even calculate a crew member's Basal Metabolic Rate. Show the STEMonstration video at https://www.nasa.gov/stemonstrations as Scott shows how microgravity can make food prep a whole new experience.Find more ways to bring NASA into your classroom during NASA's A Year of Education on Station, a celebration of an almost 12-month presence of a teacher aboard the International Space Station.

Space Innovation Day at the Smithsonian's National Air and Space Museum
Audience: All Educators and Students
Event Date: June 5, 2018, 10 a.m. – 3 p.m. EDT
Contact: NASMVisitorServices@si.edu

Join NASA and Future Engineers at the Smithsonian's National Air and Space Museum for a celebration of space innovation and in-space manufacturing. Hands-on activities and exhibits from NASA Solve, NASA Education, NASA In-Space Manufacturing and more will be located in the Space Race gallery.

 
 
 Free 'STEM in 30' Webcast — International Space Station Downlink
Audience: Grade 6-8 Educators and Students
Event Date: June 5, 2018, at 11 a.m. EDT
Contact: STEMin30@si.edu

Join the Smithsonian's National Air and Space Museum for this fast-paced webcast that will feature a live downlink with the International Space Station. Winners of the Future Engineers "Two for the Crew" design challenge, along with other preselected students, will ask questions live to NASA astronauts Ricky Arnold and Drew Feustel as they orbit 250 miles above Earth. The downlink will take place around 11 a.m. EDT; the exact time will be announced two weeks before the downlink.

 Call for Research Proposals: NASA Space Technology Mission Directorate's Flight Opportunities Program
Audience: Accredited U.S. Universities
Application Deadline: June 8, 2018
Contact: HQ-STMD-FO@nasaprs.com

NASA's Space Technology Mission Directorate seeks research proposals from accredited U.S. universities for promising space technologies that will benefit future NASA space exploration missions. Selected technologies will be flight-tested on commercial suborbital launch vehicles, reduced-gravity aircraft and high-altitude balloon flights. NASA will provide funding for selected universities to purchase flight services and to cover costs related to payload design, development, preparation and travel.

 
 
NASA Internships — Fall 2018 Session
Audience: High School, Undergraduate and Graduate Students
Contact: NASA-Internships@mail.nasa.gov

NASA is currently accepting applications for fall 2018 internships. Students should complete applications as soon as possible to increase the possibility of selection. Offers will be extended throughout the month of June. The fall semester is 16 weeks long; internships begin in late August or early September, depending on the location. NASA Internships provide students at all types of institutions access to a portfolio of opportunities offered agencywide.

Seeking Volunteer Reviewers in Earth and Space Science
Audience: Subject Matter Experts in Earth and Space Science
Contact: max.bernstein@nasa.gov

NASA's Science Mission Directorate seeks subject matter experts to serve as mail-in and/or panel reviewers of proposals to ROSES and other SMD solicitations. Reviewers are needed on a regular basis as opportunities periodically open. Visit the website to find volunteer review forms and to indicate the topics in which you consider yourself to be a subject matter expert. If your skills match the needs for that review, you may be contacted to discuss scheduling.

Solar System and Beyond: Exploring New Planets
Audience: Educators of Grades 6-12
Event Date: May 24, 2018, at 6 p.m. EDT
Contact: stephen.p.culivan@nasa.gov

Join the NASA STEM Educator Professional Development Collaborative at Texas State University for a free 60-minute webinar. Learn to use real NASA data to explore how telescopes — especially the Kepler and TESS space telescopes — search for planets orbiting stars beyond our Sun. The NASA STEM activities presented investigate how to use telescope data and Kepler's Third Law to construct graphs and interpret data to determine if a planet beyond our solar system is Earth-like. Online registration is required.

 
 
Student Spaceflight Experiments Program — Mission 13 to the International Space Station
Audience: School Districts Serving Grades 5-12, Informal Education Institutions, Colleges and Universities
Inquiry Deadline: May 30, 2018
Start Date: Sept. 4, 2018
Contact: jeffgoldstein@ncesse.org

The National Center for Earth and Space Science Education and the Arthur C. Clarke Institute for Space Education announce Mission 13 to the International Space Station, a community engagement initiative in STEM. In each participating community, one proposed student experiment is selected to fly in low-Earth orbit on the space station. For pre-college grades 5-12, each community is expected to engage at least 300 students in real microgravity experiment design and proposal writing. For an undergraduate community, it is expected that at least 30 students will be engaged. Interested communities must inquire about the program no later than May 30, 2018.

2018 Girls in STEM Event at NASA's Glenn Research Center
Audience: Summer Camps and Out-of-School-Time Groups for Girls in Grades 6-8
Registration Deadline: May 30, 2018
Event Date: July 12, 2018
Contact: sdbrown-houston@nasa.gov

NASA's Glenn Research Center in Cleveland, Ohio, is hosting a "Girls in STEM" event for girls in grades 6 to 8 who participate in summer camps or other out-of-school-time summer groups and organizations. This daylong event includes educational activities, an engineering design challenge, a panel discussion with female scientists and engineers, and facility tours to encourage future leaders to pursue careers in STEM. Attendees must be U.S. citizens. Each group must have 10-25 students.

 
 
Lloyd V. Berkner Space Policy Internships
Audience: Undergraduate and Graduate Students at U.S. Universities and Colleges
Application Deadline: June 1, 2018
Contact: dhsmith@nas.edu

The Lloyd V. Berkner Space Policy Internships program of the Space Studies Board gives students the opportunity to work in civil space research policy in the nation's capital. The board is the principal advisory group providing independent scientific and programmatic advice to NASA and other government agencies on civil space research and associated ground-based activities. Interns typically undertake one or more short-term research projects to assist with or to enhance ongoing study projects.

Goldstone Apple Valley Radio Telescope Summer Institutes 2018
Audience: K-12 Educators
Registration Deadline for California Institute: June 4, 2018
Registration Deadline for Virginia Institutes: June 15, 2018
Contact: mc@lcer.org

The Goldstone Apple Valley Radio Telescope program lets educators and students operate a 112-foot radio telescope from the classroom. Join the GAVRT team for a two-day institute to learn about radio astronomy and science campaigns available through GAVRT.Four sessions will be offered: June 12-14, 2018 — Columbia Memorial Space Center in Downey, California; June 26-27 and June 28-29, 2018 — National Air and Space Museum's Steven F. Udvar-Hazy Center in Chantilly, Virginia; and July 23-24, 2018 — Sydney, Australia.

 
 
GLOBE Student Research Campaign — Water in Our Environment
Audience: K-12 Educators
Campaign Dates: Now Through June 30, 2018
Contact: http://www.globe.gov/support/contact

Water continuously circulates through one of Earth's most powerful systems: the water cycle. Join GLOBE for its latest campaign that uses a set of guiding investigative questions to enable students to meaningfully explore water in their local environment and collaborate to consider the influence of water on a global scale. The project is flexible, allowing teachers to choose between many options to involve their students. Visit the site for details about the project and upcoming informational webinars.

2018 Space Port Area Conference for Educators
Audience: K-12 Certified Educators Who Are U.S. Citizens Teaching in the U.S.
Event Date: July 11-13, 2018
Contact: space@amfcse.org

Registration is open for the 2018 Space Port Area Conference for Educators, or S.P.A.C.E., taking place at NASA's Kennedy Space Center in Florida. Experience stimulating presentations from astronauts and NASA science and engineering experts; tour Kennedy and surrounding facilities. Get ready-to-go lesson plans and creative ideas to infuse your classroom with STEM and multifaceted, space-related content. Register today!

 
 
Free Download for Educators: Experience Mars in Virtual Reality With Mars 2030
Audience: All Educators and Museum Staff
Contact: http://mars2030-vr.com/contact-us

Mars 2030 gives players the opportunity to explore the Red Planet. The virtual reality simulation was created using real data to deliver an authentic experience based on what is known about Mars today. A desktop version also is available for players without virtual reality hardware. Complimentary Mars 2030 software is available for educators and museum staff.

ASTRO CAMP® 2018 at NASA's Stennis Space Center
Audience: Students in Grades 2-10
Event Dates: Weekly During June and July
Contact: maria.l.lott@nasa.gov

ASTRO CAMP® is a series of weeklong summer camps held at NASA's Stennis Space Center in Mississippi. At ASTRO CAMP, learners in grades 2-10 engage in fun, hands-on educational activities related to NASA's missions. Students learn the basics of engineering, rocketry and robotics; they end the week with tours of Stennis facilities and a model rocket launch. Camp dates are filling fast! Visit the site to get full details and register.ASTRO CAMP also is collaborating with organizations across the Gulf and in Atlanta for 40+ community-based camps. For "ASTRO CAMP® In the Community" locations, click here. The Community camps process their own registrations. Please contact those camps directly.

 
 
New Resource: CubeSat 101 — Basic Concepts and Processes for First-Time CubeSat Developers
Audience: K-12 and Higher Education Educators and Students
Contact: Carol.A.Galica@nasa.gov

Do you want to start a CubeSat program and launch a small satellite? The

CubeSat Launch Initiative

gives students, teachers and faculty a chance to get hands-on, flight hardware development experience while designing, building and operating small research satellites. This opportunity is open to U.S. nonprofit organizations and accredited educational organizations. Download the new "CubeSat 101" guide to learn more.

Free Virtual Reality Program: NASA SLS VR Experience
Audience: All Educators and Students
Contact: twila.g.schneider@nasa.gov

Do you want to experience the excitement of standing on the launch pad beneath NASA's massive new rocket, the Space Launch System? The "NASA SLS VR Experience" is a free, virtual reality software program that is available for anyone with an Oculus Rift to download. Users can experience the scale of the SLS and can explore the rocket from multiple angles. Those using the software can even sit in the cockpit during prelaunch activities to see what it's like to be an astronaut inside the Orion spacecraft.

 
Want to subscribe to get this message delivered to your inbox each Thursday? Sign up for the NASA EXPRESS newsletter at www.nasa.gov/education/express.
Are you looking for NASA educational materials to support your STEM curriculum?
Search hundreds of resources by subject, grade level, type and keyword at http://www.nasa.gov/education/resources/.
Find NASA science resources for your classroom. NASA Wavelength is a digital collection of Earth and space science resources for educators of all levels — from elementary to college, to out-of-school programs. http://nasawavelength.org/
Check out the 'Explore NASA Science' website! Science starts with questions, leading to discoveries. Visit https://science.nasa.gov. To view the site in Spanish, visit http://ciencia.nasa.gov.
Take part in a Year of Education on Station. September 2017 – September 2018: Although on different crews, astronauts Joe Acaba and Ricky Arnold – both former teachers – will work aboard the International Space Station. Visit NASA's A Year of Education on Station website for out-of-this-world resources and opportunities for K-16 students and educators.
---
Visit NASA Education on the Web:
NASA Education: http://www.nasa.gov/education
For Educators: http://www.nasa.gov/audience/foreducators/index.html
For Students: http://www.nasa.gov/audience/forstudents/index.html
NASA Kids' Club: http://www.nasa.gov/kidsclub