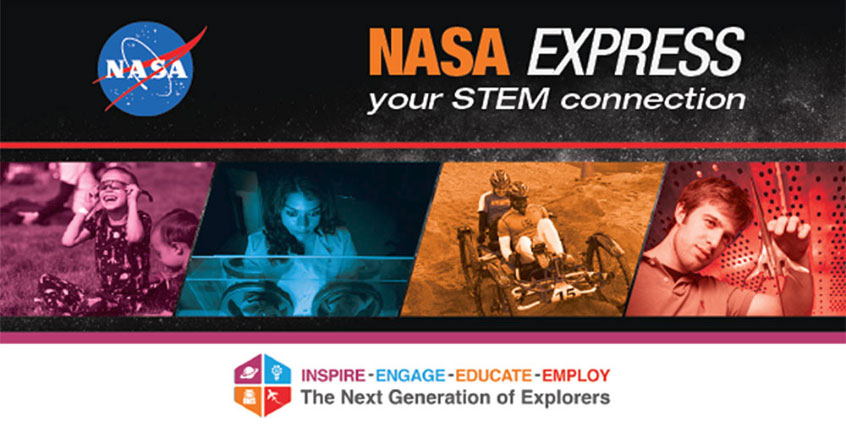 Apollo 50th Anniversary Talk Series: Explore Rockets and Spacecraft
Audience: Public
Event Date: June 27 at 2 p.m. EDT
Contact: bethanne.hull@nasa.gov

The Apollo lunar flights may have ended in 1972, but the Moon has remained of great interest to NASA and scientists worldwide. Learn how NASA is going forward to the Moon to stay and then on to Mars. See how the Apollo's Saturn V rocket compares to NASA's next big rocket, the Space Launch System. Watch the session live at https://go.nasa.gov/DEEP. Tweet questions for the presenter using #NASADEEP, or use the chat window next to the media player.

Start Your Week With Space: Commercial Crew
Audience: All Educators and Students
Event Date: July 1 at 2 p.m. EDT
Contact: bethanne.hull@nasa.gov

Start your week with an exciting science lesson and hands-on demonstration. This week's lesson shares the excitement of America's return to human spaceflight with NASA's Commercial Crew Program. Learn about the commercial rockets and spacecraft, astronaut crew and more. Find out what it takes to return a spacecraft and astronaut crew safely to Earth. Get more out of the session by engaging your students in the Eggstronaut Parachute Challenge.

 
 
Small Steps to Giant Leaps: Mission and Resources Overview
Audience: Educators of Grades K-12
Event Date: July 10 at 6:30 p.m. EDT
Contact: barbie.buckner@nasa.gov

Join the NASA STEM Educator Professional Development Collaborative at Texas State University for a free 60-minute webinar. This webinar reviews the history of X-planes and NASA aeronautics research while also looking to the future of NASA aeronautics innovation. For decades, NASA has been studying aircraft noise in order to reduce noise emissions. Learn about NASA's newest X-plane, the X-59 QueSST, and the research on quiet supersonic flight. Participants will also get an overview of associated NASA STEM lessons, videos, fact sheets, printables and training opportunities. Online registration is required.

Explore Human Spaceflight: The Hazards of Human Spaceflight
Audience: Educators of Grades K-12
Event Date: July 11 at 6 p.m. EDT
Contact: stephen.p.culivan@nasa.gov

Join the NASA STEM Educator Professional Development Collaborative at Texas State University for a free 60-minute webinar. Human spaceflight will enable astronauts to continue orbiting Earth, return to the Moon and then journey on to Mars bringing together science, technology and human innovation. Explore the hazards astronauts face in the extreme environment of space travel and the NASA-developed solutions to ensure the safety and well-being of the astronauts. NASA STEM classroom lessons and online resources will be integrated. Online registration is required.

 
 
Free Lecture—Apollo 50th Anniversary
Audience: All Educators; Students in Grades 9-12 and Higher Education
Event Date: July 11-12 at 7 p.m. PDT
Contact: http://www.jpl.nasa.gov/contact_JPL.php

The Apollo program's "…giant leap…" took a decade of intense preparation to accomplish, and required huge support on Earth. Join host Preston Dyches from NASA's Jet Propulsion Laboratory in Pasadena, California, for a discussion that will focus on understanding JPL's supporting role in one of humanity's greatest achievements. The panel of speakers will include JPL fellow and Emmy award-winning producer Blaine Baggett, Caltech Professor Emeritus of geology and planetary science Arden Albee and JPL veteran engineer of the Ranger and Surveyor era John Casani. Attend the lectures in person, or view Thursday's lecture via live webcast.

Celebrating Apollo 11: Inspiring STEM Educators for 50 Years
Audience: Educators of Grades PreK-12
Event Date: July 18 at 2 p.m. EDT
Contact: kwoodruff@us-satellite.net

The Apollo 11 mission inspired the nation to achieve great things. Many classroom teachers remember the Moon landing, and many more continue to be inspired by this and other historic events designed and enacted by NASA scientists, engineers and the diverse and dedicated NASA community. Please join this webinar to increase your knowledge of Apollo-related STEM education resources, hear how Apollo 11 inspired fellow educators nationwide and learn which exciting missions to follow in the coming years. Make sure to share your own story when you register.

 
 
New Resources From NASA's STEM on Station and Microsoft's Hacking STEM
Audience: Educators of Grades 5-12
Contact: jsc-education@mail.nasa.gov

The International Space Station is a research laboratory where astronauts live and work, testing technologies for future missions to the Moon and Mars, and learning more about our home planet. Next year is the 20th anniversary of humans living off-planet aboard the space station. To celebrate, NASA's STEM on Station and Microsoft Education have partnered to develop eight new lesson plans to introduce students to challenges astronauts face living in space. These standards-aligned lessons challenge middle school and high school students to design in 3D, analyze data, build sensors, use virtual reality and work with machine learning and artificial intelligence.

Call for Proposals: NASA's Aeronautics Research Mission Directorate's University Leadership Initiative 2
Audience: Accredited, Degree-granting U.S. Colleges and Universities
Applicant's Online Workshop: June 27, 1-3 p.m. EDT
Step-A Proposal Deadline: Aug. 25
Contact: HQ-UnivPartnerships@mail.nasa.gov

The University Leadership Initiative 2 of NASA's Aeronautics Research Mission Directorate provides the opportunity for university teams to exercise technical and organizational leadership in proposing technical challenges, defining multidisciplinary solutions, establishing peer review mechanisms and applying innovative teaming strategies to strengthen research impact. Multiple awards are anticipated with nominal budgets in the $1-2M range per award annually. Awards will have a maximum duration of four years.Click the links below to read about current ULI recipients.

 
 
Explore Moon to Mars: NASA STEM Geology—Meteorite Mysteries
Audience: Educators of Grades 5-12
Event Date: June 27 at 5 p.m. EDT
Contact: susan.m.kohler@nasa.gov

Join the NASA STEM Educator Professional Development Collaborative at Texas State University for a free 60-minute webinar. Engage students in inquiry-based science and explore interdisciplinary connections. The study of meteorites provides a unifying theme that links almost every aspect of Earth and planetary science with mathematics, physics, chemistry and even biology. The effects of meteorite impacts have serious implications for social science. Online registration is required.

SPACE: Space Port Area Conference for Educators
Audience: K-12 Formal and Informal Educators Who Are U.S. Citizens
Registration Deadline: June 27 at 5 p.m. EDT
Event Date: July 24-26, 2019
Contact: goforspace@gmail.com

Registration closes on June 27 at 5 p.m. EDT for the 2019 Space Port Area Conference for Educators (SPACE) taking place at NASA's Kennedy Space Center in Cape Canaveral, Florida. Hosted by the Astronauts Memorial Foundation, this conference features stimulating presentations from astronauts and NASA science and engineering experts; tours of Kennedy and surrounding facilities. Get ready-to-go lesson plans and creative ideas to infuse your classroom with STEM and multifaceted, space-related content.

 
 
Submit Your Song Suggestions for #NASAMoonTunes
Audience: Public
Deadline: June 28

Just like any road trip needs a soundtrack, so does a spaceflight! If you were taking a trip to the Moon—a nonstop journey of approximately three days each way—what favorite song would you be sure to include on your playlist? Let us add it to ours! Tell us on Twitter with the hashtag #NASAMoonTunes, or submit online. The playlist will liftoff on July 13 and 14, and will air during a live show on NASA's Third Rock Radio just a few days prior to the Apollo 11 launch anniversary!

Collaboration Opportunities: 2019 ASTRO CAMP in the Community
Audience: Universities, Schools, Museums and Youth-Serving Organizations
Inquiry Deadline: July 1
Contact: maria.l.lott@nasa.gov

NASA's Stennis Space Center in Mississippi has announced collaboration opportunities for organizations interested in hosting "2019 ASTRO CAMP in the Community" events this summer. ASTRO CAMP engages learners in grades 2-10 with fun, hands-on educational activities related to NASA's missions. ASTRO CAMP provides collaborators professional development, the 2019 ASTRO CAMP Facilitators Guide, activity supply lists, online resources, NASA completion certificates and the support of education specialists (as needed). Visit the site for details on collaborator requirements and inquiry details.

 
 
NASA Internships
Audience: High School, Undergraduate, Graduate Students
Application Deadlines:
Fall 2019—July 1
Spring 2020—Nov. 5
Summer 2020—March 8
Contact: NASA-Internships@mail.nasa.gov

Being an astronaut isn't the only cool thing about space. NASA interns use their creativity and innovation to work on projects that impact NASA's mission, like sending the first woman and next man to the Moon by 2024. As a NASA intern, you'll be a part of an amazing team dedicated to the advancement of space exploration. You will work alongside leading experts and gain valuable experience by advancing research and projects to the next level. Come dream with us and let's change the future together.
U.S. Space & Rocket Center Celebrates Apollo Anniversary With Global Launch Event
Audience: Public
Event Date: July 16
Contact: kayt@spacecamp.com

On July 16, 1969, the Apollo 11 crew launched to begin their historic mission to the Moon. To commemorate this event, the U.S. Space & Rocket Center, home to Space Camp in Huntsville, Alabama, is asking teachers, scout leaders, families, students and rocket enthusiasts of all ages worldwide to join in a Global Rocket Launch! Visit the link for rocket ideas, then sign up and share your launch pictures on social media using #GlobalRocketLaunch.

 
 
Sign Up for "Explore NASA" Newsletter
Audience: Public
Contact: public-inquiries@hq.nasa.gov

Do you want to get updates about the latest happenings at NASA? Join us as we explore and go forward to the Moon and on to Mars. Plus, discover the latest scientific updates on Earth, the solar system and beyond from NASA—all delivered right to your inbox.

Subscribe to the "Explore NASA" newsletter for a weekly bit of space in your inbox: http://www.nasa.gov/subscribe.

NASA STEM Engagement Call for Reviewers for Informal STEM Education Proposals
Audience: Formal and Informal Educators, and Other Experts
Deadline: Aug. 13
Contact: TEAMII@jpl.nasa.gov

NASA is seeking qualified peer reviewers to volunteer to externally review NASA TEAM II proposals during fall 2019. A diverse reviewer pool is sought, including but not limited to practicing or retired informal education leadership, managers, educators and evaluators (e.g., K-12; informal; youth groups; public outreach), scientists, engineers, higher education faculty and other experts (including individuals without a current institutional affiliation) with experience or knowledge of activities described in the Announcement NNH19ZHA002N.

Volunteer at https://informal.jpl.nasa.gov/reviewer/. Although NASA cannot guarantee an invitation to review will result, it thanks you for your consideration and/or referrals. Selected reviewers will be expected to disclose all conflicts of interest, including situations that may give the appearance of bias.

 

'CineSpace' Short Film Competition
Audience: All Educators and Students
Submission Deadline: July 15, 2019
Contact: cinespace@cinemartsociety.org

NASA and the Houston Cinema Arts Society invite professional and aspiring filmmakers to share their works using actual NASA imagery. The "CineSpace" competition will accept all genres, including narrative, documentary, comedy, drama, animation and others, up to 10 minutes long. Entries must use at least 10 percent publicly available NASA imagery. Entries will be judged on creativity, innovation and attention to detail. Cash prizes will be awarded to the top three submissions, as well as two special category films: 1) the best documentary film and 2) the film that best exhibits human presence in space.

Make Your Own Whirlpool With NASA's Astrophoto Challenges
Audience: Public
Entry Deadline: July 31
Contact: mdussault@cfa.harvard.edu

Join NASA's Universe of Learning for an exciting opportunity to use real astronomical data and tools to create your own beautiful image of the iconic Whirlpool Galaxy (M51). Capture your own real-time telescope image of the whirlpool using the MicroObservatory robotic telescope network, or work with an archived set of NASA data files of M51, taken with four multiwavelength space telescope missions: Hubble, Chandra, Spitzer and Galex. Your creations may be highlighted as standout entries commented on by NASA experts.

 
 
GLOBE Observer Citizen Science Challenge: GO on the Lewis and Clark Trail
Audience: Citizen Scientists
Event Date: Through Sept. 2
Contact: holli.kohl@nasa.gov

In the early 19th century, Meriwether Lewis and William Clark led an ambitious expedition across the western United States. To commemorate their journey, NASA and the National Park Service encourage the public to follow in their footsteps through a new citizen science challenge from June 1 to Sept. 2. The Global Learning and Observation to Benefit the Environment (GLOBE) Observer App allows citizen scientists to use their smartphones to map land cover along the Lewis and Clark National Historic Trail. Any land cover observation taken along the nearly 5,000-mile-long trail from Pittsburgh, Pennsylvania, to the mouth of the Columbia River in Washington State earns points. The top participants will receive recognition and "GO on a Trail" commemorative material.

Can't make it to the trail? You can still participate by making land cover observations in your area!
Want to subscribe to get this message delivered to your inbox each Thursday? Sign up for the NASA EXPRESS newsletter at www.nasa.gov/stem/express.
Are you looking for NASA STEM materials to support your curriculum?
Search hundreds of resources by subject, grade level, type and keyword at http://www.nasa.gov/education/resources/.
Find NASA science resources for your classroom. NASA Wavelength is a digital collection of Earth and space science resources for educators of all levels — from elementary to college, to out-of-school programs. https://science.nasa.gov/learners/wavelength
Check out the 'Explore NASA Science' website! Science starts with questions, leading to discoveries. Visit https://science.nasa.gov. To view the site in Spanish, visit http://ciencia.nasa.gov.
---
Visit NASA STEM Engagement on the Web:
NASA's Office of STEM Engagement: http://www.nasa.gov/stem
For Educators: https://www.nasa.gov/stem/foreducators
For Students: https://www.nasa.gov/stem/forstudents
NASA Kids' Club: http://www.nasa.gov/kidsclub