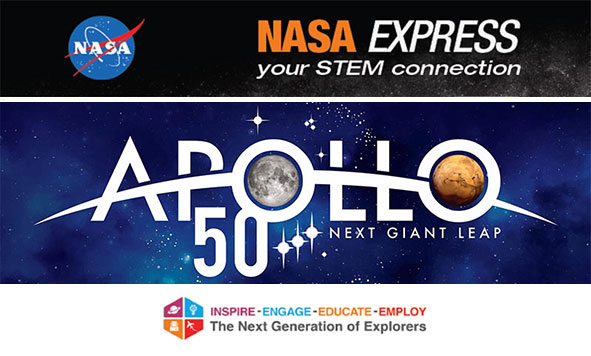 Celebrate the 50th anniversary of Apollo 11 landing on
the Moon with STEM resources and events from NASA!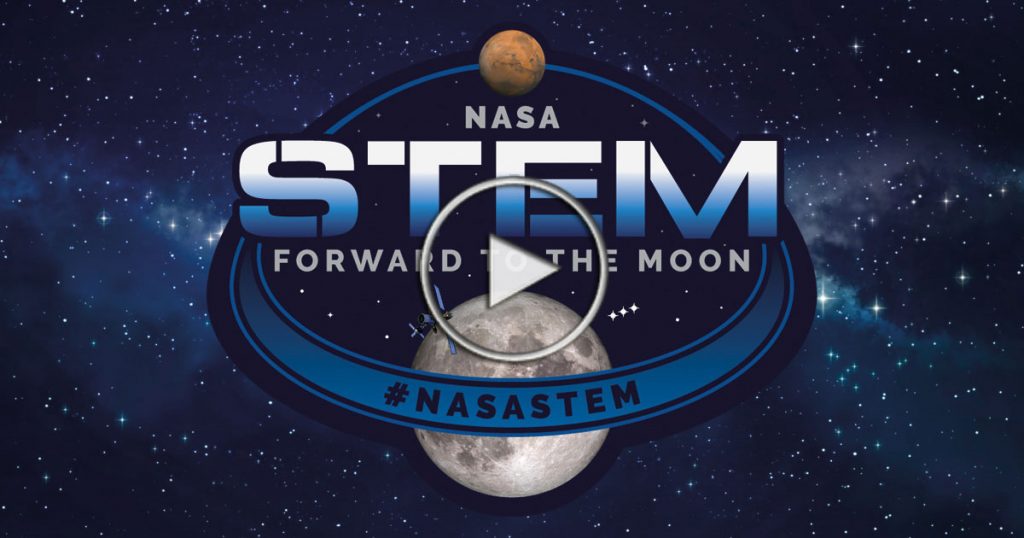 Get Involved in Apollo 50th Celebration With 'STEM Forward to the Moon'
Audience: All Educators and Students
Event Date: July 19 at 3 p.m. EDT
Contact: Amelia.J.Chapman@jpl.nasa.gov

July 20, 1969, was "…one small step for a man, one giant leap for mankind." Fifty years later, we're celebrating this amazing milestone and working to send the first woman and next man to the lunar surface by 2024! Fri., July 19 will feature STEM Forward to the Moon, a special broadcast where students take over an Artemis mission with STEM activities that inspire the next generation of explorers to dream big! You can get involved by hosting a watch party, posting featured activities on Facebook and Twitter using #NASASTEM, visiting a museum or breaking a world record!

New "STEM Forward to the Moon" Educator Guide
Audience: All Educators and Parents
Contact: nilufar.ramji@nasa.gov

Celebrate the Apollo 50th Anniversary and get excited about the future of exploration with the Moon to Mars Educators Guide. Published by NASA's Office of STEM Engagement, the guide is designed to accompany the "STEM Forward to the Moon" segment of the Apollo Anniversary broadcast airing on NASA TV on July 19 at 3 p.m. EDT.NASA's plans to go forward to the Moon by the year 2024 are exemplified here through hands-on STEM activities. Students will be immersed in the ideas, concepts and experiences that make mission planning, operations, exploration and sustainability on the Moon possible.

Activities found in the guide can be used by educators in formal and informal educational settings and by families in the comfort of their homes.

 
 
Apollo Anniversary Resources From NASA's Office of STEM Engagement
Audience: All Educators and All Students
Contact: Amelia.J.Chapman@jpl.nasa.gov

Celebrate the Apollo 50th anniversary and the future of Moon exploration with these educational resources! Find lesson plans, activities and printables. Get current information about contests and where to find images and original sources. Discover Apollo anniversary and "Moon to Mars" events happening near you on the searchable Map/Calendar, or plan your own event and submit it for inclusion.

New Teachable Moment—Celebrate the 50th Anniversary of NASA's Apollo Moon Landing
Audience: K-12 Educators
Contact: Kimberly.M.Orr@jpl.nasa.gov

This year is the 50th anniversary of humans landing on the Moon. NASA is making plans to land the first woman and the next man on the Moon by 2024. Turn this current event into a teachable moment with resources from NASA's Jet Propulsion Laboratory in Pasadena, California. Use this opportunity to get students excited about Earth's natural satellite, the amazing feats accomplished 50 years ago and plans for future exploration. Visit the site for background information, videos, lesson plans and more.

 
 
U.S. Space & Rocket Center Celebrates Apollo Anniversary With Global Launch Event
Audience: Public
Event Date: July 16
Contact: kayt@spacecamp.com

On July 16, 1969, the Apollo 11 crew launched to begin their historic mission to the Moon. To commemorate this event, the U.S. Space & Rocket Center, home to Space Camp in Huntsville, Alabama, is asking teachers, scout leaders, families, students and rocket enthusiasts of all ages worldwide to join in a Global Rocket Launch! Visit the link for rocket ideas, then sign up and share your launch pictures on social media using #GlobalRocketLaunch.

Celebrate the Apollo 50th Anniversary With a #VirtualMoonshot
Audience: Public
Event Date: July 18
Contact: kimberly.m.orr@jpl.nasa.gov

Join NASA and museums nationwide to help build a virtual mission to the Moon! To celebrate the Apollo 50th anniversary and the feats of engineering that made the Moon landing possible, you can help select the materials to build a lunar spacecraft. Search for #VirtualMoonshot on Instagram, Facebook and/or Twitter on July 18. Vote for the household materials you think would make the best spacecraft and watch the mission launch on a #VirtualMoonshot!

 
 
Celebrating Apollo 11: Inspiring STEM Educators for 50 Years
Audience: Educators of Grades PreK-12
Event Date: July 18 at 2 p.m. EDT
Contact: kwoodruff@us-satellite.net

The Apollo 11 mission inspired the nation to achieve great things. Many classroom teachers remember the Moon landing, and many more continue to be inspired by this and other historic events designed and enacted by NASA scientists, engineers and the diverse and dedicated NASA community. Please join this webinar to increase your knowledge of Apollo-related STEM education resources, hear how Apollo 11 inspired fellow educators nationwide and learn which exciting missions to follow in the coming years. Make sure to share your own story when you register.

Smithsonian's National Air and Space Museum Presents Apollo at the Park
Audience: Public
Display Dates: Summer and Fall 2019
Contact: NASMVisitorServices@si.edu

To celebrate the 50th anniversary of the first Moon landing, the Smithsonian's National Air and Space Museum is placing 15 replica statues of Neil Armstrong's iconic spacesuit in Major League Baseball stadiums across the U.S. Visit the site and follow @airandspace on Twitter for updates on where and when you can spot a statue. Fans will be able to unlock exclusive digital content when interacting with the suit. Follow along and share your pictures using #SnapTheSuit.

 
 
Celebrate the Apollo 11 Anniversary With New NASA eClips Video—Our World: The Moon's Impact on Earth
Audience: K-8 Educators and Students
Contact: shannon.verstynen@nianet.org

The Moon impacts Earth through tides and moonlight. NASA missions to the Moon continue to help us discover more about our nearest neighbor. Learn about Moon mapping and resources in this new NASA eClips video, "Our World: The Moon's Impact on Earth." NASA eClips are short, relevant educational video segments designed to inspire and engage students, helping them see real-world connections.

Sign Up for "Explore NASA" Newsletter
Audience: Public
Contact: public-inquiries@hq.nasa.gov

Do you want to get updates about the latest happenings at NASA? Join us as we explore and go forward to the Moon and on to Mars. Plus, discover the latest scientific updates on Earth, the solar system and beyond from NASA—all delivered right to your inbox.Subscribe to the "Explore NASA" newsletter for a weekly bit of space in your inbox: http://www.nasa.gov/subscribe.

 
Want to subscribe to get this message delivered to your inbox each Thursday? Sign up for the NASA EXPRESS newsletter at www.nasa.gov/stem/express.
Are you looking for NASA STEM materials to support your curriculum?
Search hundreds of resources by subject, grade level, type and keyword at http://www.nasa.gov/education/resources/.
Find NASA science resources for your classroom. NASA Wavelength is a digital collection of Earth and space science resources for educators of all levels — from elementary to college, to out-of-school programs. https://science.nasa.gov/learners/wavelength
Check out the 'Explore NASA Science' website! Science starts with questions, leading to discoveries. Visit https://science.nasa.gov. To view the site in Spanish, visit http://ciencia.nasa.gov.
---
Visit NASA STEM Engagement on the Web:
NASA's Office of STEM Engagement: http://www.nasa.gov/stem
For Educators: https://www.nasa.gov/stem/foreducators
For Students: https://www.nasa.gov/stem/forstudents
NASA Kids' Club: http://www.nasa.gov/kidsclub