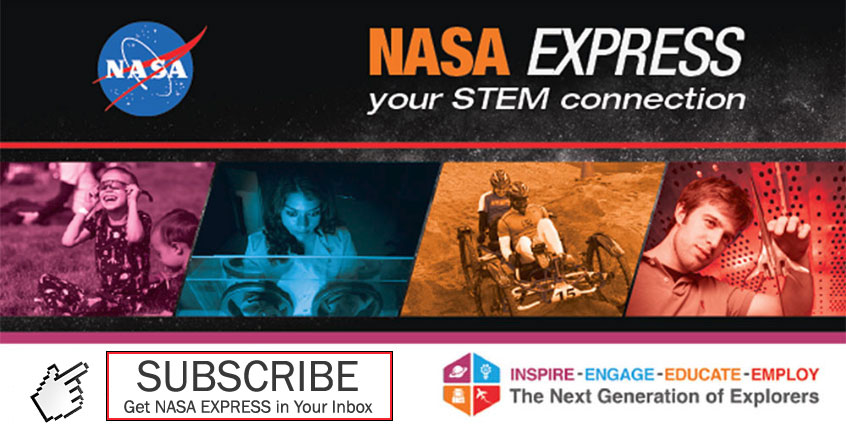 Got a Question for Us? #AskNASA
Check out the new weekly series that features agency experts
answering frequently asked questions and debunk myths.
 
Make This School Year the Best Yet With NASA!
Audience: All Educators and Students
Contact: STEM@mail.nasa.gov

Learning doesn't need to stop when the bell rings! Our #BackToSTEM campaign is filled with family fun activities for after school or at home. Learn together about NASA's newest mission Artemis, that will put the first woman and next man on the Moon and will help us go to Mars!

Check out the "STEM Forward to the Moon Activity Guide," complete with videos and hands-on activities about the components of deep space travel that will take us from the Moon to Mars.

Looking for more NASA resources to boost engagement? Search through hundreds of activities, demonstrations, challenges and more.

Lunar Gateway Coding Challenge: Tynker Moon to Mars Part II
Audience: K-12 Educators Worldwide
Contest Dates: Sept. 29, Noon PDT – Oct. 13, 11:59 p.m. PDT
Contact: kmitra@tynker.com

As they prepare for lunar surface exploration, Artemis astronauts will conduct research in lunar orbit aboard the Lunar Gateway. NASA is challenging students to imagine what life might be like on this orbiting outpost. Using Tynker, students will design and animate their ideas. Teachers can find teacher guides and NASA resources for K-5 students using Tynker Blocks and grades 6-8 students using JavaScript at the respective project pages. NASA will judge and select three winners for each programming language. Winners will have the opportunity to invite a NASA expert to speak to their class or their school via a video call. There are no entry fees or costs to participate. Open to students everywhere!

Are you new to coding or just want to learn more? Join one of the free 40-minute launch webinars at http://gotyn.kr/nasaweb.

 
 
NASA Space Grant and NASA Aeronautics Webinar: Quiet Supersonic Flight Over Land—Lowering the Boom
Audience: University Students and Faculty
Event Date: Oct. 2 at 7:30 p.m. EDT

Get to know the people, the ideas and the technology driving the revolutionary work done by the first "A" in NASA: aeronautics. The next great aviation transformations are being designed and engineered now. Where are you in this future? Join NASA Aeronautics for a free one-hour webinar featuring researchers discussing their career paths and latest breakthroughs in making quieter supersonic flight possible. Students can submit questions for the presenters. Online registration is required.

Proposal Workshop—The Principal Investigator Launchpad: From Science Idea to NASA Mission
Audience: Post-graduate Students and Researchers
Application Deadline: Oct. 4
Workshop Dates: Nov. 18-20
Contact: hq-smd-piworkshop@mail.nasa.gov

Are you interested in developing your first flight mission proposal in the next few years but have no idea where to start? Join NASA's Science Mission Directorate for an expenses-paid, three-day workshop in Tucson, Arizona, that will teach you the skills to get your mission idea off the ground. In partnership with the University of Arizona and the Heising-Simons Foundation, NASA will guide participants through the process of developing a science case, defining requirements, building a team, securing partnerships and obtaining support from the home institution.

 
 
NASA Commercial Crew Program: Mission and STEM Resource Overview
Audience: Educators of Grades K-12
Event Date: Oct. 8 at 6 p.m. EDT
Contact: spc39@txstate.edu

Join the NASA STEM Educator Professional Development Collaborative at Texas State University for a free 60-minute webinar. NASA's Commercial Crew Program is the next phase in space transportation, enabling industry to provide safe, reliable and cost-effective access to and from the International Space Station and low-Earth orbit. Learn about the companies, the vehicles, the crew and the STEM classroom resources related to the Commercial Crew Program. Online registration is required.

NASA Lunabotics Engineering Competition
Audience: U.S. Undergraduate and Graduate Students
Registration Deadline: Oct. 9
Contact: ksc-robotic-mining-competition@mail.nasa.gov

The NASA Lunabotics Engineering Competition challenges teams to design, build and run an autonomously operated robot that will traverse a simulated off-world terrain and excavate simulated lunar regolith. This challenge includes presentations and demonstrations, public outreach and a systems engineering paper explaining the methodology the team used to design and build their robot. The onsite competition will take place May 18-22, 2020, at NASA's Kennedy Space Center in Florida.

For more ways to get involved in NASA's first step in the next era of exploration, visit the Artemis Student Challenges website.

 
 
Explore Earth: Teaching STEAM With Images from Space
Audience: Educators of Grades K-12
Event Date: Oct.10 at 6 p.m. EDT
Contact: spc39@txstate.edu

Join the NASA STEM Educator Professional Development Collaborative at Texas State University for a free 60-minute webinar. Explore Earth from space through the eyes of astronauts and satellites. Learn how observations from space enable us to better understand our planet and the processes that shape it. Using the "Mission Geography" STEAM resource, a NASA and Geography Education National Implementation Project (GENIP) collaboration, we'll investigate our home planet with eyes from above. Online registration is required.

Earth Science Week 2019: Resources and Teacher Toolkit
Audience: Public
Event Date: Oct. 13-19
Contact: info@earthsciweek.org

Join the American Geosciences Institute for a celebration of our home planet during Earth Science Week 2019. This year's theme is "Geoscience Is for Everyone," and emphasizes the inclusive potential and the importance of geosciences in the lives of everyone.

Bring the celebration to your classroom with activities, contests and classroom resources available on the Earth Science Week website.

For even more classroom resources, order an Earth Science Week Toolkit. This year's kit includes a NASA "Geoscience Is Everywhere" poster, information about the Global Learning and Observations to Benefit the Environment (GLOBE) program, a Mars Insight mini-poster, a ruler on Earth observation and space, and more.

 
 
Federal Aviation Administration Challenge: Smart Airport Student Competition
Audience: Undergraduate and Graduate StudentsExpression of Interest Deadline: Oct. 16
Project Plan Submission Deadline: Jan. 13, 2020Contact: faachallenge@nianet.org

The Federal Aviation Administration invites university teams to propose solutions to improve the efficiency and effectiveness of smart technology in and around the airport environment while enhancing the overall traveling experience. Three finalist teams will compete for a $25,000 prize, and will also receive travel reimbursements up to $6,000 to demonstrate their concepts at the FAA Technical Center, and at a technical symposium in Atlantic City, New Jersey, in May 2020.

2020 NASA Glenn Faculty Fellowship Program
Audience: Higher Education Educators
Application Deadline: Oct. 18, at 11:59 p.m. EDTFellowship Dates: June 8 – Aug. 14, 2020
Contact: Mark.D.Kankam@nasa.gov

The NASA Glenn Faculty Fellowship Program provides opportunities for STEM faculty to do research for 10 weeks during the summer at NASA's Glenn Research Center in Cleveland, Ohio. Applicants must be US citizens working full time at accredited universities or colleges in the United States. The program provides stipends and covers limited travel expenses. Qualified faculty from majority- and minority-serving universities and colleges, including underserved groups and persons with disabilities, as well as, early career faculty, are encouraged to apply.

 
 
2019-20 University Student Design Challenge at NASA's Glenn Research Center
Audience: Undergraduate Students
Registration Deadline: Oct. 18
Contact: grc-university-design-challenge@mail.nasa.gov

NASA's Glenn Research Center in Cleveland, Ohio, is hosting a 2019-20 University Student Design Challenge (USDC-4) with aeronautics- and space-themed projects. The competition is open to teams of full-time undergraduate juniors or seniors enrolled at accredited U.S. academic institutions. Multidisciplinary teams of three-six members are encouraged. Each university or college team must have at least one faculty advisor. Participants will have access to subject matter experts at Glenn who will serve as mentors for the teams.

NASA Space Grant and NASA Aeronautics Webinar: Safe Flight for Drones—Designing a System for Urban Air Mobility
Audience: University Students and Faculty
Event Date: Oct. 24 at 7:30 p.m. EDT

Get to know the people, the ideas and the technology driving the revolutionary work done by the first "A" in NASA: aeronautics. The next great aviation transformations are being designed and engineered right now. Where are you in this future? Join NASA Aeronautics for a free one-hour webinar featuring researchers discussing their career paths and latest breakthroughs in designing a safe system for low-altitude air traffic in urban areas. Students can submit questions for the presenters. Online registration is required.

 
 
NASA Space Grant and NASA Aeronautics Webinar: Electrified Aircraft—Tackling the Challenges of Alternative Propulsion
Audience: University Students and Faculty
Event Date: Nov. 6 at 7:30 p.m. EDT

Get to know the people, the ideas and the technology driving the revolutionary work done by the first "A" in NASA: aeronautics. The next great aviation transformations are being designed and engineered now. Where are you in this future? Join NASA Aeronautics for a free one-hour webinar featuring researchers discussing their career paths and latest breakthroughs in making alternatively fueled aircraft a viable option. Students can submit questions for the presenters. Online registration is required.

2020 Presidential Awards for Excellence in Science, Mathematics and Engineering Mentoring
Audience: All Educators and Students
Nomination Deadline: Dec. 15
Application Deadline: Jan. 15, 2020
Contact: info@paesmem.net

The Presidential Award for Excellence in Science, Mathematics and Engineering Mentoring Program honors individuals and organizations that have contributed outstanding efforts in mentoring, and have enhanced the participation of individuals (including persons with disabilities) who might not otherwise have considered or had access to opportunities in STEM disciplines and professions. Anyone may nominate exceptional individuals and organizations, or mentors may apply directly. Award recipients receive a certificate signed by the president, a paid trip to Washington, D.C., and a $10,000 award.

 
 
Clean Energy Policy Internship With U.S. Department of Energy
Audience: Undergraduate and Graduate Students Who Are U.S. Citizens or Lawful Permanent Residents
Application Deadline: Open Until Filled
Contact: DOE-RPP@orise.orau.gov

The U.S. Department of Energy's Office of Energy Efficiency and Renewable Energy is accepting applications from students interested in gaining valuable experience collaborating on  clean energy partnerships and multiagency collaboration. Participants will work together with top scientists and engineers on policy-related projects while gaining insights into career opportunities. This opportunity takes place in Washington, D.C., and selected participants will receive a stipend.

Moon to Mars: Mission and Resources Overview
Audience: Educators of Grades K-12
Event Date: Sept. 26 at 6 p.m. EDT
Contact: spc39@txstate.edu

Join the NASA STEM Educator Professional Development Collaborative at Texas State University for a free 60-minute webinar. As NASA expands human exploration by visiting the Moon and then Mars, deep space exploration will require innovations in transportation that include the Space Launch System, Orion and Ground Launch Systems. This webinar begins with an overview of NASA's plans for human exploration beyond low-Earth orbit, and continues with an overview of associated NASA education lessons, videos, fact sheets, printables and training opportunities. Resources covered address National Standards in Science and Mathematics. Online registration is required.

 
 
Sally Ride EarthKAM Mission
Audience: K-12 and Informal Educators
Mission Dates: Sept. 24-27
Contact: https://www.earthkam.org/contact

Sally Ride EarthKAM is a free STEM educational program managed by the U.S. Space & Rocket Center in Huntsville, Alabama. EarthKAM allows your students to take images of Earth from space using a camera aboard the International Space Station. Use EarthKAM as a teaching tool to study subjects ranging from geography to art to meteorology. Visit the website for details and to register to participate.

Free Educator Professional Development Workshop: Approaches to Teaching and Fostering Innovation
Audience: Middle School Educators
Application Deadline: 11:59 p.m. EDT on Sept. 27
Workshop Date: Oct. 19, 8:30 a.m. – 5 p.m. EDT
Contact: carolyn.knowles-1@nasa.gov

The International Astronautical Congress—the world's premier space conference—is coming to Washington, D.C., in October. Thousands of industry professionals, researchers and students will converge for a week of discussions ranging from space exploration and science, to policy and education. Applications are now being accepted for a day of educator professional development with talks, curriculum sharing and hands-on workshops. Participants will be exposed to a variety of resources, including the Global Learning and Observation to Benefit the Environment (GLOBE) citizen science program, CloudSat, CanSat and the Tree-Height project.

 
 
2019 NASA SLPSRA Fluid Physics Workshop
Audience: Scientists and Engineers From Academia
Registration Deadline: Sept. 27
Workshop Dates: Oct. 16-17
Contact: smorrison@nasaprs.com

Join NASA's Division of Space Life and Physical Sciences Research and Applications for the Fluid Physics Workshop at NASA's Glenn Research Center in Cleveland, Ohio. This event will feature scientists and engineers from academia, industry and other governmental agencies to provide recommendations to NASA on future research directions for the microgravity fluid physics program. All interested scientists, researchers and managers are invited to participate. There is no registration fee to participate in the workshop.

NASA Spacesuit User Interface Technologies for Students (SUITS) Design Challenge
Audience: Undergraduate and Graduate Students
Letter of Intent Deadline: Sept. 27
Proposal Deadline: Oct. 25
Contact: NASA-SUITS@mail.nasa.gov

NASA SUITS gives students an authentic engineering design experience supporting NASA's Artemis mission—landing American astronauts safely on the Moon by 2024! This activity challenges students to design and create spacesuit information displays within augmented reality environments. After development, student teams travel to NASA's Johnson Space Center in Houston, Texas, to test their software designs with unique NASA assets.

For more ways to get involved in NASA's first step in the next era of exploration, visit the Artemis Student Challenges website.

 
 
2020 BIG Idea Challenge: Capabilities to Study Dark Regions on the Moon
Audience: Full-time Undergraduate and Graduate Students and Faculty
Notice of Intent Deadline: Sept. 27
Entry Deadline: Jan. 16, 2020
Contact: BigIdea@nianet.org

NASA's 2020 Breakthrough, Innovative and Game-changing (BIG) Idea Challenge is an engineering design competition sponsored by NASA's Space Technology Mission Directorate and NASA's Office of STEM Engagement. Managed by the National Institute of Aerospace, the challenge is open to teams of five to 20 students from Space Grant-affiliated colleges/universities. Teams are challenged to submit robust proposals for sample lunar payloads that demonstrate technology systems needed for exploration and science in the permanently shadowed regions in and near the Moon's polar regions. Selected teams will receive awards from $50,000-$180,000 to bring their ideas to life!

For more ways to get involved in NASA's first step in the next era of exploration, visit the Artemis Student Challenges website.

Explore Space Tech: BEST Green Propellant Infusion Mission and Engineering Design
Audience: Educators of Grades K-12
Event Date: Sept. 30 at 6 p.m. EDT
Contact: samuel.garcia@txstate.edu

Join the NASA STEM Educator Professional Development Collaborative at Texas State University for a free 60-minute webinar. Participants will learn how technology drives exploration. Using the Beginning Engineering Science and Technology (BEST) curriculum, learn how to use the engineering design process to build a satellite and test green propellant. Participants will also learn about the current research going on at NASA, specifically the Green Propellant Infusion Mission. Online registration is required.

 
 
Apply to the Solar System Ambassadors Program
Audience: All Educators
Application Deadline: Sept. 30
Contact: ambassador@jpl.nasa.gov

The Solar System Ambassadors Program is a nationwide network of space enthusiast volunteers. Highly motivated enthusiasts nationwide are eligible to join—and those in Delaware, Mississippi, Nevada, North Dakota, Rhode Island, Vermont, West Virginia, the District of Columbia, U.S. territories, military bases and consulates overseas are especially encouraged to apply.

Send Your Name to Mars on NASA's Next Red Planet Mission!
Audience: Educators and Students Worldwide
Deadline: Sept. 30
Contact: http://mars.nasa.gov/feedback

Only 4 days left to send YOUR name to the Red Planet aboard NASA's Mars 2020 Rover! The Mars 2020 mission will launch next summer and land on Mars on Feb. 18, 2021. The mission will search for signs of past microbial life, characterize the planet's climate and geology, collect samples for future return to Earth and pave the way for human exploration.

 
 
Small Steps to Giant Leaps: Sound Effects
Audience: Educators of Grades K-12
Event Date: Oct.1 at 6:30 p.m. EDT
Contact: barbie.buckner@nasa.gov

Join the NASA STEM Educator Professional Development Collaborative at Texas State University for a free 60-minute webinar. Explore NASA's newly released "Sound Effects" activity, which teaches students about the principles of sound, specifically how to amplify and reduce volume. Learn how students will be able to construct a speaker to amplify sound, and how they can be challenged to find a solution to reduce the perceived sound volume. Join us in learning about NASA's newest X-Plane, the X-59 Quiet Supersonic Technology (QueSST). Online registration is required.

Explore Earth: Climate Change and Ecosystems
Audience: Educators of Grades 6-12
Event Date: Oct. 2 at 5 p.m. EDT
Contact: susan.m.kohler@nasa.gov

Join the NASA STEM Educator Professional Development Collaborative at Texas State University for a free 60-minute webinar. Learn about project-based learning strategies in environmental science. Participants will have opportunities to practice constructing explanations and solutions from authentic images and data. Explore NASA resources to guide students' ability to build and use science ideas to develop skills in debating evidence. Online registration is required.

 
 
Lunar and Planetary Institute's Cosmic Explorations Speaker Series: Lunar Dirt, Rocks and Legacy: The Lunar Receiving Laboratory's First Five Years
Audience: Public, Educators and Students of Grades 7-College
Event Date: Oct. 3 at 8:30 p.m. EDT
Contact: education@lpi.usra.edu

The Lunar and Planetary Institute presents "Lunar Dirt, Rocks and Legacy: The Lunar Receiving Laboratory's First Five Years" by Dr. Grant Heiken, a member of the Lunar Sample Preliminary Examination Team during Apollo. Hear stories of his and his colleagues' tasks in assisting NASA in preparing for the arrival and analysis of rocks and soil from the Moon. Attend the event in person at the Lunar and Planetary Institute in Houston, Texas, or watch the event live online. Archives of past lectures also are available online.

World Space Week 2019
Audience: Educators and Students
Event Dates: Oct. 4-10, 2019
Contact: admin@worldspaceweek.org

World Space Week, as declared by the United Nations, is the world's largest public celebration of space. The event commemorates the launch of Sputnik 1 on Oct. 4, 1957, and the signing of the Outer Space Treaty on Oct. 10, 1967, to regulate peaceful use of space by all countries. During this week, teachers are encouraged to use space-themed activities to excite students about science and technology. The 2019 theme is "The Moon: Gateway to the Stars." Visit the World Space Week website for event locations and related educational materials.

 
 
International Observe the Moon Night
Audience: Public
Event Date: Oct. 5
Contact: https://moon.nasa.gov/feedback/

On Oct. 5, lunar enthusiasts worldwide take time to admire and celebrate our Moon. This year commemorates 10 years of International Observe the Moon Night. You can join in the fun! Visit the website to find a map of registered events, and make plans to attend. If you don't see an event near you, sign up to host your own! The website has details for hosting an event of any size. Ideas for hands-on activities are available to help make your event a success.

NASA's Goddard Institute for Space Studies Seeks Educators for Climate Change Research Initiative
Audience: Full-time 9-12 STEM Educators Who Are U.S. Citizens and Reside Within 50 Miles of NYC
Program Start Date: Oct. 7
Contact: matthew.d.pearce@nasa.gov

This yearlong STEM engagement opportunity allows high school STEM educators to work directly with NASA scientists, lead research teams and develop STEM curricula for their current classes. Educators participating in this opportunity will become associate researchers who integrate NASA education resources and content into their classrooms while improving STEM education within their communities.

 
 
Webinar: Exploration of Other Worlds Using NASA Solar System Treks
Audience: Formal and Informal Educators of Grades K-12
Event Date: Oct. 8 at 11 a.m. PDT
Contact: cherrera@ngcproject.org

The National Girls Collaborative Project presents a free webinar introducing educators to NASA's Solar System Treks, a free resource for STEM learning. Solar System Treks allow students to study the surfaces of the Moon, Mars, Vesta, Ceres, Titan and icy moons in our solar system. Webinar participants will hear directly from NASA outreach specialists, and will have the opportunity to ask questions about the Solar System Treks visualization tools.

International Astronautical Congress: Public Day
Audience: Public, All Educators and STEM Groups
Registration Deadline: Oct. 11
Event Date: Oct. 25
Contact: carolyn.knowles-1@nasa.gov

In October, the global aerospace community—engineers, scientists, educators, students, policymakers and executives—will descend on Washington, D.C., to envision what the "next giant leap" in space will be. And you can be part of the conversation! Register to attend the IAC Public Day event to participate in a live downlink with astronauts on the space station, experience hands-on citizen science experiments, see a rocket engine and more!

 

 
Free Lecture—'Darkness Surrounds Us: The Other 95% of the Universe'
Audience: All Educators; Students in Grades 9-12 and Higher Education
Event Date: Oct. 17-18 at 7 p.m. PDT
Contact: http://www.jpl.nasa.gov/contact_JPL.php

All the material we can see is just a small fraction of the universe. The rest, a full 95 percent, are invisible and mysterious. These are the enigmatic dark matter and dark energy. Join astrophysicists Alina Kiessling and Jason Rhodes at NASA's Jet Propulsion Laboratory in Pasadena, California, for a discussion about how astronomers are working to map the universe's dark matter so they can see the effects of dark energy. Attend the lectures in person, or view Thursday's lecture via live webcast.

2020 Drop Tower Challenge: Paddle Wheel in Microgravity
Audience: Students in Grades 9-12
Proposal Deadline: Nov. 11
Contact: Ed-DropTower@lists.nasa.gov

Future long-duration space missions will require a better understanding of fluid behavior in microgravity. Teams of high school students are challenged to design and build objects focused on generating mechanical motion using only fluid forces. In theory, the student-designed paddle wheel, or spinner, should rotate on its own during free fall while sitting on a body of water. Designs from selected teams will experience microgravity in NASA's 2.2 Second Drop Tower. NASA will invite the top-performing teams to present their results in a student poster session at the 2020 meeting of the American Society for Gravitational and Space Research.

 
 
Be a Citizen Scientist—Submit Dust Storm Photos With NASA GLOBE Observer
Audience: All Educators and Students
Contact: marile.colonrobles@nasa.gov

Do you live in an area that has dust storms? The Global Learning and Observations to Benefit the Environment Program (GLOBE) team would like you to photograph dust events in your area and submit your photos using the GLOBE Observer app. The data collected using the app will be used by scientists to verify satellite observations and see if their models have successfully predicted these dust storms. This is an authentic research opportunity that will help scientists alert communities to better prepare for the harmful impacts of these storms.
Want to subscribe to get this message delivered to your inbox each Thursday? Sign up for the NASA EXPRESS newsletter at www.nasa.gov/stem/express.
Are you looking for NASA STEM materials to support your curriculum?
Search hundreds of resources by subject, grade level, type and keyword at https://www.nasa.gov/education/materials/.
Find NASA science resources for your classroom. NASA Wavelength is a digital collection of Earth and space science resources for educators of all levels — from elementary to college, to out-of-school programs. https://science.nasa.gov/learners/wavelength
Check out the 'Explore NASA Science' website! Science starts with questions, leading to discoveries. Visit https://science.nasa.gov. To view the site in Spanish, visit http://ciencia.nasa.gov.
---
Visit NASA STEM Engagement on the Web:
NASA's Office of STEM Engagement: https://stem.nasa.gov
For Educators: https://www.nasa.gov/stem/foreducators
For Students: https://www.nasa.gov/stem/forstudents
NASA Kids' Club: https://www.nasa.gov/kidsclub