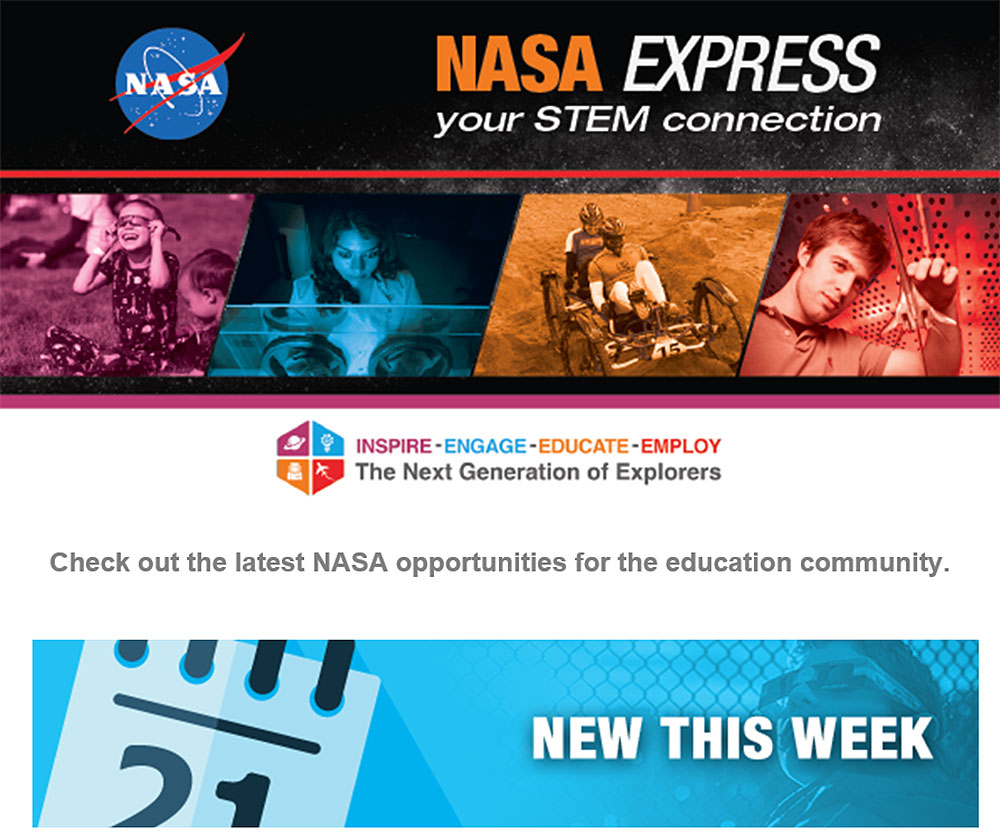 Take a Virtual Field Trip This Summer With Google Expeditions!
Audience: All Educators
Contact: JSC-STEMonStation@mail.nasa.gov

Not every day can youth leaders take their students on a trip to outer space. In fact, developing the skills necessary to operate spacecraft takes years of training. But by using Google's "Expeditions" feature, you can take students on a field trip once thought impossible: the International Space Station! This immersive virtual reality experience allows leaders to guide students through each module of the space station, while identifying points of interest along the way. Identify the Microgravity Science Glovebox while discussing the various scientific experiments it contains. Highlight the crew quarters and exercise equipment, or even soak in the beautiful view from the cupola! This activity is a perfect fit for everything from classrooms to summer camp to family adventures. Download the free Expeditions App in the app store and explore the space station among other NASA missions.

Find more ways to bring NASA into your classroom during NASA's A Year of Education on Station, a celebration of a 12-month presence of a teacher aboard the International Space Station.

Back to the Moon and on to Mars: Rocketry
Audience: Educators of Grades K-12
Event Date: June 12, 2018, at 6:30 p.m. EDT
Contact: barbie.buckner@nasa.gov

Join the NASA STEM Educator Professional Development Collaborative at Texas State University for a free 60-minute webinar. Learn about NASA's journey "Back to the Moon and on to Mars" and how rockets impact planning for missions. Find out about current research going on at NASA, and explore rocketry activities suitable for the classroom or after school. Online registration is required.

 
 
Free Lecture — Walking on Mars
Audience: All Educators; Students in Grades 9-12 and Higher Education
Event Date: July 12 – 13, 2018, at 7 p.m. PDT (10 p.m. EDT)
Contact: http://www.jpl.nasa.gov/contact_JPL.php

Researchers at NASA's Operations Laboratory are spearheading several ambitious projects applying virtual and augmented reality to space exploration. Join operations lab lead Victor Luo from NASA's Jet Propulsion Laboratory to learn how engineers are using 3D designs to explore Martian terrain, prepare astronauts for spacewalks and more. Attend the lectures in person, or view Thursday's lecture via live webcast.

Free Lecture — The Incredible Continuing Adventures of the Spitzer Space Telescope
Audience: All Educators; Students in Grades 9-12 and Higher Education
Event Date: Aug. 9 – 10, 2018, at 7 p.m. PDT (10 p.m. EDT)
Contact: http://www.jpl.nasa.gov/contact_JPL.php

Launched in 2003, the Spitzer Space Telescope was designed to observe the universe in infrared light for five years. Fifteen years later, the telescope continues to exceed expectations. Join project manager Dr. Sean Carey for a discussion about the telescope's extended mission and scientific discoveries. Attend the lectures in person, or view Thursday's lecture via live webcast.

 
 
Free Lecture — NASA@60: The Role of the Robots
Audience: All Educators; Students in Grades 9-12 and Higher Education
Event Date: Sept. 6 – 7, 2018, at 7 p.m. PDT (10 p.m. EDT)
Contact: http://www.jpl.nasa.gov/contact_JPL.php

Space exploration has changed in the 60 years since NASA's inception. Despite all the advances, one thing hasn't changed: we still rely on robotic spacecraft to explore and blaze a trail for human explorers. Join outreach specialist Preston Dyches for a panel discussion on the history and progression of robotic exploration. Attend the lectures in person, or view Thursday's lecture via live webcast.

World Space Week 2018
Audience: Educators and Students
Event Dates: Oct. 4-10, 2018
Contact: admin@worldspaceweek.org

World Space Week, as declared by the United Nations, is the world's largest public celebration of space. This event commemorates the launch of Sputnik 1 on Oct. 4, 1957, and the signing of the Outer Space Treaty on Oct. 10, 1967, to regulate peaceful use of space by all countries. During this week, teachers are encouraged to use space-themed activities to excite students about science and technology. Visit the World Space Week website for event locations and related educational materials.

 

 
 Call for Research Proposals: NASA Space Technology Mission Directorate's Flight Opportunities Program
Audience: Accredited U.S. Universities
Application Deadline: June 8, 2018
Contact: HQ-STMD-FO@nasaprs.com

NASA's Space Technology Mission Directorate seeks research proposals from accredited U.S. universities for promising space technologies that will benefit future NASA space exploration missions. Selected technologies will be flight-tested on commercial suborbital launch vehicles, reduced-gravity aircraft and high-altitude balloon flights. NASA will provide funding for selected universities to purchase flight services and to cover costs related to payload design, development, preparation and travel.

Free Tour at NASA's Glenn Research Center: Graphics and Visualization Lab and the Virtual Reality Exploration Lab
Audience: All Educators and Students
Registration Opens: June 14, 2018
Event Date: July 14, 2018
Contact: grc-tours@mail.nasa.gov

NASA's Glenn Research Center in Cleveland, Ohio, offers 45-minute tours that take tourists behind the scenes to one of the center's test facilities. On July 14, check out the Graphics & Visualization (GVIS) Laboratory and the Reconfigurable User-interface & Virtual Reality Exploration (GRUVE) Laboratory to see things a different way. A bus departs from NASA's main gate every hour beginning at 9 a.m. The last tour departs at noon. RESERVATIONS are required.

 
 
Goldstone Apple Valley Radio Telescope Summer Institutes 2018
Audience: K-12 Educators
Registration Deadline for Virginia Institutes: June 15, 2018
Contact: mc@lcer.org

The Goldstone Apple Valley Radio Telescope program lets educators and students operate a 112-foot radio telescope from the classroom. Join the GAVRT team for a two-day institute to learn about radio astronomy and science campaigns available through GAVRT.

Multiple sessions will be offered: June 26-27 and June 28-29, 2018 — National Air and Space Museum's Steven F. Udvar-Hazy Center in Chantilly, Virginia; and July 23-24, 2018 — Sydney, Australia.

Student Spaceflight Experiments Program — Mission 13 to the International Space Station
Audience: School Districts Serving Grades 5-12, Informal Education Institutions, Colleges and Universities
Inquiry Deadline: June 15, 2018
Start Date: Sept. 4, 2018
Contact: jeffgoldstein@ncesse.org

The National Center for Earth and Space Science Education and the Arthur C. Clarke Institute for Space Education announce Mission 13 to the International Space Station, a community engagement initiative in STEM. In each participating community, one proposed student experiment is selected to fly in low-Earth orbit on the space station. For pre-college grades 5-12, each community is expected to engage at least 300 students in real microgravity experiment design and proposal writing. For an undergraduate community, it is expected that at least 30 students will be engaged. Interested communities must inquire about the program no later than June 15, 2018.

 
 
GLOBE Student Research Campaign — Water in Our Environment
Audience: K-12 Educators
Campaign Dates: Now Through June 30, 2018
Contact: http://www.globe.gov/support/contact

Water continuously circulates through one of Earth's most powerful systems: the water cycle. Join GLOBE for its latest campaign that uses a set of guiding investigative questions to enable students to meaningfully explore water in their local environment and collaborate to consider the influence of water on a global scale. The project is flexible, allowing teachers to choose between many options to involve their students. Visit the site for details about the project and upcoming informational webinars.

2018 Space Port Area Conference for Educators
Audience: K-12 Certified Educators Who Are U.S. Citizens Teaching in the U.S.
Event Date: July 11-13, 2018
Contact: space@amfcse.org

Registration is open for the 2018 Space Port Area Conference for Educators, or S.P.A.C.E., taking place at NASA's Kennedy Space Center in Florida. Experience stimulating presentations from astronauts and NASA science and engineering experts; tour Kennedy and surrounding facilities. Get ready-to-go lesson plans and creative ideas to infuse your classroom with STEM and multifaceted, space-related content. Register today!

 
 
Space Shuttle Thermal Protective Tiles and Blankets Available for Educational Use
Audience: Educational Institutions, Museums and Other Education Organizations
Contact: GSAXcessHelp@gsa.gov

NASA invites U.S. educational institutions to request space shuttle thermal protective tiles, space shuttle thermal protective blankets, and other special items offered on a first-come, first-serve basis while quantities last. A nominal shipping fee must be paid online with a credit card.

NASA Internships — Fall 2018 Session
Audience: High School, Undergraduate and Graduate Students
Contact: NASA-Internships@mail.nasa.gov

NASA is currently accepting applications for fall 2018 internships. Students should complete applications as soon as possible to increase the possibility of selection. Offers will be extended throughout the month of June. The fall semester is 16 weeks long; internships begin in late August or early September, depending on the location. NASA Internships provide students at all types of institutions access to a portfolio of opportunities offered agencywide.

 
 
ASTRO CAMP® 2018 at NASA's Stennis Space Center
Audience: Students in Grades 2-10
Event Dates: Weekly During June and July
Contact: maria.l.lott@nasa.gov

ASTRO CAMP® is a series of weeklong summer camps held at NASA's Stennis Space Center in Mississippi. At ASTRO CAMP, learners in grades 2-10 engage in fun, hands-on educational activities related to NASA's missions. Students learn the basics of engineering, rocketry and robotics; they end the week with tours of Stennis facilities and a model rocket launch. Camp dates are filling fast! Visit the site to get full details and register.

ASTRO CAMP also is collaborating with organizations across the Gulf and in Atlanta for 40+ community-based camps. For "ASTRO CAMP® In the Community" locations, click here. The Community camps process their own registrations. Please contact those camps directly.

Help NASA Find New Planetary Systems — Become a Disk Detective!
Audience: All Educators and Students
Contact: marc.j.kuchner@nasa.gov

Help NASA find new disks, homes of extrasolar planets, by classifying images from NASA's Wide-field Infrared Survey Explorer telescope and other observatories. In this citizen science project, you'll view animated images of disk candidates and classify them, distinguishing good candidates from galaxies, asteroids and image artifacts. This project, suitable for elementary students through expert adults, will yield targets for the James Webb Space Telescope and publications in professional scientific literature. The project is expected to run through 2018.

 
Want to subscribe to get this message delivered to your inbox each Thursday? Sign up for the NASA EXPRESS newsletter at www.nasa.gov/education/express.
Are you looking for NASA educational materials to support your STEM curriculum?
Search hundreds of resources by subject, grade level, type and keyword at http://www.nasa.gov/education/resources/.
Find NASA science resources for your classroom. NASA Wavelength is a digital collection of Earth and space science resources for educators of all levels — from elementary to college, to out-of-school programs. http://nasawavelength.org/
Check out the 'Explore NASA Science' website! Science starts with questions, leading to discoveries. Visit https://science.nasa.gov. To view the site in Spanish, visit http://ciencia.nasa.gov.
Take part in a Year of Education on Station. September 2017 – September 2018: Although on different crews, astronauts Joe Acaba and Ricky Arnold – both former teachers – will work aboard the International Space Station. Visit NASA's A Year of Education on Station website for out-of-this-world resources and opportunities for K-16 students and educators.
---
Visit NASA Education on the Web:
NASA Education: http://www.nasa.gov/education
For Educators: http://www.nasa.gov/audience/foreducators/index.html
For Students: http://www.nasa.gov/audience/forstudents/index.html
NASA Kids' Club: http://www.nasa.gov/kidsclub