Fly NASA Guest Blogger: NASA Astronaut Mike Massimino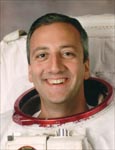 10. With more international partners, space food is even better!
9.   Work with truly the best group of people in the world
8.   Learn flying in space skills
7.  Inspire young people
6.  Train with our international partners and learn their cultures
5.  Learn to spacewalk and truly work in a vacuum
4. See the world – literally
3. Create lasting friendships          
2. Memories that will last a lifetime
and the number one reason to become a 21st Century Astronaut
1. Participate in the greatest adventure ever attempted
Apply today!