Fly NASA Guest Blogger: Astronaut Selection and Training Manager Duane Ross 
Today is the day!
The opening of the astronaut application window is always one of my favorite days. I have served as the Manager of the Astronaut Selection Office for more than many years, and it continues to be a great job.
Throughout the year, I am contacted frequently by young hopefuls wanting to learn more about what it takes to become an astronaut. What type of school should they go to? What topics should they study? What will set them apart from the other aspiring applicants? Etc., etc.  Of course, over the years, my answers have remained the same. They should follow their own passion and aptitude and their character and accomplishments will speak for themselves.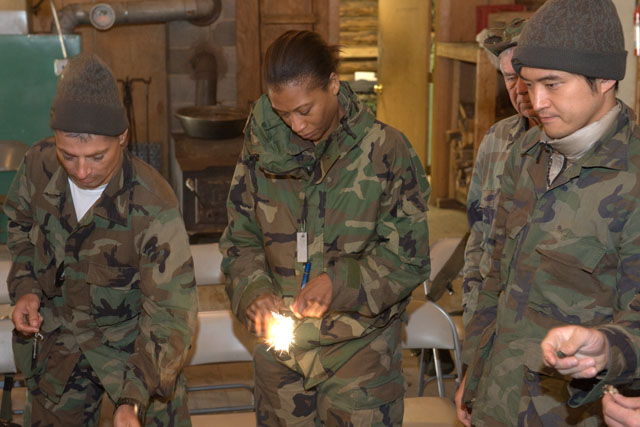 2009 astronaut candidates Mark T. Vende Hei(left) and Jeanette J. Epps practice various fire-starting techniques during analmost week-long land survival training course in the wilderness of westernMaine. Looking on are Japan Aerospace Exploration Agency astronaut candidateTakuya Onishi and Duane Ross (partially obscured) manager of astronautcandidate selection and training.
It is always so humbling to represent this office and the amazing team it represents. Not only do I get to meet, work and train the astronauts of tomorrow, but I meet hundreds of truly amazing Americans. The best of the best as they say – by the hundreds. I've met soldiers from the military who have done things I can barely fathom. I've met scientists working in cutting edge fields of medicine and discovery. I've talked with engineers who have worked on projects and technologies that were barely conceived of when I started working at NASA. Teachers, doctors, even a veterinarian. We have a wide, wide variety of people and backgrounds that make up the astronaut office. It's what makes our astronaut corps so great!
I hope you will explore our Web site and see if you have what it takes to be one of our country's great explorers! Or maybe you know someone who does!
Check it out!  Fly NASA!
Duane Ross
NASA's Astronaut Selection Office