Fly NASA Guest Blogger: NASA Astronaut Mike Hopkins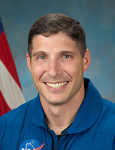 I spent most of my life dreaming about becoming an astronaut and as an adult I spent a great deal of time trying to become one.  After four applications spread out over twelve years it all came down to waiting for a single five minute phone call.  And that phone call is one I'll never forget for the rest of my life.
My journey to the "phone call of a lifetime" began during high school when, like most young people, I was trying to figure out what I wanted to be when I grew up.  During this period, I would watch the space shuttle launches and the video clips of the astronauts living and working in space and somewhere in that a dream was born.  What job could be more exciting than one that required commuting to work on a rocket?  Unfortunately, NASA didn't hire astronauts right out of high school so I needed to come up with another plan.  I enjoyed math and science in school and flying always piqued my interests so I started to think about aerospace engineering.  One thing led to another and before I knew it I was at the University of Illinois enrolled in the College of Engineering and the USAF Reserve Officer Training Corps.
Aerospace engineering, USAF ROTC, football and membership in the Pi Kappa Alpha fraternity quickly filled up my days and nights at U of I, but the dream of being an astronaut was still tucked away in the back of my mind.  Five and half years later I found myself as a 2nd Lieutenant in the USAF assigned to Phillips Laboratory in Albuquerque, NM with a BS in aerospace engineering from U of I and a MS in aerospace engineering from Stanford.  I didn't take me long to realize how fortunate I was to be a member of the US military and the many exciting and unique opportunities that were available to me.  Three years after starting my Air Force career, I was a student flight test engineer at the USAF test pilot school and life couldn't have been better.  I was applying first hand a great deal of the knowledge I had learned as an aerospace engineering student and every day seemed more exciting than the last.  Soon after this I mailed in my first astronaut application for the class of 1998 fully knowing that I still didn't have the experience necessary to get selected but that was ok because I was having the time of my life.
Another three years and another unique opportunity presented itself.  In 1999, I became an exchange officer working at the Canadian Flight Test Center in Cold Lake, Alberta.  Again another astronaut application was submitted for the class of 2000 and again I wasn't invited for an interview, but I still wasn't worried because Canada was a great place to live and work.  At the end of my tour in Canada, I was blessed to be selected as an Olmsted Scholar which sent me and my family to Parma, Italy via the Defense Language Institute in Monterey, California.  This assignment proved to be just as fantastic as my previous tours though in different ways.  I was no longer flying, but I was learning more than I could have ever imagined about Italy and its culture.  And guess what?  While in Italy, I submitted another astronaut application for the class of 2004 and once again I didn't get an interview.  At this point I was starting to get concerned that I had chosen a path in life that wasn't leading to NASA, but I decided that I would continue doing what I enjoyed and that I would keep applying to NASA until they finally told me I was too old.
Eventually we had to return from Italy and I took an assignment at the Pentagon which turned out to be one of my most rewarding and challenging jobs.  During this time, NASA was again accepting applications for a class in 2009 and once again I applied.  I was overjoyed when I was invited for an interview in the fall of 2008 because I had never made it this far before in the selection process.  This was followed by several agonizing months waiting for an invite to a second interview in February of 2009.  And then, it came down to a phone call.  As a part of the group invited for a second interview, I knew that I would receive a phone call either informing me that I had been selected or that I would need to try again in the future.  Imagine wondering every time the phone rang if that was the call from NASA.  Eventually Peggy Whitson and Steve Lindsey did call and the flood of emotion at that moment is difficult to describe.  After over twenty five years since I'd first started dreaming of being an astronaut and twelve years of applications, and a five minute phone conversation would change my life forever.  There is no way I'll ever forget that phone call.
The road to the astronaut corps was long, but it is also one I wouldn't trade for anything.  Along the way I married the most wonderful woman and together we've been blessed with two 
amazing sons.   I've worked for and with some incredible people all over the world and without those experiences I know I would never have been selected as an astronaut candidate.  And now, two and a half years after I received that "phone call of a lifetime", I'm happy to write that it only represented the beginning of an unbelievable journey filled with many, many more "events of a lifetime" that I wish everyone reading this could experience.  Who knows, maybe if you keep pursuing your dreams one of your life changing events will also be a simple phone call…