Fly NASA Guest blogger: NASA Astronaut Mark T. Vande Hei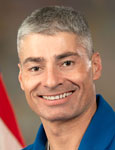 I was alive when humans landed on the moon, but too young to remember it.  During my entire life astronauts were larger-than-life heroic characters.  It would have been cool to meet one, but to be one?  Inconceivable.  I figured that my time was better spent on more realistic pursuits.

About two decades ago, when I was a brand-new lieutenant in the Army, my company commander showed me a letter saying that the Army was looking for applications from those who wanted to become NASA astronauts.  I was incredulous when I realized that I met the minimum requirements.  That was the first time I thought about being an astronaut long enough to realize how exciting the idea was.  For a couple of weeks I was energized by all the possibilities for the future. 

As that heightened emotion subsided, Skepticism and self doubt crept back in.  I thought that NASA was probably looking for military pilots and that otherwise NASA probably only wanted people with PhDs.  Knowing myself as a very fallible human being I started struggling with seeing myself as an astronaut.  Bottom line, I gave myself excuses not to apply. 

On the flip side, I set some goals for myself. 

Seventeen years later, with the encouragement of my wife, I finally applied.

Now I'm an astronaut, recently graduated from introductory training, travelling to Russia, Japan, and Europe, let alone all over the United States.  I have the opportunity to work with an amazing work force of talented people who are passionate about what they are doing.  Training involves learning about spacecraft systems, flying jet aircraft, SCUBA diving, and learning foreign languages.  Just yesterday I was learning about medical care by helping in an operating room.  All these opportunities for a regular guy like me.  On top of that, I might get to fly to space some day.

How do you get a job that involves opportunities as varied as flying in a two-seat jet and working in a hospital operating room all to get ready to expand the horizons of humanity in space?  It starts with deciding that it is appealing to you.  The next step is to turn in your application.  I wish I had started doing it much earlier.