Fly NASA Guest Blogger: NASA Astronaut Clayton Anderson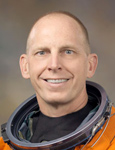 Filling out paperwork (www.nasa.gov) and sending it to NASA is prettyeasy…as a matter of fact, it might even be fun! Putting down on paper (or CD or micro drive…you know, modern technologyand all!) all of the wonderful accomplishments you have experienced thus far inyour young lives can be an awesome motivator! Passing the rest of the tests and interviews that lie ahead may be a bitmore daunting, but the "thrill of the chase" to become an astronaut is excitingand challenging nonetheless!

So, let's say you getselected…you are a proud member of the Astronaut Class of 2013.  What awaits you in your early years…what willoccupy your time?  Well, first you mustrelocate to Houston, Texas, a huge and dynamic city with many incredibleopportunities.  You will report to thebeautifully serene campus of NASA's Johnson Space Center and you will be givena new badge entitling you to the full fledged advantages of civil serviceemployment as a U. S. Government employee.
Youwon't need your desk for awhile as your time will be very structured and youwill be expected to learn many things in many different places, such as speakingRussian, performing spacewalks and flying robotic arms!  So perhaps world travel is in your future,like, let's say, Canada, Japan, Europe and of course Russia!  After a couple of years of orientation andbasic skills training in various subjects like outdoor survival, SCUBA andpublic speaking, you will be tapped on your shoulder by management to beginyour flight specific training!  YourFrequent Flier account will need to be up-to-date and you'll want to have thatnumber memorized, because, roughly 4-6 weeks at a time, over an approximate 3year period, you will be traveling around the world and most often to thehallowed sanctum of the training territory of Star City, Russia, just 45minutes north east of Moscow.  You willbe a part of what NASA designates as the astronaut space station trainingprogram, known as the "single flow to launch." Then, hopefully at some futuredate, you will be asked to step up to the plate and fly as a prime crewmember,which will mean more trips to Star City. It also will mean that your dream ofreaching the cosmos, is rapidly approaching (oh, and did I mention that you'llbe urinating in bottles a lot?)!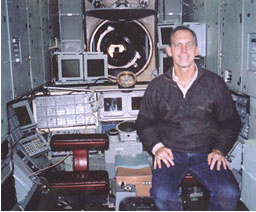 Image at left: ClaytonAnderson participates in a training session in an International Space Stationmodule mockup at the Gagarin Cosmonaut Training Center in Star City, Russia. Credit:NASA
When you do get selected…pleaseaccept my sincere congratulations!  It'sthen the real deal and you'll have the best job in the universe! You will partof a select 'fraternity' and looking forward to some of the most wonderfulchallenges of your life!

Your time in Russia will beexciting and tedious…all at the same time. There will be struggles and successes each and every day.  Those days will typically be divided into fourperiods (one hour and 50 minutes each) with a lunch break from 12:50 to 2 p.m.Classes start at 9 a.m. and end just before 6 p.m. The classes occur in the"territory" of Star City, quite similar in functionality to the Johnson SpaceCenter in Houston. The territory is about a 10-minute walk from the dorm-likecottages where you will live and is home to the myriad of successes of theRussian space program and their famed cosmonauts.
Your initial classes will be theoretical in nature with some "praktika(hands-on)" training in reasonably high fidelity ISS modules; the ServiceModule (SM), the Functional Cargo Block (FGB) … it's a G and not a C becausethe Russian word for cargo starts with a G … are you starting to get thepicture on the language thing?  Eventually,you will be required to enter these training mock-ups and show them what youknow (or don't know!). Much like your days back in college, you will have oral exams("konsultatziya") where you are quizzed by your instructors and the engineerswho boast of exacting knowledge of each and every system.  Your goal will be to show them whereeverything is and be able to describe and operate every system in thevehicle!  Unless you're a pretty fluentRussian speaker, your weeks will also include two four-hour sessions of RussianLanguage training.  Hopefully, you are alreadygetting a leg (кога, pronounced "noga") up on that situation!  But be ready … these folks talk so fast!
This may, quite possibly, be one of the hardest things you have ever done. Itis possible that you will miss your family and you may experience anxiety (yes,some astronauts do worry about stuff!) as you become wrapped up in the "newness"of the whole situation.  Things willhappen really fast at first, but you will settle into a routine, which helpsimmensely. You and your family will be living the excitement that is associatedwith being one of the lucky few to experience life off of our planet'ssurface.  Your lives will be presented withnew and wonderful opportunities; you will be interviewed by the newspapers and beon TV!  You will learn of the strength ofyour family and friends and the joys of sharing together as you begin to understandthe importance of your magnificent and "out of this world" adventure.

Now…what are you waitingfor???  Boldly go, where few humans havegone before and oh, by the way,…live long and prosper!