I am a computer scientist studying artificial intelligence and robotics. As with many of my peers, NASA has always been my dream. It represented everything I loved about the future, and I dreamed of becoming an astronaut and exploring the stars. I was inspired by the daily APOD (Astronomy Picture of the Day), the Mars rovers, Robonaut and Valkyrie, the legacy of interstellar probes… and the list goes on.
Beyond the technical nature of my work, I have deeply-rooted love for creativity and innovation.
When I received the call from an HR representative at NASA asking if I'd come work for them, I dropped everything. On the call, I was jumping cell towers on a family camping trip through national parks along the Colorado River. Accepting the job made absolutely no sense for me. I knew almost nothing about what I was getting myself into. It was two weeks before class started, I had just signed a year-long lease for a new apartment in Minneapolis, I was on the board of 3 student organizations with big responsibilities.
None of that mattered. It was NASA, and they wanted me.
Creativity and innovation are two characteristics that many (rightfully) might not immediately attribute to the federal government. However, I convinced myself that NASA would be different. The people that work here are the best of the best. They put a man on the moon. They've mastered the physics of keeping a delicate structure the size of a football field floating in air while traveling at 17,500 mph for 20+ years. NASA must be innovative.
When I arrived in Houston and finished orientation, I was absolutely entranced. I drove by T-38 astronaut trainers outside of Space City Houston, I took a right at a modified NASA 747 with Space Shuttle Independence mounted on top. I drove by Rocket Park, through an intimidating security gate, past Mission Control and into the parking lot outside a brand new, beautiful, LEED Platinum certified green building — Building 20. I was introduced to my team, and shown to my cubicle. I was ecstatic; I had my very own cubicle at NASA! Easily the best first day of my life.
Day in, and day out, I made my daily commute, brewed my morning coffee, had small talk with my neighbors, and worked diligently on my project, Artificial Intelligence in Requirement Tailoring with Safety and Mission Assurance. Slowly, the sparkles and novelty wore off and became commonplace. The hours and hours parsing through requirements in my 8×8 beige cubicle, one in a row of twenty, five layers deep, became painful. The work was novel and noteworthy, the mission was vital, but yet the physical space around me was so uninspiring. I couldn't understand how people were expected to be innovative and cutting edge in a place like this.
I remember one specific moment when a few of us bought postcards from Starport and pinned them to our cubicle walls in an effort to bring color to the sea of beige. In that moment, I knew there had to be something better. It didn't take long for me to learn about the 1958 Coworking Space.
I had first been drawn to the start-up culture after fulfilling my first paying website contract at 12 years old. From there, I would walk into conference rooms with my IBM Thinkpad and my squeaky voice and tell local businesses why they should trust a middle school student to make their website. I made apps for my teachers, online greeting cards for friends and family, and websites for my clients. I was a one man development team (with my wonderful mother helping with the business side). I had no bureaucracy, no overhead, nothing but a few lines of code and a few extra hours separating me and the finished product. I was a doer, then and now, and it has defined my expectations for every job I've had since. In my second floor, nth column, isle row, beige cubicle working in safety, I was not a doer. This was not the NASA I signed up for.
When you first walk into the 1958 Coworking Space, often shortened to just "1958", you're confronted with posters that scream `DOER!' The space houses a maker room, colorful modern furniture, custom made wooden accent walls, a hyperwall "jumbotron" made up of 12 HD TVs, a sandbox with simulated water; the list goes on. These type of projects are a byproduct of the culture at 1958. If you inspired by something cool, you just make it. We're not sitting around waiting — we're doing.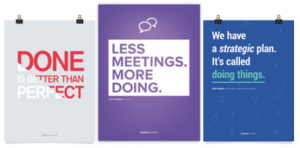 1958 is made up of two buildings at Johnson Space Center. It promotes innovation and collaboration by providing a flexible work environment and fully featured conference rooms that can be used by anyone on center. This is one of the few spaces at JSC where professionals from every organization engage in a productive collision of ideas just by being here.
Even if you don't consider yourself an over-the-top creative person, you are almost guaranteed to think of something innovative in a space like this. 1958 is a space with volume that visitors feel obligated to fill with ideas – just by being in such a different space, people are pushed to think differently. It's a colorful space with recreational amenities designed to allow employees to take a break and relax, in turn making the mind susceptible to insight and innovation. Visitors to the space can stand up and roam around. You can visit the space every day for a months and still have new places to work. Just by existing in an environment like this, I feel more creative. Every day is engaging, and no day is routine.
I still get off the highway at the same T-38s, I still take a right at the space shuttle and drive by Rocket Park, through the same security gate, and past Mission Control. Only this time my road doesn't end at a beige cubicle. My new building is still categorically and unquestionably NASA; we have a Gemini capsule out front and some rocket engines out back. But inside these walls is something new, something worthy of a second chance. It's the innovative NASA I grew up expecting.
About the Authors
Alex Kafer | Alex is an intern with the 1958 coworking space at NASA's Johnson Space Center. He studies Computer Science and Product Design at the University of Minnesota, Twin Cities. Alex considers himself a problem solver, using his technical experience in Artificial Intelligence and Robotics, paired with his love for creativity and design to come up with novel solutions to problems organizations face everyday.
Suzanna Yates | Neely is a Content Hacker Intern at NASA.  She studies International Political Economy and Computer Science at Pitzer College, a member of the Claremont Colleges. Neely is passionate about making STEM a more inclusive field. She has interned for Congressmen and local officials to advocate for her ideas. Neely also loves coding and learning languages. Whether she is talking to a human or computer, she likes to learn how to communicate in new, creative ways.
Nick Skytland | Nick has pioneered new ways of doing business in both government and industry for nearly two decades. He leads the Future of Work initiative at NASA and is the Agency Talent and Technology Strategist in the Technology Strategy and Engagement Division within the Office of the Chief Human Capital Officer (OCHCO).