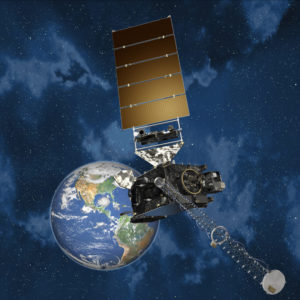 The Geostationary Operation Environmental Satellite-S (GOES-S) is the second in a series of four advanced geostationary weather satellites. The GOES-R Series – consisting of the GOES-R, GOES-S, GOES-T and GOES-U spacecraft – significantly improves the detection and observation of environmental phenomena that directly affect public safety, protection of property and our nation's economic health and prosperity.
The satellites provide advanced imaging with increased spatial resolution and faster coverage for more accurate forecasts, real-time mapping of lightning activity, and improved monitoring of solar activity and space weather. The GOES-R Series will extend the availability of the operational GOES satellite system through 2036.
GOES-S is slated to launch March 1, 2018 aboard a United Launch Alliance Atlas V rocket from Cape Canaveral Air Force Station in Florida.